Privacy Fence Kitchener – Why Choose a Privacy Fence?
Adding a privacy fence to your property is a big decision! With so many fencing options out there, how do you decide which is the right one for you, your home, and your budget? If you aren't sure if a privacy fence is right for you, contact the fencing experts at Jay Fencing to find out more! If you still aren't sure what's right for you, you can also consider the following benefits of installing a privacy fence on your property: 
Many Custom Options – Unlike some other fencing options, the custom options for a privacy fence are nearly endless! If you want built-in lights, flower boxes, or intricate designs – go for it! Or, if you want a simple fence without any extras, you can have that too.  
Different Materials For Different Budgets – Custom options will affect the final price tag, but so will the materials you use. There are many woods to choose from, each with their own price range. For example, some woods such as cedar are inexpensive and can cost as little as $4 per picket. You can also choose from more expensive woods, such as white oak or tropical hardwoods, or you can choose vinyl instead. 
Safe For Children & Pets – One of the main reasons why homeowners choose to install a fence is so that they can keep their family safer while outside in their yard. The best way to keep unwanted visitors out of your yard and to ensure your children and pets stay within your home's boundaries is by installing a privacy fence. Privacy fences are nearly impossible to scale or jump over (but you may need to take extra measures for escape-artist dogs!)
Long Lasting – Privacy fences are built to last. Higher quality woods can last for over 25 years when properly installed and maintained! Wood fences do require some regular maintenance to prevent rotting, but it will be worth it to have a gorgeous fence that lasts. If you aren't into maintenance, consider vinyl instead. These fences require almost no maintenance but can also last over 25 years.
An Attractive Option – Privacy fences are known for their aesthetic appeal as much as they are for the privacy they add to a home. A natural wooden fence will look gorgeous in any yard; a modern vinyl fence will help make your property look sleek and clean. No matter what option you choose, a privacy fence will help increase your home's aesthetic appeal – and can increase your home's value, especially if you live in the suburbs!
Although a privacy fence can do all this and more, it will only add value to your home and last a long time if you properly build and install a fence with quality materials and the right tools and equipment. Fence DIY projects, especially for a privacy fence, often end up costing the homeowner more time and money than they anticipated. Continue reading below to see how Jay Fencing can help you avoid common DIY fencing blunders.
Rely On Jay Fencing To Help You Avoid Common Fencing Problems!
If you are looking to install a fence in the Kitchener-Waterloo area, you can rely on Jay Fencing's 30+ years of experience to get the job done right the first time. Installing a privacy fence is no easy task. Although there are many how-to guides and videos available online that may make the process seem easy, it is not a project for the inexperienced do-it-yourselfer. 
Post hole digging is one of the most important parts of the project – but it's also one of the hardest. If you dig your post holes just slightly off from each other, you'll end up with a crooked fence. If you placed a hole in the wrong spot, you'll be left with a big gaping hole in your backyard! You also need to know exactly how to place your posts – a crooked or leaning post will not support your fence boards properly. 
Some properties in Kitchener may have rocky soil, clay soil, or other difficult-to-work-with soils. Digging through soil that's free of rocks or other debris can be easier. However, you never know what you'll run into when you start digging. Without the proper tools and equipment, you may end up stuck halfway through a hole!  
Even if you do all of this perfectly and run into zero problems, post hole digging is an extremely strenuous task. Ergonomic digging is important, or else you may end up with muscle strains, pains, and even back or neck problems. You'll also have to be careful to avoid heat exhaustion – if you do attempt DIY post hole digging, take breaks and stay hydrated! 
If you think you would rather avoid these potential problems, you can rely on the expertise that Jay Fencing provides! We have over 30 years of experience and have completed over 100,000 projects in the Kitchener, Waterloo, and surrounding area. When you work with Jay Fencing, you can expect:
No Post Hole Digging Issues – As mentioned above, Post hole digging is often the most complicated part of the fencing installation process. When you work with a professional fence installer, you won't have to worry about physical injury or frustrations along the way.
Help Choosing The Right Fence – There are so many privacy fences out there, which one is right for you? It can be hard to decide – but Jay Fencing can help you pick the fence that you love and fits within your unique budget!
Compliance With Local Bylaws – Local fencing bylaws outline the rules and regulations you must follow when installing your fence. Jay Fencing knows Kitchener's local bylaws inside and out! It's important to work with an installer that knows and understands bylaws – ignoring them can get you into legal trouble.
Time And Money Saved – Many people think DIY installation is the best way to save money. However, DIY installations are prone to lots of complications, and it can take a significant amount of time and money to fix these problems. Even if you don't notice a problem right away, an improperly installed fence will require significant upkeep and maintenance throughout the years. Plus, you'll have to replace it sooner!
Ready to work with the professionals and get your dream privacy fence? Contact us now to book your FREE on-site consultation! 
32 Years Of Experience. Over 100,000 Projects Completed.

Book Your Free On-Site Consultation!

Let Us Help You Get The Fence Of Your Dreams!
A privacy fence is one of the most customizable fencing options. With so many different styles, designs, and even materials to choose from, you can easily get the perfect fence for you and your home! Jay Fencing has built and installed a wide range of privacy fences – check out our extensive gallery below to see just some of the wooden and vinyl privacy fences we have installed!
Wooden Privacy Fences by Jay Fencing
Previous
Next
Vinyl Privacy Fences by Jay Fencing
Previous
Next
Other Privacy Fencing Options Available
If you a vinyl or wooden fence is not right for you or your budget at this time – don't worry! There are other options to add privacy to your home and yard that may be better suited for those who need more budget-friendly options. 
For example, chain link fences are known as the most cost-effective fencing option. Although they are not widely regarded as a privacy fence, you can add a privacy screen through the mesh to create a fully functional chain link privacy fence! You an also get a little creative with chain link, and plant shrubs, tall bushes, or even trees around your fence to create complete privacy!
We can also build privacy screens, which are perfect for decks, small yards, or for sections of your yard that need more privacy (for example, part of your yard that faces a neighbour's deck!) Privacy screens are attractive and cost-effective, and can be a long or short-term privacy solution. Check out the gallery below to see some cost-effective privacy options for your backyard!
Previous
Next
Rely On Jay Fencing For Your Perfect Privacy Fence!
Get Your Dream Privacy Fence With Jay Fencing!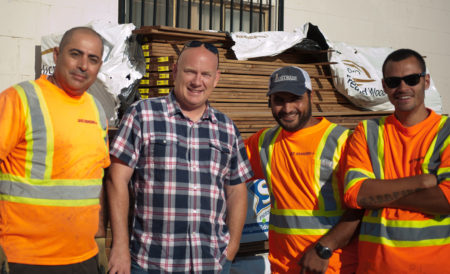 When you work with a professional fence installation company, they can help you decide on the right fence design for you and all of your unique preferences and needs. At Jay Fencing, we value:
Top notch customer service
Providing the highest quality products and services available
Being a name that you can trust
Having experienced and hardworking staff
At Jay Fencing, we know and understand fair pricing, and will only do the highest quality work. Avoid confusion and skip right to the beautifully installed fence of your dreams with Jay Fencing! 
At Jay Fencing Ltd, you can feel confident that we will only recommend products or services that are best for you and your needs. This means you won't be buying any unnecessary products or services that will increase the price.
We offer free onsite consultations for all the jobs we quote on!
"We absolutely love the fence. It looks fantastic and our neighbours were so impressed with the work that was completed. Our dog is loving the backyard. We think he believes that he is at a cottage and not his own backyard…Thank you again for squeezing us in last weekend and for the excellent work! Have a wonderful weekend!"
-Rebecca & Keri, Jay Fencing Customers – Read More Testimonials Here!