Adding a new fence to your home or property can be a big financial decision and commitment. That's why finding the right fencing contractors is so important. If you work with a bad contractor, you may end up paying more than you should, or you may end up with a poor-quality product. But when you work with professional fencing contractors, you can sit back and relax while the job gets done. In this article, we'll outline the best ways to narrow down your search and find the best fencing contractor for you, your project, and your budget! To learn more about fencing solutions in the Kitchener-Waterloo area, contact the experts at Jay Fencing today!
Jay Fencing has 32 years of expertise and has completed over 100,000 projects!
Fencing Contractors – How to Find a Great One
With all of the options available, choosing your own fencing contractor can feel overwhelming. Finding a great fencing contractor doesn't have to be hard – but there are a lot of bad contractors out there. The following five questions are designed to help you narrow down your search and help you eliminate any contractors and companies that don't meet professional standards.
1. Are They Affordable?
A good contractor will be able to provide you with a thorough and accurate quote
One of the first things you are likely wondering about your new fence is "how much is this going to cost?" It's important to find out if the contractor is affordable and can do the work you want within your budget. Before you choose to move forward with any contractor, you should get and compare quotes from multiple companies. Here are some tips for comparing quotes:
In general, it's best to ignore the lowest offer, especially if it lowest by a large margin
Remember that lowest price doesn't mean 'best' offer – in some cases, it means the opposite
Get quotes from at least three different contractors
The contractor should only give you one quote – and they shouldn't budge on it. One, sturdy quote means they have thoroughly done their research and can give you a more accurate number
Ask about money upfront – A good contractor won't need a lot of money upfront. If they ask for 50% before anything is even done, it's best to ditch them. Remember, "Pros don't need a lot of money up front. They don't live week to week" – Mike Holmes.
Ask about quote prices – Do they provide free onsite quotes? Will you have to pay to get an estimate?
Once you have all of your quotes, it's time to sit down and think about what you've collected. Of course, price alone won't tell you very much about a contractor. It is a good starting point, but there is more research you will need to do and more questions to ask before you can confidently settle on a great contractor.
2. Do They Provide Workmanship Guarantees?
It's important to ask about workmanship guarantees and contracts before agreeing to anything
The next answer you will want to know is "How long will my fence last?" You could get the "best deal" in the world on a fence, but if it's poorly built and only lasts for a few years, is that really a good deal? Unfortunately, this happens more than you may think. In some cases, a poor fencing contractor may use incorrect materials, poor quality materials, or poor workmanship. In all these cases, you will likely end up with a fence that just isn't quite right. So what happens now?
A professional fencing company will not only use correct, high-quality materials as well as proper installation techniques, they will also provide workmanship guarantees. Even the best contractor can make a mistake or run into an unforeseen issue – they are human too! A great fencing contractor knows this and ensures their customers are protected with thorough guarantees.
For example, at Jay Fencing, we offer a two-year warranty that we put into place for all of our fencing projects. This warranty covers any defects in both quality and workmanship that you may find with your fence. This is not just a verbal agreement – we put this into writing because we understand how important peace of mind is when you add a new fence to your property.
When communicating with your potential fencing contractor, you should ask the following questions:
What workmanship guarantees do they provide?
Are they upfront about their guarantees on their website or does it seem like they are hiding something?
Are these guarantees and warranty put into writing, in the contract or a separate document?
Can they guarantee the quality of the materials they will be using?
What happens if a mistake is made during the installation process?
Quality workmanship is just as important – if not more important – than price. Quality materials and quality workmanship go hand-in-hand. In the next section, we'll take a closer look at the questions you should ask regarding fencing materials.
3. What Materials Do They Use?
You should ask about the different materials the contractor can use, and the quality of each type
Quality workmanship may be pointless if a company only uses low-quality materials, prone to damage in just a short period of time. That's why it's important to find a company that combines both quality workmanship and quality materials. Keep in mind, quality materials doesn't necessarily mean 'most expensive.' For example, wooden fences come in a wide variety of different types of wood of varying price points and sturdiness.
A great fence installer will let you know about all of your different options, materials, and fence designs available. They will let you know about the pros and cons of each fencing material, and ensure you know about the potential problems that can come with the less expensive, weaker materials such as whitewoods.
However, great companies understand the reasons someone may want a more economic fence – such as a lower budget. They will help you select the fence materials that is right for you and your wallet. If you do select a fence that is known for having potential problems – such as a whitewood fence, that is not resistant to bugs or rot – they will show you how to keep your fence in great condition.
Though whitewoods are not naturally rot- or insect-resistant, they can be regularly maintained and treated to ensure they last a long time. A great fencing contractor will be knowledgeable in all the different materials you can use, from the various wood types to chain link, to vinyl and iron. You should feel comfortable going over all of your options, and the contractor should give you time and space to select the materials you feel best going forward with.
4. Do They Provide Good Service?
Some photos of Jay Fencing's team installing a new fence
Simply asking your potential company "Do you provide good service?" will probably not get you an accurate answer. Of course, every company will say "Yes!" Thankfully, there are other ways of finding out if a company provides great service or not. See the list below to help you find out.
Ask for licensing and references – Finding a licensed company is of utmost importance. You will also want to hear from their references and talk to those who have worked with the company in the past.
Ask to see a portfolio of the work they have completed – A professional company will be happy to show you the work they are proud of completing.
Check out their website – is it full of pictures of their projects, or are they using stock photos passed off as their own? You can also check to see if their website has a testimonials page, and how many show up.
Check Google Reviews – A perfect 5-star rating doesn't mean much if they only have one review, but if they have generally favourable reviews from many different people, you can probably feel confident in their service.
Check the Better Business Bureau – The BBB shows ratings based on customer satisfaction, as well as information if the company is an accredited business or not (Jay Fencing has been a BBB accredited business for 29 years!).
Check other online rating websites – You can also check websites such as Yelp, Facebook, HomeStars, and more. Simply type into google (Company Name) + Reviews and a variety of rating websites should pop up if your company is reputable and well-known.
Word of mouth – if you know anyone who has used a fencing contractor in the past, ask them about their experience.
A professional company that provides good service will also ensure that you sign a contract before the work commences. This is to protect both you and the contractor. Your contract will help ensure great service. It should outline things such as schedule, budget, and a guarantee of the materials to be used.
5. Can I Trust Them?
Doing research online and speaking directly with contractors will help you determine if they are a trustworthy company
The final question you will want to ask yourself is if you can trust these contractors. If you have gone through every step of the process and still feel like something is off, trust your gut. There are many contractors to choose from, and you should go into the process feeling 100% confident with your choice. A good contractor will have excellent communication with you, making you feel confident every step of the way.
You will know if you can trust your contractor based on the questions above. You will want a contractor that provides you with a fair price (remember, fair doesn't always mean cheapest!). You will want to ensure your contractor can provide high-quality work with high-quality materials. You will want to make sure that your contractor is reputable and can provide good service, as well as a warranty and contract that outlines all of your decisions.
You can also ask your contractor about the years that they have been in business. In general, a poor contractor won't be able to survive very long. So if your contractor has been around for a good number of years, then it's less likely you will have something to worry about. You can also ask about projects completed. If your contractor has only ever built 20 fences, you may not be able to trust them to do a good job – because there just isn't enough proof that they can get the job done right. Experience and expertise are both important parts of putting your trust in any company.
Trust Jay Fencing To Install Your Perfect Fence!
If you are looking for a new fence in Kitchener, Waterloo, Cambridge, Guelph, Elmira, Elora, Fergus, Stratford, Milton, Brantford, or the surrounding areas, you can trust Jay Fencing to install your perfect fence. We have 32 years of experience and have completed over 100,000 projects!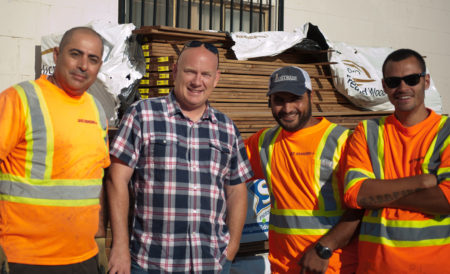 When you work with a professional installation company, they can help you decide on the right deck style for you and all of your unique preferences and needs. At Jay Fencing, we value:
Top notch customer service
Providing the highest quality products and services available
Being a name that you can trust
Having experienced and hardworking staff
At Jay Fencing, we know and understand fair pricing, and will only do the highest quality work. Avoid confusion and skip right to the beautifully installed fence of your dreams with Jay Fencing! 
At Jay Fencing Ltd, you can feel confident that we will only recommend products or services that are best for you and your needs. This means you won't be buying any unnecessary products or services that will increase the price.
We offer free onsite consultations for all the jobs we quote on!
"We can't say enough about Jay Fencing. Everyone, and I mean everyone that we have been in touch with, has been absolutely wonderful.  We are so excited to have our deck completed this fall and will look forward to next spring and summer to enjoy it! Thank you to everyone at Jay Fencing.  You are an amazing company and we will highly recommend you to anyone."
-Janis, A Jay Fencing Customer – Read More Testimonials Here!