Fence installers can help you choose and build your perfect fence. However, when it comes to fencing solutions, there are so many options to choose from! How do you know which fence is right for you, your property, and your budget? Many factors go into selecting the perfect fence. In this article, we will provide information about chain link, vinyl, wood, and iron fences. We'll outline the pros and cons of each fence type, and include galleries of each fence style! For more information about fence installation, contact the experienced professionals at Jay Fencing now!
Looking for a brand new fence?
Fence Installers Help You Pick The Right Fence!
One of the best ways to determine which fence style and type is best for you is to work with professional fence installers. An experienced, professional installation company works with you to find a fence that will suit both your needs and preferences. However, before working with an installer, it's good to have some idea of what you are looking for! See the comparison chart below to learn a little bit more chain link, wood, iron, and vinyl fences.
Fence Types – Which Fence Is Right For Me?
See below for more detailed descriptions and information about each type of fencing material.
Wood Fences
Wood Fences by Jay Fencing!
Ideal For: Most types best for residential properties, can also be used on commercial properties or farmland
Wood fences are a popular choice for both residential and commercial properties. Wood fences come in a wide variety of styles and sizes – from post and rail fences to picket fences to tall privacy fences, there is a style of wooden fence for everyone! No matter what the style you choose, wood fences are known for their natural aesthetically pleasing looks.
Wood fences can be made from a variety of different woods – all varying in price, durability, and lifespan. If you love the look of wood but are working with a smaller budget, you can still have your dream fence! Some wood types are naturally resistant to rot and insects, while others may quickly deteriorate without proper maintenance. Even high-quality wood fences require regular maintenance, however. If you are not interested in regular painting, spraying, or check-ups to ensure your fence is free from rot and insect infestations, a wooden fence may not be right for you.
At Jay Fencing, we also offer custom options to help you select a fence that is perfect for you and your property. We offer:
A variety of wooden materials to choose from
Different styles and features
Fences built to the highest standards
If you would like to learn more about wood fence installation by Jay Fencing, view our information & gallery page here!
Chain Link Fences
Chain Link Fences by Jay Fencing!
Ideal For: Residential properties, can also be used as security fencing for commercial properties
Chain link fences are a great, economical fencing solution for residential and commercial properties. The first thing you may notice in the comparison chart above is that chain link fences have a low rating when it comes to aesthetics. Though chain link fences are not necessarily known for their great looks, they are highly affordable and definitely get the job done! They are ideal for containing children and pets and keeping people safe.
Chain link fences also require very little maintenance. They are naturally resistant to bugs and rot, though may rust over time. Treating your chain link fence every so often can help reduce the risk of rusting. Chain link fences are also durable, though they are not as strong as other options. The mesh is flexible and can take a hit, but will not withstand the same force that, for example, an iron fence would be able to withstand.
Commercial chain link fences are a great option for your commercial property. They can help separate property lines and help keep individuals and families safe. For example, you will often find commercial chain link fences at community parks, surrounding tennis courts, around industrial properties or dangerous areas, and more.
If you would like to learn more about residential chain link fence installation by Jay Fencing, view our information and gallery page here!
If you would like to learn more about commercial chain link fence installation by Jay Fencing, view our information and gallery page here!
Vinyl Fences
Vinyl Fences by Jay Fencing!
Ideal For: Residential properties
There is no doubt that vinyl fences are a beautiful addition to any home or property. Vinyl fences are becoming more and more popular and with good reason! Vinyl fences are durable and strong. However, they may bend or warp if installed incorrectly or exposed to extreme temperatures. Still, a high-quality vinyl fence should be able to withstand the most extreme temperatures.
Vinyl fences are also virtually maintenance-free and require very little upkeep aside from occasional cleaning. Cleaning helps keep your vinyl fence looking great, and ensures dirt and grime do not build over time. They are naturally resistant to rust, rot, and insects! Vinyl fencing is often more expensive than other fencing options, such as their wooden counterparts. If you have a small budget, talk to your fence installation professionals to help you find a vinyl fencing solution that suits your needs and budget.
If you would like to learn more about vinyl fence installation by Jay Fencing, view our information and gallery page here!
Iron Fences
Iron Fences by Jay Fencing!
Ideal For: Commercial properties or as a security fence or pool fence, great for residential properties too
Iron fences are one of the most aesthetically pleasing fencing options to choose from. Surrounding gardens, pools, or used with driveway gates, iron fences look beautiful in all settings. Iron fences are also known for their strength and durability. Due to their structure, iron fences are an ideal security fence. They work well to keep unwanted guests out of your yard – and great for keeping children and pets safe inside!
Though iron fences require little maintenance, they will rust over time and show weather damage. Painting your fence every so often or when you notice these rust or weathered spots can help keep your fence looking great – and lasting longer. Even a small amount of rust can lead to significant structural damage. You will have to use special paint to ensure the paint sticks to the metal and doesn't wash away during heavy rains.
If you are looking for a beautiful fence for your commercial lot, or a highly-function security fence, commercial iron fences may be right for you. Most commercial iron fences, especially the ones you may see in shopping plazas, surrounding local stores, etc. are there mostly for aesthetic purposes. However, commercial iron fences can also be used for security, especially when paired with automatic gates.
If you would like to learn more about iron fence installation by Jay Fencing, view our information and gallery page here!
Why You Should Work With Fence Installers
Considering a do-it-yourself fence installation? Though DIY projects are becoming more and more popular, it is a good idea to look at the pros and cons of DIY vs professional installation. With DIY, you have full control over your project – you can finish it as quickly as you like, or choose to take your time. It will also cost you less up front. Some homeowners get great joy out of DIY projects.
However, DIY fence installation can create a lot of problems. The average homeowner does not have all of the tools and materials required to properly install a fence. Most homeowners also do not have the know-how and must rely on books or online guides and videos. Without a professional, you may find yourself stuck without anyone to help you navigate unforeseen problems.
When you work with fence installers, you can have the peace of mind knowing the project will get done even if you know virtually nothing about fence installation! It also ensures the job is done on time, and that all the proper, high-quality tools and materials will be used in your fencing project. Here are some reasons why working with an installer is beneficial:
Prevents Post Hole Digging Woes – Post hole digging is one of the most difficult parts of the fence installation process. Post hole digging not only requires precision, but it also requires physical strength. An inexperienced do-it-yourselfer can easily injure themselves while digging or cause serious damage to their property if holes are not dug in the correct place.
Helps You Choose The Right Fence – As mentioned above, there are so many options when trying to choose a fence! Fence installers will help you narrow down your choice and provide you with fencing information you may not otherwise have known.
Knows Local Bylaws – Local fencing bylaws outline the rules and regulations you must follow when installing your fence. If you do not follow these bylaws, you may have to tear your fence down and start all over again! In a worst-case scenario, you may find yourself dealing with legal troubles.
Saves You Time And Money – Installing a fence yourself can take a significant amount of time, especially if you are not an experienced handyman. Working with fence installers not only saves you time, but it can also save you money in the long-term! Though it will cost more upfront, when you work with professional installers, you won't have to worry about costly repair fees or extra maintenance due to poor installation.
Expertly Install Your New Fence With Jay Fencing!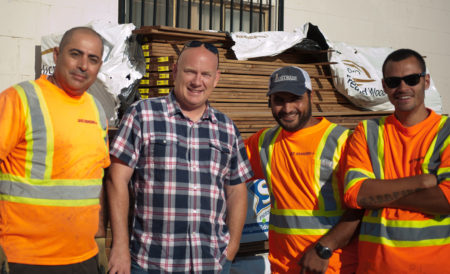 Call on Jay Fencing to install your new fence now! When you work with a professional fencing company, they can help you decide on the right fence style for you and all of your unique preferences and needs.
Jay Fencing has over 30 years of experience and has completed over 100,000 projects!
They will also know and understand fair pricing, and will only do the highest quality work. Avoid confusion and skip right to the beautifully installed fence of your dreams with Jay Fencing! 
At Jay Fencing Ltd, you can feel confident that we will only recommend products or services that are best for you and your needs. This means you won't be buying any unnecessary products or services that will increase the price.
We offer free onsite consultations for all the jobs we quote on!
"Jay Fencing did a fantastic job on our new fence, it was built with quality products, completed on time
and on budget. They are extremely professional and courteous while on site
and this was our third project with them. Thank you again!
– A Jay Fencing Customer, Read more testimonials here!