A privacy fence is a great way to secure your home and provide peace of mind for you and your family. In this post, we take a look at some great privacy fence designs for 2019, the benefits of having a privacy fence, and key features for any privacy fence. To learn more about getting the perfect privacy fence of your dreams, contact the experts at Jay Fencing now!
Privacy Fence Designs – 40+ Ideas
Check out our gallery of over 40 privacy fence designs to help you get inspiration for your own project! Some of these designs are classic ideas that have been popular for decades, while others are newer trends we anticipate seeing more of into 2019. For more great privacy fence or privacy screen ideas, click here.
1. Classic White Fence
Image source: homestratosphere.com
This classic white fence stands out from all the greenery around it, looking clean and modern. This look comes in vinyl or wood, depending on your budget and your material preference. This traditional look is far from boring, it's easy to maintain, and provides lots of privacy for the homeowner. If you prefer a simple look, then this may be ideal!
2. Ultra Modern
Image source: Minimalisti.com
Though wood fences are often described as traditional and even old-fashioned, that doesn't have to be the case. If your home or taste happens to be a bit more modern, you don't have to give up on having a wood fence. This beautiful wooden privacy fence surrounds a backyard oasis and looks perfectly at home alongside other modern touches.
3. Organic Design
Image Source:Deborah Silver
This privacy perimeter has a strong natural organic design that not only provides a solid enclosure but also manages to offer rare style and flair. Looking for a unique and natural feel for your yard? This is the perfect design for you.
4. Unique Privacy Screen

Image Source: Water Studio
Water Studio, the creator of this fence, makes designs and creates contemporary water features and fountains for indoor and outdoor spaces. This privacy screen uses the flow of water to provide privacy through distortion. The creative use of the standing structure as a canvas showcasing moving water offers a visual treat like no other.
5. Corrugated Metal
Image Source: decoist.com
If you love the industrial look of metal, then you'll love this corrugated fence! A fence that provides total privacy for your backyard retreat, this fence made our list due to its individual look. Drive around the suburbs and it's unlikely you'll come across any fence that looks like this one. Though it may not be the easiest fence to customize, if this is the look you love, you won't need to add anything to make it unique.
6. Staggered Fence
Image Source: Fence Scape
The staggered design offered here holds both aesthetic appeal and privacy in high regard. The oiled wood also helps provide a tasteful finish to the overall presentation. This design is a great example of what you can do with wooden fences – they are easy to customize and it's easy to find a design you love!
7. Staggered Fence #2
Image Source: Danielle Johnson via Flickr
This privacy fence shows another take on the staggered, horizontal boards look. This fence beautifully combines nature with man-made materials.
8. Rustic Wooden Fence
Image Source: Claudia Viera via Flickr
A rustic wooden fence surrounded by greenery. The structure at the top delivers a sentry look that offers security and comfort for the homeowner – and provides a great place to hang baskets and plants!
9. Plywood Stacks
Image Source: BethGrowsgreen via Flickr
An insightful offering that showcases the versatility of materials that are commonly overlooked. This inventive use of varied plywood stacks up to be an impressive privacy solution.
10. Rock Wall
Image Source: Sustainable Garden Design Perth
For those who enjoy a neat twist to their home, this privacy screen fills in the blanks by utilizing a common material often found just laying around. Lots of visual detail with no compromises in privacy.
11. Japenese Temple Fence
Image Source: Home Info
This design offers great visual impact by simply repositioning commonly-used elements. This entry provides a unique feel reminiscent of a Japanese temple with its bold frame and quality texture.
12. Modern Metal
Image Source: Be Creative Do It
Lightweight and also completely private, this painted metal perimeter offers a hip yet functional perspective on privacy fencing. A modern metal fence can look great in any yard, but adding extras such as modern yard furniture or retro finishes can really help tie the look together.
13. Horizontal/Vertical Fence
Image Source: Fence by Jay Fencing
There isn't just one way to do vertical/horizontal boards! This strong and sturdy fence by Jay Fencing has a unique design without straying too far from the classic backyard fence look. It offers full privacy while maintaining stylish security. This fence would look great on almost any property, as it is beautiful and unique, but wouldn't look out of place in a subdivision.
14. Recycled Metal
Source: Decoist
Featuring recycled galvanized metal, this entry provides an elegant use of materials that offers an intriguing visual appeal. The woven design not only provides optimal coverage but also exudes style and character.
15. Bold Frames
Image Source: Fence by Jay Fencing
A sleek and bold design that helps keep in the sights and sounds of a bustling home. The contrast between the black frames and white planks increase its visual appeal. Hanging plants at the top of the fence and potted plants below help add a pop of colour to really bring this entire design together.
16. Bamboo Fence
Image Sources: interiorsbystudiom.com and doityourself.com
If you're looking for something totally different from your neighbour's fence, maybe this beautiful bamboo fence is right for you! With dark reds, browns, and yellows mixed in, the fence is sure to stand out. Bamboo fences are environmentally friendly and can easily be stained to whatever colour you prefer! You may be surprised to find out that bamboo is strong and resistant to both excessive heat and snow. This bamboo fence provides tons of privacy while looking fantastic on any property.
17. Carved Wood & Concrete Combo
Image Source: siteforeverything.com
What may at first sound like an odd combination comes together perfectly in this little backyard patio. A carved wooden fence paired together with a decorated concrete wall come together to complete this outdoor oasis. This fence will inspire you to consider the many other ways you can incorporate fence design and material combinations that work for you.
18. Decorated Dark Wood
Image Source: woohome.com
If you prefer the look of a simple fence or already have a simple fence installed in your yard but want to add a bit of colour or character, why not add a few decorations? These red butterflies bring this dark wood fence to life and add the perfect splash of colour.
19. Partial Privacy Garden Fence
Image Source: siteforeverything.com
Maybe fencing in your entire yard is not something you want to or plan on doing, but privacy is still a concern. If that's the case, this sectional fence is a great idea! Acting almost like a gazebo, this small fence provides the perfect amount of privacy for this little backyard living space.
20. Horizontal/Vertical #2
Image Source: interiorsbystudiom.com
Can't decide if you prefer vertical or horizontal fence boards? Well, this privacy fence design is perfect for the indecisive mind! An otherwise traditional fence is given a modern treatment. This fence looks different without being too "out there" for those that don't want to stand out too much from their neighbours. This fancy fence made our list due to its versatility, and its simultaneously classic and unique look.
21. Low Vinyl Fence
Image Source: Fence by Jay Fencing
Privacy fences do not have to be fortresses if you prefer the look of a shorter fence. This white vinyl privacy fence does the perfect job, providing just the right amount of privacy for this backyard sanctuary. The homeowners have decorated their yard with black and red, looking stylish against the clean white backdrop provided by this fence.
22. Repurposed Pallets
Image Source: 1001pallets.com
This awesome fence made our list for being a stellar example of repurposing old materials and looking incredible while doing it! Yes, this DIY fence is made from old wooden pallets screwed together at 45-degree angles, creating its unique chevron pattern. Though this featured fence is only a small section of fencing, if you like the style and want privacy for your entire yard, it's totally possible to apply this design to a full perimeter fence!
23. Pallet Partial Privacy Screen
Image Source: siteforeverything.com
A totally different take on the repurposed pallets look, this quaint little fence appears to offer little privacy at first glance. However, when those plants grow in between the boards, they will fill the space and offer privacy along with a beautiful flourishing garden. This fence isn't for everyone, but it is a great look to draw inspiration from!
24. Simple Privacy Pickets
Image Source: Fence by Jay Fencing
If you want the look of a classic picket fence but feel they don't provide enough privacy, this fence may an excellent choice for your home! Though this fence does allow some visibility and is not as tall as other privacy fences on this list, many homeowners prefer this look. This sloped fence would look great painted white or left just as it is.
25. DIY Planter Privacy Screen
Image Source: thewhoot.com.au
If you're up for an easy DIY fence building project, these adorable planter privacy screens will look perfect in almost any backyard or cottage. Though many DIY projects like this one cannot provide the level of privacy a permanent fence can, they are a great choice for those who have a small space to cover or just enjoy hands-on DIY projects. These screens can also be placed in addition to permanent fencing.
26. Sheet Metal & Wood Combo
Image Source: hometalk.com
This privacy fence is ideal for those who can't decide on their favourite fencing material. This fence combines sheet metal with vertical wooden boards to create a remarkable privacy fence design. This fence is the perfect balance between a modern and classic look and can be easily customized to suit the homeowner's needs.
27. Wood & Black Iron Combo
Image Source: Renoguide.com.au
The dark red wood and iron frame of this fence create an almost gothic look. This is definitely the perfect fence for someone who wants something completely different – it transcends the rustic, traditional, and modern categories.
28. Shutter Fence
Image Source: hometalk.com
If you need a privacy fence, have some extra time and would like an interesting and challenging DIY project, this may be the answer to all your concerns. This awesome privacy fence was made from repurposed shutters. The maker of this featured fence stated that she purchased the materials from thrift stores, garage sales, and from various sellers online.
Because some areas have bylaws regarding what materials can be used for fencing, it's best to check your area before building this interesting fence! If this fence is permissible in your area, it would probably look best by a cottage or farmhouse. It may be a little too much for the typical subdivision!
29. Slatted Wooden Fence
Image Source: decoist.com
This slatted wooden privacy fence provides a tiny bit of visibility while maintaining its purpose as a privacy fence. This featured fence is a great example of how a fence can still be a privacy fence while allowing some air flow and visibility through its thin horizontal slats. Wrapped around a deck or used along the entirety of your yard, this beautiful wooden fence provides a private space while still looking great.
30. Sloped Fence Combo
Image Source: newenglandwoodworkers.com
Can't decide between pickets and a tall privacy fence? Why not have both? This custom fence provides privacy right where the homeowners need it, while also allowing visibility on the other side of the fence with lower fence boards. The fence has a slope, gradually going from taller to shorter. This is one beautiful, unique fence!
31. Beautiful Sound wall
Image Source: Sound wall by Jay Fencing
Now, who said sound walls couldn't be beautiful? Sometimes, you may want or even need a sound wall to protect part of your property. Sound walls offer tons of privacy but are often not a homeowner's first choice. Sound walls can look bland and boring, but done right, however, they can enhance the beauty of a property or a backyard!
32. Uneven Wooden Boards
Image Source: GlenOaksBigSur.com
This particular wooden fence happens to enclose the backyard of a beautiful cabin resort. The uneven wooden boards create a unique look with an otherwise classic fence. The boards look both rustic and natural. The board-on-board design ensures lots of privacy for the home (or cabin) owner. If you're looking for a rustic and beautiful privacy fence, this natural looking design might be for you.
33. Wood With Shelves
Image Source: boredomtherapy.com
Modern style fences are becoming more and more popular for both decorative and privacy fences. This featured fence made our list for its remarkable modern look. This fence is built with smooth, horizontal boards and includes built-in outdoor lights and shelves. If you have a smaller backyard with less space for a garden, why not plant your garden vertically along your fence? Or if you just like the look of a modern fence over traditional or rustic, this may be perfect for you!
34. Rustic Birdhouse Fence
Image Source: Dumpaday.com and Pinterest.com
Also featured on our Top 12 Amazing Picket Fence Designs list, this vintage-style birdhouse fence can turn a simple picket fence into a unique fence with tons of character. For those nature lovers out there, imagine a fence that not only looks attractive but can actually double as a safe haven for local birds. If you're looking for a rustic and truly unique fence, this design is the way to go.
35. Fun Flowerpots
Image Source: Bhg.com
For those who aren't into the modern look at all, this rustic wooden fence complete with colourful flower pots may be the perfect fence for you. If gardening is your thing, why not make your small flower pots as easily accessible as possible by securing them to your fence? This quaint little fence has a true cottage look and feel.
36. Horizontal Pool Fence
Image Source: hisugarplum.com
This stunning dark-stained horizontal wood fence provides both privacy and aesthetics by combining traditional and modern sensibilities. This board-on-board cedar fence is a truly beautiful statement piece. The homeowner wanted both a privacy fence and an exciting new addition to her home – she definitely ended up with both!
"I Honestly had no idea I could be this excited about a fence…but that's because I didn't realize how completely transforming the
right fence design could be to a backyard!"
– Cassie from hisugarplum.com
37. Lattice Top
Image Source: Homeepiphany.com
No one said that this classic and simple look couldn't also be stunning, did they? If you drive through any suburban neighbourhood, you're likely to see many backyards surrounded by this type of fence. Not everyone is looking to have the most unique fence on the block – and that's okay! This featured lattice top fence proves that you can have a beautiful, simple, traditional fence without going "all out." This dark stained, board-on-board design provides privacy and completes this backyard retreat.
38. Shrubs & Pickets
Image Source: Homestylecentral.com
Picket fences do not typically provide much, if any, privacy. However, this stylish design combines shrubbery with traditional wood fence panels to create a completely different look! The shrubs close up all the gaps in this picket-style fence, allowing significantly more privacy than a normal picket fence would. The shrubs also add their own elements of design and colour. Though this fence may require a bit more maintenance, if you're looking for a striking fence for your suburban home, this is a great option.
39. Marble Fence
Image Source: Creatingreallyawesomefunthings.com
Are you looking for a truly unique, eye-catching fence? This whimsical design is a fun way to add colour to your wood fence without painting it. Adding marbles – yes, glass marbles – to each fence board creates an almost magical look. As the sun reflects off the marbles at different times of day, the marbles change colour and the fence looks unique all over again!
40. Square Lattice
This sturdier version of a traditional lattice fence provides a clear boundary without completely blocking your view. The different sized boards create a fun and unique look, adding personality to a backyard of any size. This style of fence can be used throughout the backyard, or as a statement piece around your deck or garden!
41. Modern Iron
Image Source: pinterest.com
Though iron fences are known for their traditional look, they look amazing with a modern touch. This ultra-modern iron fence provides privacy and may be one of the most unique on our list!
42. Custom Diagonal Board
Image Source: Fence by Jay Fencing
This custom-made diagonal board fence is sure to turn the heads of those passing by your home! Wooden fences don't all have to look the same, changing up the pattern of the boards is one simple way to keep privacy but get a unique look and style. Planting a small garden around your fence can also help it look as beautiful as can be!
Privacy Fences Do More Than Just Add Privacy To Your Yard!
A privacy fence can help you make the most of your backyard; Fence by Jay Fencing
Many homeowners choose privacy fences for the obvious reason – they add a significant amount of privacy to your backyard and property! However, there are many more benefits when you add a great privacy fence to your home. Some of these benefits include:
Adding a privacy fence to your home is a great way to take back your backyard! Enjoy peace of mind knowing your pets or children are safe and sound. Have late night backyard BBQs without worrying about nosy neighbours. Splash in the pool without an audience. To learn more about getting your dream backyard underway, contact Jay Fencing now!
Choosing Your Privacy Fence
Are you ready for your own privacy fence, but aren't sure how to choose the best type for you? When it comes to privacy fences, your options will be a wood fence, vinyl fence, sound barrier, privacy screen, or metal fence (often corrugated metal). Each material comes with its own pros and cons. Check out the chart below to learn more about each option!
Comparison between privacy fence types
Jay Fencing Helps You Avoid Hassles In Installing A Privacy Fence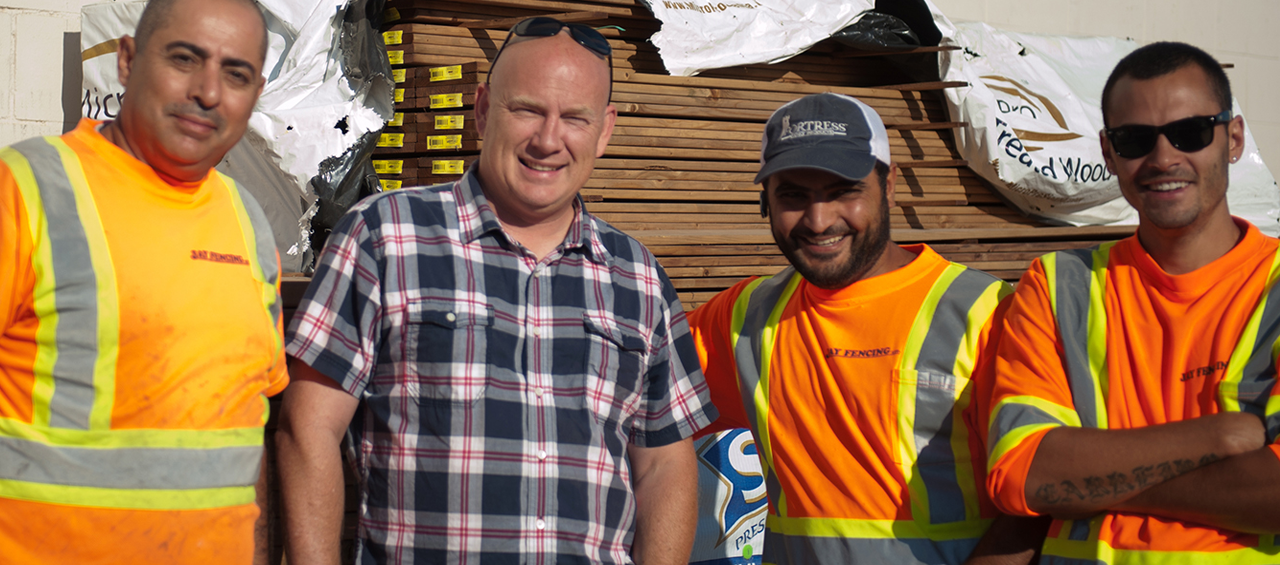 Our team of laser-focused and friendly staff can come in over the weekend to help you install or repair an existing privacy fence within a day, depending on your needs. Our schedule is flexible and we can also be available during business hours as long as it's convenient for you. Having worked with clients on properties of all shapes and sizes, we have the understanding and practical know-how to ensure great looking fences that meet local bylaw requirements and your needs. Here is what others have said about Jay Fencing:
"The fence is wonderful and looks great. I am so happy to have our privacy back.
Thank you again for all your hard work and making this happen."
– Joan, Read more testimonials here!
The best way to determine which fencing option is right for you is to reach out to Jay Fencing Ltd. Let Jay Fencing deal with solving the problems you'll face when installing a fence, while you focus on your family, all at the very best value. With Jay Fencing you can expect these services every time we serve you:
Careful consideration of community requirements
Personal and property security
Privacy
Protected play for children and pets
Over 32 years of experience delivering quality service to our clients
We service customers everywhere from Stratford to Brantford,  Mississauga to Fergus, and everywhere in between. Book a consultation today and Jay Fencing can help you pick the right perimeter for your property.
Ready For Your Perfect Privacy Fence?