There are nearly endless options when it comes to wood privacy fence styles! With a little research, you can find a privacy fence that suits your needs, personal preferences, and budget. Though wood privacy fences are common in many residential areas, privacy fences can be metal, masonry, and even vinyl. This article provides an overview of the most popular privacy fencing styles along with their pros and cons to help you decide what fence is best for you! Need more information? Let the experts at Jay Fencing help you build your new fence!
Ready for your very own privacy fence?

Wood Privacy Fence Styles and Other Designs
This section will take a more in-depth look at each privacy fence style. Wood is the most common privacy fencing material, but vinyl fencing has been growing in popularity. Concrete/masonry and metal fences are often found on commercial lots, but many homeowners enjoy them as an alternative to wood fencing or as a heavy-duty sound barrier fence. Looking for more inspiration? Check out 40+ best privacy fence designs now!
Solid Board (Wood) Privacy Fence
Biggest Pro: Sturdy and aesthetically pleasing option
Biggest Con: Typically requires a lot of maintenance
Where To Use It: Great for commercial or residential lots, excellent privacy fence
A wooden solid board privacy fence is a strong and beautiful option for any home and yard. It provides almost complete privacy as it does not have any gaps between each wooden board. Wood is an easy material to work with, and you won't have any trouble finding solid board fence panels. However, like all wooden fences, solid board privacy fences require a good deal of maintenance in order to keep them in great shape. Higher quality woods will help reduce the amount of maintenance required but will cost you more upfront.
Shadowbox (Wood) Privacy Fence
Biggest Pro: Affordable, practical, and very common (easy to find)
Biggest Con: Does not provide as much privacy as other options
Where To Use It: Great for residential backyards, great privacy fence
Shadowbox fences are commonly seen throughout residential areas. They are easy to find and a popular, cost-effective choice for homeowners. Shadowbox fences allow airflow through the slats, as the boards are not placed directly together. Many enjoy this look as it provides a great deal of privacy without completely eliminating visibility through the fence. However, if you are looking for total privacy, a shadowbox fence may not be your best choice. Like all wooden fences, shadowbox fences do require maintenance. The amount of maintenance depends on the quality and type of wood used.
Board-On-Board (Wood) Privacy Fence
Biggest Pro: Aesthetically pleasing and allows total privacy
Biggest Con: Can require more maintenance/may be more difficult to maintain due to style
Where To Use It: Great for backyards, excellent privacy fence
Board-on-board fences are another common privacy fence style you will likely see around subdivisions and residential areas. However, they are also commonly used on commercial lots for added privacy. They are aesthetically pleasing from both sides of the fence, and are a cost-effective wooden fencing solution. Board-on-board fences do require maintenance, like all wooden fences. They may be more difficult to maintain than other styles, however, as debris or insects may find their way in between the boards.
Basketweave (Wood) Privacy Fence
Biggest Pro: Very aesthetically pleasing without significant added costs
Biggest Con: Due to bending of wood and materials used, this style of fence may have a shorter lifespan
Where To Use It: Great for residential properties, good choice to add aesthetics to your property
A basketweave fence can be a beautiful addition to any yard! This style of fence is loved for more than just its looks though – it also provides a great deal of privacy. If you're looking something a little different than your neighbour's fence, a basketweave privacy fence is the way to go! A basketweave fence may have a shorter lifespan than other privacy fences due to the fact that pliable woods used to make a basketweave are not as strong or sturdy. They also require a lot of maintenance.
Vinyl Fencing
Biggest Pro: Can be found in almost every style that wooden fences come in
Biggest Con: Can be more expensive upfront and difficult to repair down the road
Where To Use It: Great for backyards, excellent privacy fence
As vinyl fencing grows in popularity, it is becoming one of the top choices for privacy fencing! Many vinyl fencing manufacturers have made vinyl fence panels to look almost identical to wooden fencing. That means you can usually find vinyl fencing in most of the styles listed above for wooden fences. Vinyl fencing is more expensive upfront than wooden fencing, but requires significantly less maintenance – it's almost maintenance free! If something happens to your vinyl fence, however, repairs can become very costly.
Corrugated Metal
Biggest Pro: Environmentally friendly and easy to install
Biggest Con: Can be difficult to find and difficult to maintain/repair
Where To Use It: Good choice for commercial lots, can be used on residential properties
Though you may not come across too many metal fences (aside from wrought iron or chain link), some do choose corrugated metal for their privacy fence! Corrugated metal is lightweight and relatively easy to work with. It's cost-effective and environmentally friendly, as it is made from recycled materials. It's a good choice for a privacy fence, and some styles are even designed to bounce away noise! However, some corrugated metal fencing can have sharp edges, making it less than ideal for families with children or pets. It can also be difficult to repair or even find – metal fence panels may not be found at your local hardware store.
Brick/Masonry
Biggest Pro: Aesthetically pleasing while also extremely strong and durable
Biggest Con: Can be very pricey, especially for larger properties
Where To Use It: Great to use as a sound wall, good for commercial lots too
Brick walls are often used as privacy fences and sound walls. They help prevent excess noise from entering your property and provide a physical barrier for added privacy and security. They come in a wide variety of styles and you can even choose a brick type to match your home. However, brick privacy fences are one of the most expensive options, as they are built to last a lifetime! They require a small amount of maintenance to ensure they last but repairing a brick fence yourself can be a big challenge. It's best to call on experts when working with brick.
Privacy Screens
Biggest Pro: Affordable and come in many styles, both permanent and movable
Biggest Con: Does not provide as much privacy as other options
Where To Use It: Great to use as an addition to other fencing on a property
Privacy screens are an excellent way to add privacy to a specific location in your yard or property. They come in a wide variety of styles and may be permanently installed in places such as your deck, or may be built to be movable so you can change their location when necessary. They are also an affordable way to add privacy to your home without going over a tight budget. However, they do not provide as much privacy as the other styles listed above and generally are not ideal for long-term usage.
Vinyl, Metal, Masonry, and Wood Privacy Fence Styles Comparison
The comparison chart below will help you compare and contrast the different privacy fence styles. Keep in mind that with wooden privacy fences, different types of wood will impact average cost. For example, a redwood solid board fence may be pricier, and a pine shadowbox fence may be significantly less expensive.
Benefits of a Privacy Fence
A privacy fence is a great way to create distance and space between residences, particularly in areas where there are high incident rates of home invasion and burglary. Homeowners and business leaders have counted on the utility and functionality of privacy fences to keep their property looking sharp while maintaining border security with adjacent properties. A privacy fence can also safeguard family members from neighbours who have a tendency to point cameras into adjacent backyards. Here is a summary of the benefits of having a privacy fence.
Reduce noise of neighbours, pedestrians, and street traffic
Limit exposure to family and backyard belongings to surveillance
Limit interaction between neighbours
Increase property value
Allow family and friends to focus on each other rather than neighbours
Protect fragile garden ornaments from being damaged
Reduce the likelihood of scavengers entering a garden
Increase security profile of a home to deter burglaries
Let Jay Fencing Help You Find & Install Your Ideal Wood Privacy Fence!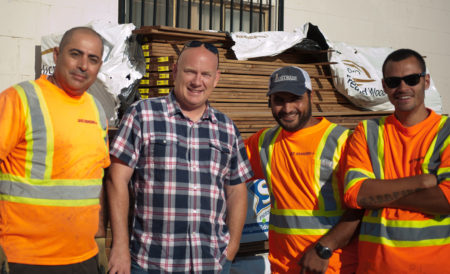 One of the best ways to figure out which privacy fence style and materials are best for you is by choosing a reputable installation company. An experienced installer will help you know what's best for you, your property, and your family.
They will also know and understand fair pricing, and will only do the highest quality work. Avoid confusion and skip right to the beautifully installed fence of your dreams with Jay Fencing! 
At Jay Fencing Ltd, you can feel confident that we will only recommend products or services that are best for you and your needs. This means you won't be buying any unnecessary products or services that will increase the cost.
We offer free onsite consultations for all the jobs we quote on!
"The fence is wonderful and looks great. I am so happy to have our privacy back.
Thank you again for all your hard work and making this happen."
-Joan, Fencing Customer – Read More Testimonials Here!
Sources
https://www.doityourself.com/stry/wood-vs-vinyl-fence-pros-and-cons
https://www.doityourself.com/stry/3-pros-and-cons-of-a-basket-weave-fence
https://www.houzz.com/ideabooks/47950544/list/corrugated-metal-is-a-sustainable-material-for-your-landscape