Chain link fences are a practical and economical fencing solution for many different types of properties. Adding a chain link fence to your home or commercial property can help increase security, help define property boundaries, and keep guests, children, and pets safer. Chain link fences are generally easy to install, but you may find potential problems if you choose a DIY installation over hiring a professional. If you are interested in your own versatile chain link fence, contact the experts at Jay Fencing! We've completed over 100,000 projects – and we offer free on-site quotes!
What Is a Chain Link Fence?
A chain link fence is a common type of fence made from metal – usually galvanized or coated steel. Most chain link fences are simple and only include a few important components, such as the mesh (the chain link portion of the fence), the rails and posts, and the gate. Chain link fences are easily identifiable due to their 'zig-zag' pattern that forms hundreds of small diamonds. See below to learn more about the different components that make up a chain link fence.
The mesh part of the fence is the 'chain link' portion
Mesh/Fabric: The mesh (also called fabric) is the actual "chain link" part of your fence. Although you may think of this as the body of the fence, the mesh is added after the posts and rails are already installed. Without the posts and rails, the mesh would just fall over! The fence mesh is what helps keep unwanted guests out and your family safe inside. Chain link fences on their own do not provide a lot of privacy, but you can choose to plant bushes or trees around your fence, or even invest in a chain link fence cover or screen to add more privacy to your property.
Fence posts are installed deep underground to ensure stability
Fence Posts: Posts are an important part of your fence's structure. Without properly installed fence posts, your fence will not last. Although you may think you see all of the posts in the image above, there is actually a good portion of the posts installed in the ground. It may help to think about fence posts like you think of the foundation of your house. Because of that, proper post hole digging and installation is so important. When it comes to chain link fences, there are two types of fence posts: the terminal posts and the line posts. The terminal posts are thick and sturdy, and the line posts are thinner and help to uphold the mesh on the majority of your fence.
Fence rails help keep every part of your chain link fence together
Rails: Like posts, your fence rails help your fence stay firmly in place. Without rails, your fence wouldn't last very long! Fence rails are the long, metal parts of your link fence that run horizontally at the top. Though some fences, like wooden fences, have two rails (one on the bottom and one on the top), most chain link fences will just have one rail at the top. With extra tall commercial chain link fences, another rail is sometimes added to the middle of the fence. Rails are often not noticeable but do play an important role in maintaining the integrity of your fence.
The Benefits Of a Chain Link Fence
Chain link compared to three other popular fencing options
If you have ever driven through a subdivision or walked through a large outdoor shopping centre or commercial area, it's likely you will come across many variations of chain link fences. There is a reason why chain link fences are so common – the benefits are undeniable! These benefits include:
Keeps Children & Pets Safe: Chain link fences are a practical way to keep children and pets safe and contained. They are one of the top choices for backyards in homes all across Canada because they do their job so well! Although chain link fences don't provide much privacy, the fact that you can see through them actually allows parents and pet owners to have a better view of their loved ones from a distance.
Cost-Effective Solution: It's no surprise that fencing can add up, especially if you have a large residential or commercial property. Fortunately, chain link fencing is one of the most affordable fencing solutions. It usually costs significantly less than wood, iron, and vinyl alternatives.
Strong & Durable: Though you may not realize it, when properly installed, chain link fences are strong, sturdy, and durable. Because of their design, chain link fences are generally not affected by harsh weather such as strong winds or heavy impacts. They also tend to withstand normal wear-and-tear better than some other options.
Little Maintenance Required: If you prefer a hassle-free purchase, chain link fences are easy to maintain right from day one. Even if you want to ensure your fence lasts a long time, it requires very little maintenance to get there. Simply painting your fence can help it look brand new and help protect against rust.
Easy To Install: Chain link fences are generally easy to install and require less know-how if you plan to do a DIY installation. If you want to work with the professionals, they take less time to install and because of their ease of installation, they cost less to professionally install too!
To learn more about purchasing your own chain link fence and all the benefits that come with it, click here!
Chain Link Fence Uses
Chain link fences can be used for a variety of purposes for both commercial and residential lots
Chain link fences are versatile and can be used for a number of different purposes. If you are looking for the perfect accent piece for your yard or a privacy fence, you should look elsewhere. However, if you need a simple fencing solution and a way to keep yourself and others safe on your property, then a chain link fence could be the perfect choice.
Residential Uses: Chain link fences are ideal for many types of residential properties because they are affordable and help keep families safer. Chain link fences come in a variety of sizes to choose from – 4 feet and 6 feet options are among the popular choices. Whether a large plot of land or have a small backyard in the city, a chain link fence is a great choice for any type of residential lot.
Commercial Uses: Chain link fences are often used to help create boundaries around commercial properties, such as restaurants, malls, or other shopping centres. You may also see them at hospitals, community centres, libraries, around large parking lots, airports, and more. These fences help to keep visitors safe and restrict access to dangerous or unauthorized areas.
Temporary Fencing: Sometimes, commercial or industrial properties require temporary fencing. For example, there may be a large shipment of loose construction materials that need to be blocked off, or something may be under construction and workers must restrict access to the general public. Chain link makes excellent, safe temporary fencing.
Dog Kennels/Animal Housing: Chain link fences are a great way to keep dogs and other animals safe while outside. You will often see outdoor kennels or dog runs made out of chain link fence. This allows proper airflow and ensures owners can still keep an eye on their animals.
Gates: You can also find gates – either regular fence gates or automatic/security gates – made from chain link. They can be found on both residential and commercial properties. Chain link gates are a cost-effective solution to help keep your property safer.
Of course, these are not the only things you can do with your chain link fence! The options are nearly endless. For example, some people have used chain link to help finish off a chicken coop, enclose a garden, or create a safe barrier on decks or balconies.
DIY vs Professional Installation
DIY chain link fence installation can be more difficult (and more costly) than you think
As we mentioned above, chain link fences are generally easy to install in comparison to your other fencing options. With do-it-yourself fencing, you have full control over the project. You only have to pay for the materials, and you can complete the project as quickly (or a slowly) as you want. However, there are many potential problems that the average homeowner can run into when it comes to DIY installation.
If you are not experienced with DIY home projects, do-it-yourself fencing may actually cost you more in the long-run. If you make a mistake while post-hole digging or install your fence incorrectly, you may find that your fence is sagging, warping, or falling over completely. It can end up costing you more to repair your fence than if you had just hired a professional to begin with.
Speaking of post hole digging, DIY post hole digging can also be a difficult task. For an inexperienced handyman, DIY post hole digging may cause serious ergonomic issues. These potential problems can include muscle strain, fatigue, and heat exhaustion. If you aren't familiar with DIY post hole digging, check out the video below to learn more.
Michelle shows viewers how to dig post holes the DIY way
If you have rocky soil or a sloped yard, you may also run into technical issues while digging that you are not equipped to deal with. Post hole digging is also difficult, or nearly impossible, to do properly in the cold Candian winter months. The experts will know the best times to dig, and when it's best to wait.
Another problem you could run into when doing a DIY installation is hitting underground utility lines. This can be a serious problem – legally and safety-wise. In order to find out exactly where your lines are, you will have to 'call before you dig' – you can contact Ontario One Call to figure out where your utility lines are.
You will also need to know about your local fencing bylaws as well as your exact property line before you install a fence that may accidentally be on your neighbour's side! In some cases, fencing disputes have cost Ontario homeowners tens of thousands of dollars in legal fees. When you work with professional contractors, you won't have to worry about any of this – they take care of it all for you.
If you want a perfectly installed chain link fence that will last a long time, stay strong, and not sag or warp, the best thing to do is call on experienced professionals. An experienced fencing installation company will know how to deal with technical issues that may arise. They will also know all of the local fencing bylaws that the average homeowner may not be aware of.
Trust Jay Fencing To Install Your Perfect Chain Link Fence!
If you are looking for any type of fence in Kitchener, Waterloo, Cambridge, Guelph, Elmira, Elora, Fergus, Stratford, Milton, Brantford, or the surrounding areas, you can trust Jay Fencing to install your perfect fence. We have 32 years of experience and have completed over 100,000 projects!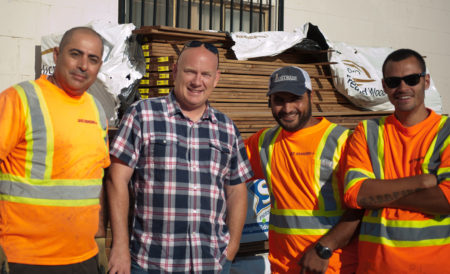 When you work with a professional installation company, they can help you decide on the right deck style for you and all of your unique preferences and needs. At Jay Fencing, we value:
Top notch customer service
Providing the highest quality products and services available
Being a name that you can trust
Having experienced and hardworking staff
At Jay Fencing, we know and understand fair pricing, and will only do the highest quality work. Avoid confusion and skip right to the beautifully installed fence of your dreams with Jay Fencing!
At Jay Fencing Ltd, you can feel confident that we will only recommend products or services that are best for you and your needs. This means you won't be buying any unnecessary products or services that will increase the price.
We offer free onsite consultations for all the jobs we quote on!
"We can't say enough about Jay Fencing. Everyone, and I mean everyone that we have been in touch with, has been absolutely wonderful. We are so excited to have our deck completed this fall and will look forward to next spring and summer to enjoy it! Thank you to everyone at Jay Fencing. You are an amazing company and we will highly recommend you to anyone."
-Janis, A Jay Fencing Customer – Read More Testimonials Here!