A chain link fence is a practical, cost-effective fencing solution for both homeowners and business owners alike. Chain link is one of the most affordable fencing options. It's strong, durable, and when installed correctly, it can last many years. In this article, we'll look at the steps to building a perfectly installed chain link fence and we'll break down each major part of a chain link fence so you can have a better understanding about why chain link is such a great fencing solution! For expert installation and home and commercial fencing solutions, contact the experts at Jay Fencing now!
Chain Link Fence: Building Infographic
Ever wondered what it takes to build a perfectly installed chain link fence? This infographic provides a brief summary of every step needed when installing a chain link fence. Keep in mind that DIY guides may vary, as there are different methods for DIY fence installation.
Interested in learning about fence installation in detail? Here are some handy how-to DIY guides that can help:
DIY installation often seems appealing as homeowners can save money on installation costs. However, if you are not experienced with DIY home projects, do-it-yourself fencing may actually cost you more in the long-run, as repair fees for an improperly installed fence can add up! DIY post hole digging is also a strenuous activity. For an inexperienced handyman, DIY post hole digging can cause serious ergonomic issues such as muscle strain, fatigue, and heat exhaustion. You may also run into technical issues such as rocky soil or sloped ground that you are not equipped to deal with. Post hole digging is also difficult, or nearly impossible, to do properly in the cold winter months. Even some experts will not dig post holes in frozen ground and suggest clients wait until spring or summer to ensure the job is done correctly.
If you want to ensure you end up with a perfectly installed chain link fence that will last, stay strong, and not sag over time, the best thing to do is call on experienced professionals. An experienced fencing installation company will know how to deal with technical issues that may arise, and know all of the local fencing bylaws that the average homeowner may not be aware of.
Interested In Your Own Expertly Installed Chain Link Fence?

Chain Link Fence: Anatomy Of A Perfectly Installed Fence
In this section, we'll go over each major component of a chain link fence to show you the "anatomy" of a fence.
Fence Fabric
The actual chain link part of your fence is generally referred to as the fence fabric or mesh. The fence fabric is added after the posts and rails are already installed. The fence fabric is, of course, what helps keep your property safe and secure. Though chain link fences do not provide much privacy, you can plant bushes or trees around your fence, or even invest in a chain link fence cover or screen to add more privacy to your property.
Fence Posts
Fence posts are an extremely important part of your chain link fence. Without properly installed fence posts, your fence will not last. There is more to a fence post than the eye can see – part of the post is buried firmly underground. You can think of fence posts like you think of the foundation of your house. That is why proper post hole digging and installation is so important. For chain link fences, there are two types of fence posts – the terminal posts and the line posts. The terminal posts are thicker and sturdier, while the line posts are thinner and help hold up the mesh along the majority of your fence.
Fence Rails
Fence rails are the metal parts of your chain link fence that run horizontally. Many chain link fences will have just one rail at the top of the fence, like pictured above. Some chain link fences will add another rail at the bottom of the fence for added security, and to help ensure animals are not able to dig under. With very tall commercial chain link fences, there is sometimes a rail added to the middle of the fence. Rails are an important part of your fence because the rails help keep everything together. Without rails, your fence could very well fall apart! Rails are often unnoticed but play an important role in maintaining the integrity of your fence.
Fence Gate
The gate is an important part of your fence, for both looks and functionality. Most chain link fence gates are made of the same material as the rest of your fence to give everything a unified look. However, the gate you choose is up to you! If you want to add a bit of flair to your fence, you can install a decorative gate instead. Your gate will generally be a few inches shorter than the terminal posts, and should be raised slightly above the ground (generally 2 inches) so it does not drag across concrete or grass, which would damage your gate (or your grass) over time.
Expertly Install Your Perfect Chain Link Fence With Jay Fencing!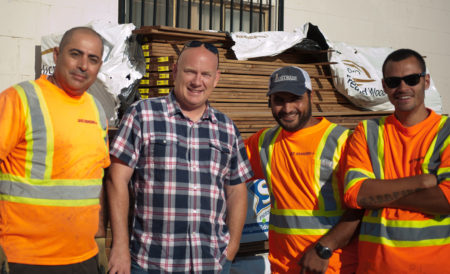 One of the best ways to figure out which type of fence is best for you, your family, and your property is by choosing a reputable installation company to help you.
They will also know and understand fair pricing, and will only do the highest quality work. Avoid confusion and skip right to the beautifully installed fence of your dreams with Jay Fencing! 
At Jay Fencing Ltd, you can feel confident that we will only recommend products or services that are best for you and your needs. This means you won't be buying any unnecessary products or services that will make the price go up.
We offer free onsite consultations for all the jobs we quote on!
"The installers were very dedicated to come to install our new chain link fence on a Sunday, in the rain, no less.
We appreciate the excellent work and the safety we now have again since the fence enclosed
one end of our pool. Thanks for a great job!"
-Marjolein Hicks, A Jay Fencing Customer – Read More Testimonials Here!