You've looked at all your options and finally settled on a chain link fence, but where do you go from there? Any addition to your home is a big decision. With so many options, the process can quickly become tiring. However, purchasing and installing a
chain link fence
doesn't have to be frustrating or confusing! See our infographic and tips below for the anatomy of a hassle-free chain link fence purchase. For more information about the perfect fence for your home or business,
contact the experts
at Jay Fencing now!
Ready For A Hassle-Free Chain Link Fence Purchase?

Chain Link Fence: Anatomy Of A Hassle-Free Purchase
There are a number of steps you can take to help make your new fence purchase and installation go smoothly. If you're ready to purchase and install a chain link fence, see the infographic below for tips on making a hassle and stress-free purchase!
Tips For A Hassle-Free Purchase
See below for a bit more information about each step of the process outlined in the infographic above.
1 – Do Your Research
There are many guides and lots of information available online about the different types of chain link fences, average costs and installation fees, and more. Many people are not aware that they do have options when it comes to chain link fences! Though you may not have as much of a selection as with wood or vinyl fences, there are different chain link fence types and styles! You can choose from styles such as:
Residential and commercial fencing
Different chain link fence heights
Coloured or plain black/grey
Garden fences
And more!
See more chain link fencing by Jay Fencing here!
There are also different types of chain link mesh that you can choose from, depending on the durability and strength of fence you need. Check out this guide from SF Gate to learn a bit more about different chain link fence customization options.
2 – Make A Budget
Creating a budget and sticking to it may seem difficult at first, but it's an important step to ensure the purchasing process remains hassle-free. After you have completed your research, you will see how certain types of chain link fences compare to each other. You can also choose what is most important to you and what is worth removing from your budget. For example, if it is really important that you have a stronger mesh, you may choose to spend extra on a stronger mesh and decide you do not need that second gate after all.
3 – Research Companies
Part of making a hassle-free purchase is finding a fence installation company that helps you accomplish your hassle-free goal. The best way to find a great company is by doing your research. Don't be afraid to take your time to read reviews online, get multiple quotes from different companies, and think about your choice before hiring.
Here are some tips for finding a professional company:
Check out their website – See if the company has pictures of previous work done, ensure the website uses their own photos instead of trying to pass off stock photos as their own work. See if the company is easy to contact and has their information available. A website is often a good indication of how professional a company is.
Read reviews – Check out reviews online. Of course, no one is perfect, but seeing a large number of great reviews can help you find a great company. Check out Google Reviews, the Better Business Bureau, HomeStars, or other review websites to get an idea of other customers' experiences.
Word of Mouth – If you love your neighbour's fence, ask them who they hired. Ask about their overall experience with the installers. Word of mouth is a great way to find a reputable company that services your area!
Don't hesitate to check out Jay Fencing's reviews! View our Google Reviews here, or our testimonials page here!
4 – Plan Everything
Though you do not have to become your city or town's bylaw expert, it is a good idea to have a general idea about your area's fencing bylaws before you start planning your dream fence. You do not want to end up with a plan that falls through because your fence plans are just not legally possible. You should also map out your property line ahead of time, to avoid any problems down the road such as legal issues or neighbour disputes.
You may also want to determine the size of mesh you want on your fence. Though most standard chain link fences do not allow for many customization options, remember that you do have options. It's important to decide if you want something a bit different from the norm! During this stage, plan for other custom options if necessary. Do you want post caps? Points at the top? What about equipment? If you are doing-it-yourself, you'll need to rent or buy the right equipment for digging post holes and tools for installing your fence.
Though your fencing company will know your local bylaws, there is no harm in having some idea about the rules and regulations for your area. It will help ensure that you and your installers are on the same page and that you do not hit any surprise snags along the way.
5 – Leave It To The Professionals
Once you have selected your installation company, the final step is to leave the rest to them! Trust that your extensive research, budgeting, and planning has paid off, so you can have a hassle-free purchase and installation. Working with professionals ensures you avoid common mistakes such as post hole errors (digging in the wrong spot, not digging deep enough), loose mesh that will make your fence sag, or incorrect spacing that can create large gaps under your fence.
Of course, some homeowners choose to do a DIY installation using online guides instead of hiring an installation company. There are pros and cons to both methods. See the section below to learn more about DIY vs professional installation.
Do It Yourself Or Hire The Professionals?
Though we mentioned hiring professionals as part of our hassle-free process, some homeowners prefer to go the DIY route. DIY installation often seems appealing as homeowners can save money on installation costs. You have complete control over your fence and can install at any pace you feel comfortable with.
However, if you are not experienced with DIY home projects, do-it-yourself fencing may actually cost you more in the long-run, as repair fees for an improperly installed fence can add up! If you are looking for a truly hassle-free process, DIY is generally not the best option.
DIY post hole digging is also a strenuous activity. For an inexperienced handyman, DIY post hole digging can cause serious ergonomic issues such as muscle strain, fatigue, and heat exhaustion. You may also run into technical issues such as rocky soil or sloped ground that you are not equipped to deal with. Post hole digging is also difficult, or nearly impossible, to do properly in the cold winter months. Even some experts will not dig post holes in frozen ground and suggest clients wait until spring or summer to ensure the job is done correctly.
If you want to ensure you end up with a perfectly installed chain link fence that will last, stay strong, and not sag over time, the best thing to do is call on experienced professionals. An experienced fencing installation company will know how to deal with technical issues that may arise and all of the local fencing bylaws that the average homeowner may not be aware of.
Expertly Install Your Perfect Chain Link Fence With Jay Fencing!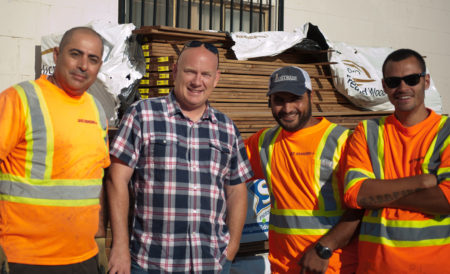 One of the best ways to figure out which type of fence is best for you, your family, and your property is by choosing a reputable installation company to help you.
They will also know and understand fair pricing, and will only do the highest quality work. Avoid confusion and skip right to the beautifully installed fence of your dreams with Jay Fencing! 
At Jay Fencing Ltd, you can feel confident that we will only recommend products or services that are best for you and your needs. This means you won't be buying any unnecessary products or services that will make the price go up.
We offer free onsite consultations for all the jobs we quote on!
"The installers were very dedicated to come to install our new chain link fence on a Sunday, in the rain, no less.
We appreciate the excellent work and the safety we now have again since the fence enclosed
one end of our pool. Thanks for a great job!"
-Marjolein Hicks, A Jay Fencing Customer – Read More Testimonials Here!