Interested in purchasing your very own wood privacy fence panels but don't know where to begin? Jay Fencing's Wood Privacy Fence Panel Buying Guide will give you money and time-saving tips, outline the top places to purchase fence panels, and compare the do-it-yourself installation route versus hiring a fence installation professional. Have unanswered questions about wood fence panels? Contact Jay Fencing today!
"Thanks so much for the great work! After our fence was blown over in winds on Sunday, I called Jay Fencing on Monday. I was impressed that Kelly was able to see us that day. We had great advice, posts in by Thursday and a completed fence by Saturday. It looks fantastic and in timely fashion as well. I'm sure the neighbours appreciate it too. The workmanship is great and the service was top notch. I don't say that often these days. Jay Fencing earned it! Thank you."
– Rocky Nash, Jay Fencing Customer – Read More Testimonials Here!
Wood Privacy Fence Panels Buying Guide
Wood privacy fences are a beautiful, classic option for nearly any yard! Like all fencing materials, wooden fences have both pros and cons. It's important to know both the benefits and potential drawbacks before purchasing so you can be well prepared and ready to properly maintain your new fence panels.
Wood Privacy Fence Panels – Pros and Cons
Read the list below to see the pros and cons of wood fence panels. Take note and keep these facts in mind while purchasing your new fence.
Pros
Natural, classic look – Your fence will most likely fit in with your neighbours no matter where you live.
Versatile and customizable – Easy to create the perfect dream fence for your home, cottage, or property.
Easy to install – Especially if you are a seasoned handyman or hire experienced installers.
Can be any colour you want – Easy to varnish, stain, or paint to match your home or surroundings.
Affordable – Because there are so many wood fence options, it's easy to find a wood type in your price range.
Strong, sturdy, and private – Depending on fence style, height, and wood type, wooden fences can be extremely strong and provide the perfect amount of privacy.
Cons
Posts can fail if not installed correctly – Fence can warp if not installed correctly.
Regular maintenance – Required to keep fence in good shape.
Pests – Can easily become home to termites or other unwanted pests if not maintained.
Rot – May rot or warp if installed incorrectly or not regularly maintained.
Weather – Can be damaged by weather.
Types of Wood Fence Panels
Wood Fence Panels Cost: $ – $$$
There really is a type of wood for every style preference and budget! Each wood type has its pros and cons, including price tag, durability, and amount of natural resistance to the elements. Some popular choices include:
Pressure Treated Pine $ – A practical, well-priced option. Chemically treated to resist rot, insects, and moisture.
Cedar $$–$$$ –  Beautiful and naturally resistant to rot, insects, and moisture. Always a great choice for fence boards.
Redwood $$$ – Naturally resistant to rot, insects, and moisture. Comes in a beautiful red colour, prized for both its aesthetics and strength.
This is by no means an exhaustive list, as fence panels come in a wide variety of wood types. However, this list will let you see some of the most popular choices and help you decide what factors and characteristics are most important to you.
Fence Board Style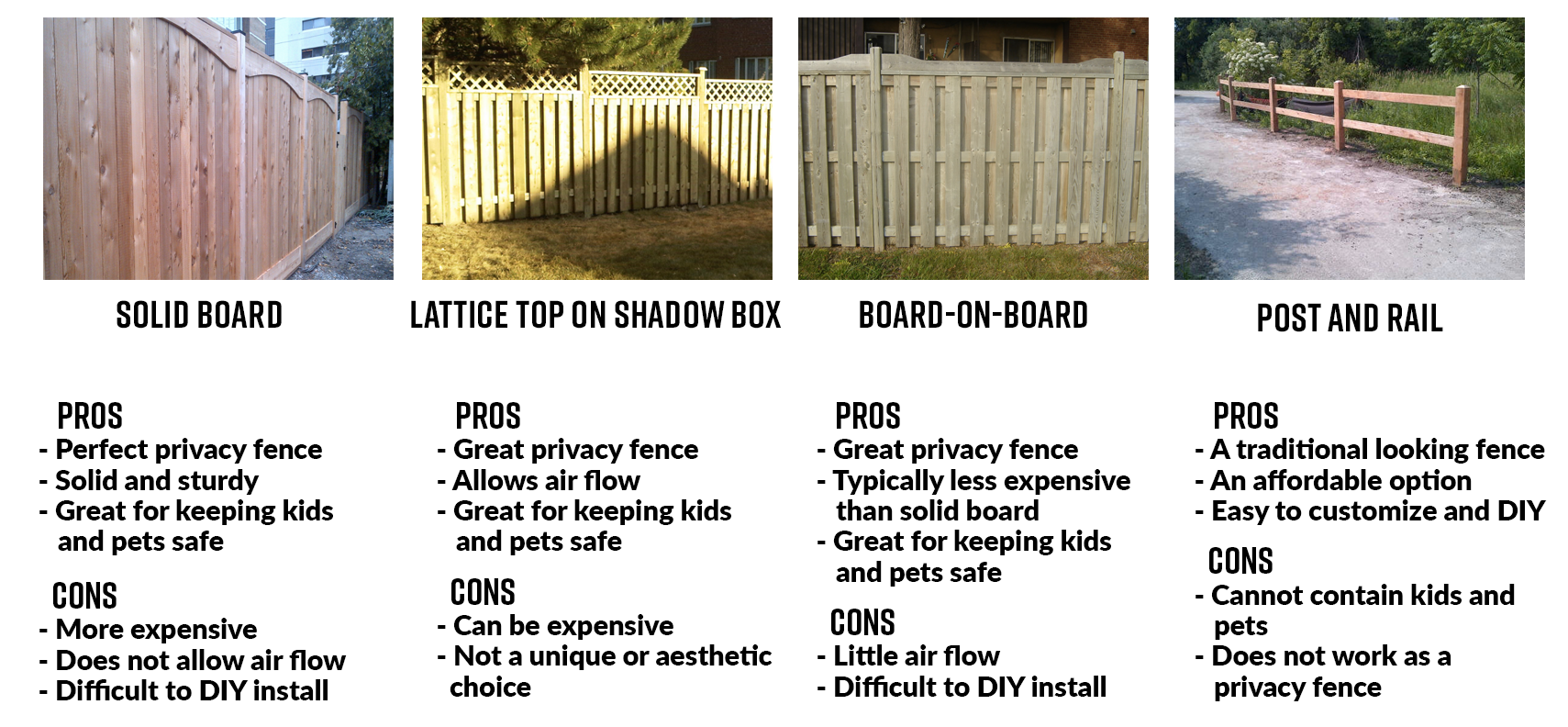 Now that you know the pros and cons of wooden fences and have learned more about the common fencing materials, here are some of the most common wooden fence designs. The first three are all privacy fence styles, while the last provides a comparison for a fence style that would not be considered a privacy fence.
Solid Board – A decorative and beautiful option. The top can be crafted in a variety of different ways to suit whatever your preference may be. The solid board style also allows privacy.
Lattice Top – Lattice top is a very popular choice. It allows some air flow by breaking down strong winds into a gentler breeze. It also provides privacy while still allowing some vision beyond the boards.
Board-on-Board – One of the top choices for privacy fences. It looks attractive from both sides of the fence and allows a breeze to come through between the boards.
Post and Rail (not a privacy fence) – With a classic, welcoming look, the post and rail style is definitely not a privacy fence. Often used as a decorative fence, though it can actually be customized with mesh to protect children or pets from getting out.
Where To Purchase Fence Panels
Here are the most common places where people buy fence panels:
Hardware stores: Rona, Home Depot, and Lowe's are all common places to purchase fence panels. Purchasing fence panels from a large hardware store offer many options, including styles and wood types. It's easy to compare prices and determine a close approximation of how much your fence will cost in total.
Online: Others try to snag the best deal from purchasing online from sites such as Kijiji. There are many ads and private sellers currently selling fence panels. Though this may seem like an appealing option, it's important to be aware of possible scams. If you choose to go this route, understanding what quality wood looks like and knowing how to avoid online scams is vital.
From Your Fence Installer: If you choose to hire an installer, there is a good chance they will supply you with everything you need – that will all be included in the price. Hiring an experienced and trustworthy installer is one way to ensure your fence panels are exactly what you want and need.
Do-It-Yourself VS Fence Installers
Fence installation can be challenging, as post hole digging is not for the inexperienced DIYer. However, there are some benefits to doing it yourself. When choosing to do it yourself, you are on your very own timeline. Your fence can be installed as quickly or slowly as you choose. Some people love at-home projects and look forward to their next DIY renovation or project. Doing it yourself can be fun for some, and even a good way to connect as a family, getting all members involved in one way or another.
Even if you love DIY projects, doing it yourself can be a big challenge. Post hole digging and fence installation can cause a host of ergonomic issues for the installer. Digging with a home-made digger can cause serious injuries if made incorrectly or used by an inexperienced handyman. Even digging without the use of heavy machinery can lead to injury. When proper techniques are not used, potential injuries include muscle strain or soreness, overexertion or fatigue, and even twisting your back or leg. The Canadian Centre for Occupational Health and Safety (CCOHS) explains the physical difficulties that come with digging and provides ergonomic digging techniques.
Though many people enjoy the time spent DIYing, many people do not have the extra time, effort, or energy to put in the work required to install their fence.
There may also be a host of technical issues the DIYer can run into while working on their fence. Fence installation requires tons of precision. If you dig your hole in the wrong spot, it will need to be filled and re-dug. This can leave a nasty, lasting mark on your yard! A shallow hole will not be sturdy, leading to potential structural issues down the road. Proper planning and precise marking will ensure little or no mistakes.
Another issue many do-it-yourselfers encounter is one they have no control over – the soil itself. On the forum Homeshopmachinest.com, a member called Black Forest responded to a question about digging in rocky soil. User Black Forest replied, "If you bore down in anywhere close to a tree or football size rocks or bigger you will stick the auger. Then you will have to dig it out by hand. No fun at all."
How To Get The Best Deal – Save Time & Money
Choosing to purchase and install a privacy fence is a big decision and is definitely not something to take lightly! That's why getting the best deal is important. However, keep in mind that the cheapest price does not necessarily mean the best deal! Here are ways to get the best deal:
Know your budget – It's important to know your budget going into it. Of course, there may be fees or custom options you did not initially budget for. However, sticking as closely to your budget as possible will help you leave feeling satisfied and not ripped off. Knowing your budget beforehand will help save you time by immediately reducing the number of options you have, which is by no means a bad thing! It will help save you money because you will know how much you can and should spend before becoming overwhelmed with limitless options.
Research ahead of time – Research all the different types of wood materials and fence styles before you speak to an installer or begin your DIY project. Check out average prices and compare that to the quotes you are given or to the prices you've found online. Researching ahead of time can save you tons of consultation time, and ensure you are getting a fair price.
Check company reviews – If you choose to go with an installer, check online reviews. Seeing that others have had a good experience with the company likely means you will too! Of course, no company has perfect online reviews. Take the time to read through a few of the best and worst reviews to see what others have to say.
Hire an experienced installer – One of the best ways to get the best price is by choosing a reputable installation company. An experienced installer will help you know what's best for you and your property, will know and understand fair pricing, and will only do the highest quality work. With an experienced installer, you can avoid all the potential DIY pitfalls and skip right to the beautifully installed wooden privacy fence of your dreams.
At Jay Fencing Ltd, you can feel confident that we will only recommend products or services that are best for you and your needs. This means you won't be buying any unnecessary products or services that will make the price go up. We offer free onsite consultations for all the jobs we quote on!
Ready to install your very own wooden privacy fence?

Sources
http://www.doityourself.com/stry/woodfence
https://www.landscapingnetwork.com/fencing/wood.html
http://bbs.homeshopmachinist.net/threads/58989-DIY-post-hole-digger-good-idea-bad-idea