When looking for a new fence, many find it difficult to choose between vinyl fencing and wood fencing. Wood fences come in a wide variety of species, from cedar to redwood to spruce. Each type of wood varies in price, strength, and resistance to the elements. Because there is such a wide variety of woods, there is usually a wood fence for every need and budget. Vinyl fences are made of resin (plastics). Vinyl fences also come in a variety of styles, shapes, and colours. This Vinyl Fencing vs. Wood Fencing article will help you decide whether a vinyl fence or a wood fence is right for you, your needs, and your budget. To learn more about which fence is right for you, contact the experts at Jay Fencing today!
Whether its vinyl or wood go with Jay Fencing

About Vinyl Fencing
Vinyl fences by Jay Fencing – See more here!
See below for the general rating we have given vinyl fencing on price, durability, maintenance required, aesthetics, and options available.
Price: $$$$
Durability: ★★★
Maintenance Required: ★ – ★★
Aesthetics: ★★★★★
Options Available: ★★★
Vinyl fences are becoming an increasingly popular alternative to wood fencing. Though many have a distinct vinyl look, others purposely mimic a wood design and look almost indistinguishable from their wooden counterparts. As vinyl fencing grows in popularity, so do the vinyl fencing options. You will see many white vinyl fences, but they now come in a variety of colours such as beige, grey, dark red, black, and more.
One of the best things about vinyl fencing is that you won't have to worry about maintenance. Vinyl fences are as maintenance free as possible. Of course, you may want to clean your vinyl fence to ensure it looks good for a long time, but you will not need to paint or treat a vinyl fence. Vinyl fences are also insect, rot, and rust resistant. However, some vinyl fences are prone to mildew in the right weather conditions. Vinyl fencing is also strong, secure, and is a great option as a privacy fence.
Unless you choose the most expensive wood type, it is also a guarantee that vinyl fencing will cost more up front. Unlike wood, vinyl is not easily customized. Although vinyl fencing is strong, it is not as strong as some wooden fence types. In extreme weather, vinyl fences may bend or even expand. High enough winds that may leave wooden fences intact can cause damage to a vinyl fence. Repairing a vinyl fence can be a major challenge, especially if you plan to do it the DIY way. When repairing a damaged vinyl fence, it's best to call on experts who know how to fix the problem without making it worse.
About Wood Fencing
Wood fences by Jay Fencing – See more here!
See below for the general rating we have given wood fencing on price, durability, maintenance required, aesthetics, and options available.
Price: $ – $$$$
Durability: ★★★ – ★★★★★
Maintenance Required: ★★★★
Aesthetics: ★★★★★
Options Available: ★★★★★
Wooden fences remain one of the most popular types of fences – and with good reason. There is a wooden fence for every style, property, preference, need, and budget. For example, whitewood fence panels are inexpensive, easy to work with, and durable. However, they are not insect or rot resistant and may not be able to naturally withstand damage without treatment. Redwood is one of the most expensive types of wood fencing, but is extremely durable and naturally rot and insect resistant. Choosing the right type of wood depends on the climate and weather conditions of your area, your budget, and your fence's purpose.
With a wood fence, you have many customization options. Unlike vinyl fencing, you can easily customize a wood fence by yourself or through your fence installer. Adding lights, hanging flower boxes, or other personal details is easy with a wooden fence. Wooden fences also come in a nearly endless number of shapes and styles. Repairing a wooden fence is relatively easy and generally won't cost too much.
However, wooden fences bring their own unique problems. An improperly installed wooden fence can warp and bend. Post hole digging is difficult and strenuous, and if done incorrectly, your wooden fence will not stay durable for long. One of the biggest drawbacks with wooden fences is the amount of maintenance they require. The amount of maintenance depends on the type of wood used. Still, all wooden fences require more maintenance than vinyl fences to ensure they remain free of rot and insect infestations.
Vinyl Fencing vs. Wood Fencing – Comparison
Still feeling stuck between vinyl and wood fencing? Check out this quick and easy comparison chart to see the biggest pros and cons of each type of fence.
Find & Install Your Perfect Fence With Jay Fencing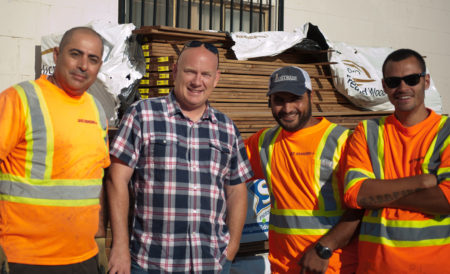 One of the best ways to figure out which fence material and style is best for you is choosing a reputable installation company. An experienced installer will help you know what's best for you, your property, and your family.
They will also know and understand fair pricing, and will only do the highest quality work. Avoid confusion and skip right to your beautifully installed fence of your dreams with Jay Fencing! 
At Jay Fencing Ltd, you can feel confident that we will only recommend products or services that are best for you and your needs. This means you won't be buying any unnecessary products or services that will make the price go up.
We offer free onsite consultations for all the jobs we quote on!
"Thank you very much to you and your amazing staff for helping turn my backyard into the oasis I've been hoping for! I LOVE the new fence!!! Your staff are friendly, courteous and do amazing work with such attention and detail. I'll be calling when it's time for a new deck!"
-Ardis, A Jay Fencing Customer – Read More Testimonials Here!
Sources:
doityourself.com – Wood vs Vinyl Fence Pros and Cons
doityourself.com – PVC Fence vs Vinyl Fence
thespruce.com – What Are the Pros and Cons of PVC Vinyl Fences?