A great privacy fence does more than simply give your property more privacy – it can also add aesthetic appeal, increased safety for children and pets, and help tie together your landscaping design. However, it's important that you find the right type of privacy fence for you, your needs, and your budget! So, how do you find your own perfect fence? In this article, we'll guide you through the process of finding not only the right fence, but also the right fence installers to get the job done right. To learn more about getting your own dream fence, contact the experts at Jay Fencing! We have over 32 years of experience and have completed over 100,000 projects!
How to Find the Perfect Privacy Fence
Looking for your own privacy fence to help transform your yard into the backyard of your dreams? When it comes to any type of fencing, there is a lot to consider before you choose to install it. This guide will help you narrow down your choices so you can get the best privacy fence for your unique preferences, budget, and needs!
Consider The Materials – What Type Of Fence Do You Want?
One of the first things you will need to decide on (or at least have an idea of) is the type of material you want your privacy fence to be made out of. The most popular materials to choose from are vinyl, wood, metal, or stone (usually sound barrier style). Each type has its own pros and cons.
For example, a metal fence is usually a cost-effective option, requires little maintenance, and is often made from recycled material so it is an environmentally friendly option. However, it can rust over time and is not generally the most aesthetically appealing option. With a wood fence, on the other hand, you will be paying more and will have to work to maintain it yearly, but it is a beautiful and aesthetically pleasing option and can last a very long time.
To learn more about each of your options, check out the chart below!
Each fencing material comes with its own pros and cons
If you are stuck between two different options, you may want to consult the fencing professionals. Professional fencing contractors know all the ins and outs of everything to do with fencing – that means they can help you choose the best option for your property and yard.
Get Some Inspiration – Research Different Styles
Even within the same fencing type (e.g. wood or vinyl), you will find that there so many different styles to choose from, from different colours to different shapes, sizes, and more. For example, you can see below just some of the different options when you choose a wooden fence – board on board with a lattice top, horizontal board, and a convex wood fence.
Wooden privacy fences can come in many different styles
Even after you've decided on a material, you'll still want to know some styles that you prefer. When you work with fencing contractors, they can help point you in the right direction, but it will make the process easier on you if you already know some of the styles you like (or don't like)!
To get some inspiration for your upcoming project, one of the easiest ways is to simply browse the internet! There are thousands of privacy fence design galleries out there, made by fencing contractors or bloggers who enjoy sharing their favourite designs with the world. If you're looking to get some inspiration, here are some great places to start:
Remember that every style will have both pros and cons. One thing some homeowners are concerned about is the potential loss of airflow. If that is something you are concerned about, you may want to choose a shadowbox style, or fence with lattice sections instead of a solid wooden board or a stone fence. If security or noisy neighbours is more of a concern, you may choose a fence style that is difficult to climb or jump over or blocks sounds better – in that case, a solid board or stone sound barrier may be perfect for you!
If you're looking for more ideas, you can simply google ideas and you will get the results for many articles and galleries that can give you even more fencing inspiration!
The Benefits Of Finding a Professional Fence Installer
Professionals fence installers can help you find the right fence for your preferences and budget
Working with a professional fence installer can ensure you not only get the right privacy fence made of the materials you want, but it also ensures the actual fence is properly installed. A poorly installed fence can cause serious issues for you down the road – it may not hold up to strong winds, can become easily damaged, or you may end up needing to replace entire boards or even sections at a time!
Finding a great fence installer is the best way to ensure your entire project goes as planned. Although there are many how-to guides when it comes to building your own fence, it can be a lot more challenging than it looks for the inexperienced handyman. If you don't have the experience or know-how when it comes to post hole digging and installing the rest of your fence, you may end up needing to call in the professionals anyway to fix your mistakes!
When you work with the professionals, there are many benefits, including:
Prevents Post Hole Digging Issues – As mentioned above, Post hole digging is one of the most difficult parts of the fence installation process. Post hole digging requires not only know-how, but also physical strength. You may strain muscles or injure yourself if you do not know how to properly dig.
Helps You Choose The Right Fence – When it comes to privacy fences, there are just so many options. A professional fence installer can help you choose a fence that perfectly fits into your budget and will work well on your unique property.
Complies With Local Bylaws – Local fencing bylaws outline the rules and regulations you must follow when installing your fence. A fence installer will know all the bylaws and ensure your fence is compliant with them. Ignoring these bylaws can get you into legal troubles.
Helps You Save Time And Money – Installing a fence yourself can take a significant amount of time, especially if you are not experienced with these types of projects. Working with fence installers not only saves you time, but it can also save you money in the long-term! A poorly installed fence will cost more over time for repairs and fixes, while a properly installed privacy fence can last decades.
Now that you know why it's so important to work with the professionals, you may be wondering how to find a great company to work with. See below to learn more!
How To Find A Great Fencing Company
Professional fence installers should have lots of original photos of their work on their website
Finding a great fencing company is the final step to getting your perfect privacy fence! With the internet, it is a lot easier to find reputable companies nowadays. However, there is more to finding a great company than just checking online reviews (although, that's a great place to start!)
Check Online Reviews – Yes, checking online reviews is an excellent way to begin your search. It can give you a quick idea of what others have to say about the company, and what the positives and potential pain points are. You can check reviews on Google, Yelp, HomeStars, Facebook, and more!
Ask For a Quote – Before you decide to work with any company, even a company that has amazing reviews, it's a good idea to get a quote first. You will want to be prepared financially, but it will also help you get a feel for the company as you will get a chance to meet with an employee before committing.
Check Out Their Website – A professional company will be happy to display their previous work all over their website. If you enter their website and find only stock photos and a reluctance to show past work, that is often a big red flag.
Ask Your Neighbours – If any of your neighbours recently had a fence done and you think it looks amazing, don't hesitate to find out what company they worked with! Word of mouth is still important, and seeing an amazing fence for yourself in person is one of the best 'reviews' you can find!
"A great experience! Quick response to my request for a quote from Dave. The crew did an awesome job
of installing my new porch railing. It looks great!"
Get Your Dream Privacy Fence With Jay Fencing!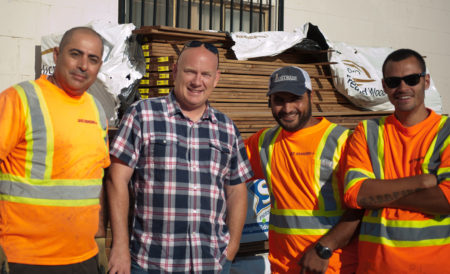 When you work with a professional fence installation company, they can help you decide on the right fence design for you and all of your unique preferences and needs. At Jay Fencing, we value:
Top notch customer service
Providing the highest quality products and services available
Being a name that you can trust
Having experienced and hardworking staff
At Jay Fencing, we know and understand fair pricing, and will only do the highest quality work. Avoid confusion and skip right to the beautifully installed fence of your dreams with Jay Fencing! 
At Jay Fencing Ltd, you can feel confident that we will only recommend products or services that are best for you and your needs. This means you won't be buying any unnecessary products or services that will increase the price.
We offer free onsite consultations for all the jobs we quote on!
"We absolutely love the fence. It looks fantastic and our neighbours were so impressed with the work that was completed. Our dog is loving the backyard. We think he believes that he is at a cottage and not his own backyard…Thank you again for squeezing us in last weekend and for the excellent work! Have a wonderful weekend!"
-Rebecca & Keri, Jay Fencing Customers – Read More Testimonials Here!