Busy intersections, noisy neighbours, nearby railroads, and loud highways can create a lot of extra noise in your home and yard. No one wants to wear earplugs in their own backyard! Though some people love the sounds of city life, many want peace and quiet. Noise reducing fencing is a great way to reduce the amount of sound pollution entering your home – and your ears. Noise reducing fencing, or sound barriers, are also a great choice when looking for a privacy fence. They help block out unwanted noise as well as prying eyes. Reclaim your dream home. Contact the experts at Jay Fencing to help you reduce unwanted noise on your property!
Noise Reducing Fencing Materials
Noise reduction is an important consideration for property managers looking to keep commercial clients happy to a parent wishing to give his or her family peace of mind. The materials used to build a noise reducing fence will help determine how much noise, and even what kind of noise, is blocked or reduced. This section will look at the most popular materials used for sound barrier fencing to help you determine which type may be best for you, your home, and your family.
Wood
Average Noise Reduction: ★★★
Cost: $$ – $$$
Aesthetics: ★★★★★
Ideal for: Residential properties
Description: The best noise reducing wooden fencing materials are redwood and cedar due to their strength and mass. Compared to other sound barrier fencing materials, wood is relatively inexpensive. It is also a traditional fencing material and will look great in any home or commercial lot.
Metal Sheeting
Average Noise Reduction: ★★
Cost: $$
Aesthetics: ★★
Ideal for: Industrial properties

Description: Metal sheeting is a strong, durable, and cost-effective option for noise reducing fencing. However, it is not the most aesthetically pleasing and most styles do not reduce a significant amount of sound. It is ideal for areas with limited noise-reducing needs.
Brick/Masonry
Average Noise Reduction: ★★★★
Cost: $$$$
Aesthetics: ★★★
Ideal for: Residential and healthcare properties

Description: Brick sound walls can be a great addition to your property, are extremely durable, and can reduce a significant amount of noise. They are one of the most expensive options, but are often worth the upfront cost in the long run in high noise polluted areas.
Berms (Wall Of Earth)
Average Noise Reduction: ★★★★★
Cost: $$$$$
Aesthetics: ★★★ 1/2
Ideal for: Temporary construction or events

Description: Walls of earth, or berms, are an excellent way to reduce the amount of noise that enters your property. They can be built in a variety of ways. A well-built berm will be very aesthetically pleasing, while others may not be. They are also an eco-friendly option, but require a lot of effort to build and can be very costly.
How Much Noise Does Noise Reducing Fencing Actually Block?
The amount of noise blocked by a noise reducing fence will depend on the width of the fence, the mass of the fence, and the materials the fence was made from. Brick sound barrier fences can reduce up to 50% of the noise that reaches your home. According to This Old House, an 8-foot high solid sound barrier fence can reduce 6 – 10 decibels of traffic noise entering your property. Traffic noise usually ranges from 60 – 70 decibels. You may wonder if a 6 – 10 decibel drop is really significant. However, to the human ear, 10 fewer decibels of noise actually sounds like half as much noise (source).
Sometimes, installing an 8-foot fence isn't possible due to local bylaws, budget, or property configuration. As we learned above, height, mass, and materials used help drown the noise. If you can't build a tall fence, consider building a thicker brick or berm sound barrier. This can help make up for the lack of height. There are also a few other tricks to help reduce noise. Many suggest installing a fountain. This helps create permanent white noise that distracts from annoying outdoor noise. The Old House also suggests planting trees or shrubbery to help block the view of distracting noises. Though foliage does not create a significant sound barrier, sometimes our brains can be easily fooled – planting beautiful trees or bushes to block your view of the road or another source of sound can help you feel better about your home and surroundings. It's also a great way to add aesthetics to an otherwise bland sound barrier fence.
What Is Noise Reducing Fencing?
Noise reducing fencing is any fence that helps to reduce the amount of noise that enters your property. Sound barrier fencing works by helping to block sound waves. Noisehelp.com outlines the two ways that noise reducing fencing works: through its height and its mass.
Because sound waves do not travel in a perfectly straight line, a taller fence will help reduce significantly more noise than a smaller fence. Noisehelp.com suggests a 12 – 15 foot fence for optimal noise reduction. However, many local bylaws prohibit building a fence that tall. Instead, you can opt for the tallest fence possible in your area to help reduce noise.
The other way noise reducing fencing works is through its mass. The more solid a fence is, the more sound will be blocked. There should be no gaps or holes in the fence – even the smallest gap can allow unwanted noise to enter your property. Different fencing materials can be used to build a noise reducing fence, each with their own mass and different ability to block out sound. Some popular materials include hardwoods such as a cedar or redwood, metal sheeting, rammed earth, and concrete or bricks. The thicker the material, the more sound will be blocked. See below for a more detailed breakdown of noise reducing fencing materials.
Sound Barrier Fencing by Jay Fencing
Check out our gallery showcasing some completed sound barrier fences by Jay Fencing!
[new_royalslider id="17″]
Ready To Reclaim Your Yard And Eliminate Noise?
Find & Install Your Perfect Noise Reducing Fence With Jay Fencing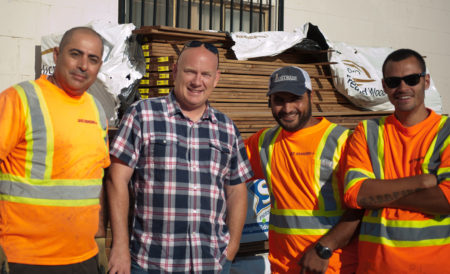 One of the best ways to figure out which fence material and style is best for you is choosing a reputable installation company. An experienced installer will help you know what's best for you, your property, and your family.
They will also know and understand fair pricing, and will only do the highest quality work. Avoid confusion and skip right to your beautifully installed fence of your dreams with Jay Fencing! 
At Jay Fencing Ltd, you can feel confident that we will only recommend products or services that are best for you and your needs. This means you won't be buying any unnecessary products or services that will make the price go up.
We offer free onsite consultations for all the jobs we quote on!
"Jay Fencing did a fantastic job on our new fence, it was built with quality products, completed on time and on budget. They are extremely professional and courteous while on site and this was our third project with them. Thank you again!"
-A Jay Fencing Customer – Read More Testimonials Here!
Sources
www.thisoldhouse.com / www.noisehelp.com / www.thespruce.com / www.acousticalsolutions.com / www.modularwalls.com