Looking for your own Pinterest-worthy fence for your home and yard? These 10 most creative fence designs featured on Pinterest will help give you the inspiration needed for your own fencing project! Whether you choose stone, vinyl, wood, metal, or any of the many other possibilities, Jay Fencing can help make your dreams a reality. With over 30 years of experience, we have the experience and know-how to help you get your very own Pinterest-worthy fence! Contact the experts at Jay Fencing now!
Over 30 Years Experience; Over 100,000 Projects Completed!
The 10 Most Creative Fence Designs on Pinterest
The Fence Ideas board on Pinterest by user Dream-Yard has over 180,000 followers and over 1,000 fencing ideas! We've gone through this awesome collection of images and picked the ten most creative fences to help you get the inspiration needed for your own unique fence! Remember, a beautiful fence does more than just add aesthetic appeal to your property, it can also raise the value of your home!
1. Rustic Fence with Creeping Vines
Image source: Pinterest.com
If you drive through a modern suburb, you'll probably see a lot of chain link or wooden fences among the various homes. However, a stone or brick wall gives a unique and rustic feel to an otherwise cookie-cutter home. This design is more than just bricks, however. It also integrates creeping fig, which covers the wall and makes the entire structure look green and earthy. You can get a similar look with other types of vines or by planting tall flowers or bushes at the base of your fence. Keep in mind this style of fence is difficult to DIY – you'll want to call in the experts if you're going for this look!
2. Bamboo & Stone
Image source: Pinterest.com
Mixing and matching materials can help create a unique design that not only helps set you apart from your neighbours, but also helps you create a perfectly customized fence. This fence combines bamboo with rocks contained by metal mesh. Bamboo is lightweight and provides minimal spacing, which allows for airflow while protecting privacy. The bottom portion of the fence may act as noise-cancelling and provides a sturdy barrier that is perfect for keeping pets and small children safe.
3. Horizontal Slats
Image source: Pinterest.com
If simple is more your style, this gorgeous horizontal wooden fence is a creative take on a traditional look. Horizontal boards help give your yard a modern look, but the wood material maintains a natural and classic feel. This is a great design if you would like some privacy but value airflow – this style blocks the view for most onlookers, but will still let the cool breeze or some sunlight through. With any type of wooden fence, you have lots of customization options – including colour, type of wood, and even the size and spacing of the boards!
4. Classic White Pickets with Flowers
Image source: Pinterest.com
This gorgeous take on the classic white picket fence design will easily catch anyone's attention! Instead of pickets poking through the top (usually a common picket or angled picket style), this low, white fence features a scalloped top – making it a bit different than most of the picket fences we're all used to. To add a splash of colour to this fence, plant some bright flowers directly at the base – from yellows, reds, and oranges to pastel pinks and purples, any coloured flower will look great against the bright white backdrop!
5. Succulents & Cinder Blocks
Image source: Pinterest.com
The words "attractive" and "cinder block" don't usually go together – however, this fence shows what you can do with a little creativity! This gorgeous cinder block fence has been painted black, which beautifully sets off the green and orange plants. Some of the blocks have been placed at various angles, providing ledges and make-shift pots perfect for displaying your beautiful succulents and other small plants!
6. Ultra Modern Vertical Boards

Image source: Pinterest.com
Over the last few years, we've seen an increase in both modern-style fences as well as dark coloured fences, with dark greys, black, and dark blues being popular choices. This tall, modern privacy fence helps bring everything together in this beautiful backyard getaway. A fence like this will act as a statement piece! You may want to think about the furniture you have as well – you can pair it with modern patio furniture, or, if you prefer to mix-and-match, you may want to get some antique or rustic furniture to contrast with the fence's modern flair.
7. A Privacy Fence – and So Much More
Image source: Pinterest.com
If you have kids at home and you're looking for some fun ways to make your yard kid-friendly, this creative design is sure to pique your interest! This is not just a privacy fence, it's so much more! Just looking at the fence alone, there's a lot going on. The wooden posts, the mesh with foliage poking through, and the built-in pergola all help bring this design together. The star of this design is really the playground built right in – a wooden swing, rope, and gymnastic rings make this the perfect play-space for kids and their friends!
8. Artsy Pickets
Image source: Pinterest.com
As we've seen in the examples above, your fence doesn't have to be 'just a fence.' This beautiful fence is definitely more than just a fence – it also acts a unique work of art. This fence is best put on display, as it acts as a statement piece in your yard. It's perfect for any sized yard – you could add a fence like this to cover a lot of space, or you can use it as a privacy screen if you think less is more with such a bold style!
9. Simple Horizontal Board
Image source: Pinterest.com 
This beautifully simple fence made with wooden horizontal boards and metal posts is a great combination of industrial and modern. This is the perfect design for someone looking for a style that combines both modern and traditional elements. If you are looking for an ideal privacy fence that will look different from all your neighbours but isn't too "out there," this is the perfect design for you!
10. White Picket With Arbour

Image source: Pinterest.com
A classic white picket fence is a gorgeous addition to any home – but isn't exactly the definition of "creativity" when it comes to fences. However, if you love the look of a white picket fence but really want something a bit different, consider adding an arbour or even a pergola above the gate. An arbour helps add a unique look and feel to your fence, especially if you add plants, flowers, vines, or hanging baskets. Whether you choose to leave it as-is or add a few more finishing touches, the style shown above is sure to grab the attention of all your visitors!
Get Your Dream Fence Design With Jay Fencing!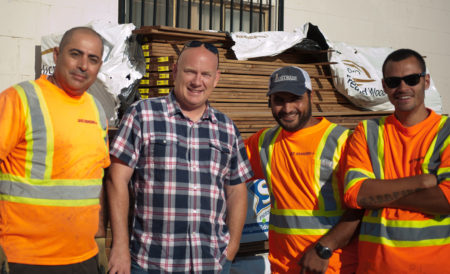 When you work with a professional fence installation company, they can help you decide on the right fence design for you and all of your unique preferences and needs. At Jay Fencing, we value:
Top notch customer service
Providing the highest quality products and services available
Being a name that you can trust
Having experienced and hardworking staff
At Jay Fencing, we know and understand fair pricing, and will only do the highest quality work. Avoid confusion and skip right to the beautifully installed fence of your dreams with Jay Fencing! 
At Jay Fencing Ltd, you can feel confident that we will only recommend products or services that are best for you and your needs. This means you won't be buying any unnecessary products or services that will increase the price.
We offer free onsite consultations for all the jobs we quote on!
"We absolutely love the fence. It looks fantastic and our neighbours were so impressed with the work that was completed. Our dog is loving the backyard. We think he believes that he is at a cottage and not his own backyard…Thank you again for squeezing us in last weekend and for the excellent work! Have a wonderful weekend!"
-Rebecca & Keri, Jay Fencing Customers – Read More Testimonials Here!