Many homeowners add a fence to their property for more than just functionality. With so many different fence designs, a new fence can be a beautiful landscaping addition to your home and yard! In 2018, there are so many different styles, designs, and materials to choose from – there really is something for everyone. If you are looking to add a fence to your home and property, you won't want to miss out on these beautiful fence designs that will help inspire your own fencing project. To learn more about purchasing and installing a fence the right way, contact the experts at Jay Fencing now!
7 Beautiful Fence Designs
Whether you're looking for a modern wooden fence, a classic metal fence, a simple vinyl fence, or something completely different, these amazing fence designs will help you narrow down your search!
#1 – Classic White Picket Fence
Ideas For This Style: Traditional homes, homeowners with children and pets
There is a reason the picket fence continues to be such a popular choice. It is practical, perfect for keeping children and pets safe and contained, but it is also beautiful! The picket fence can help make any home look warmer and more inviting. Though it is traditionally white, we've seen a wide variety of picket fence colours over the last few years, such as black and navy blue, as well as bright colours. If you are looking for an attractive yet functional fencing solution, the picket fence may be the best choice.
#2 – Modern Horizontal Boards
Ideas For This Style: Perfect as a privacy fence, great for larger backyards
In contrast to our first traditional fencing option, we have the ultra-modern horizontal wooden fence. This gorgeous fence is the perfect privacy fence for a yard of any size. As you can see, it is also more than just a fence! It has built-in shelves, perfect for adding outdoor decor or showing off your potted plants. It also comes with built-in lights, adding to the overall look of this fence and making use of all that space. This fence looks a bit more like a wall than a fence, but if you love the modern style and need the privacy, this fence may be the inspiration you're looking for.
#3 – An Iron Garden
Ideas For This Style: Ideal as decorative fencing, great around gardens or front yards
Wrought iron fences are known for being one of the most attractive fencing options available. This design takes an already beautiful, decorative iron fence and makes it even better by planting a garden around it. Iron fences may be beautiful, but they do lack colour. Bright orange, yellow, and red flowers can help bring out the decorative design in any style of iron fence. Of course, this particular design may take some extra work, so it's best for those with a love of gardening and a green thumb!
#4 – Poolside Vinyl
Ideas For This Style: Perfect as a privacy fence, great for homeowners with children and pets
Vinyl fencing has grown in popularity over the last few years, as homeowners are realizing how attractive and easy to maintain it is! This poolside vinyl fence is not just a practical way to add privacy to this homeowner's yard, but also acts as a landscaping piece. The red and black outdoor furniture contrasts perfectly with the bright white fence. It also matches the deck railing and helps complete this backyard oasis.
#5 – Corrugated Metal
Ideas For This Style: Ideal for homeowners looking for environemntally friendly fencing options
Wrought iron isn't your only option when it comes to beautiful metal fences. Corrugated metal fences are great for the environment, because they are mostly made from recycled materials, and can also add a unique, modern look to your yard. Like most fence designs on this list, the surrounding landscape has a big impact on design. This simple, black metal fence may not be much to look at by itself. However, it is a beautiful addition to this yard with lots of greenery surrounding it, matching furniture, and light, contrasting wooden floor.
#6 – Wood & Iron Combination
Ideas For This Style: Homeowners who need a privacy and/or security fence, those with children or pets
Another popular choice for fencing solutions we continue to see is combination material fences. Do you love both iron and wood? What about metal and stone? With combination fences, you don't have to pick between your favourite styles – you can have it all! This absolutely beautiful wood & iron fence shows just how good combo fences can look. Iron fences lack privacy, while wooden fences often lack the decorative gothic style found with iron. This fence doesn't sacrifice privacy while keeping the classic wrought iron fence look!
#7 – Slatted Privacy Screen
Ideas For This Style: Perfect for homeowners looking for an attractive landscaping addition to their yard or deck
If you aren't looking for a full fence and just need a privacy screen, this beautiful slatted privacy screen looks almost like a basketweave style fence, and even contains elements of a pergola at the top! If you love this style, it can also be converted into an entire fence around your yard, though would likely work best for smaller yards or for just a section of your fencing. This is also the perfect choice if you do not have room for a full-sized pergola or gazebo, but would still like some shelter and a place to hang your flowers, baskets, and other outdoor decor!
Other Inspirational Fence Designs By Jay Fencing
Scroll through the gallery below to see lots of different fence designs by Jay Fencing to help you find inspiration for your own upcoming fencing project. To learn more about all the different options you have, check out our fencing page or reach out to us now!
[new_royalslider id="27″]
Expertly Install Your New Fence With Jay Fencing!
So Happy with our new fence. Both crews that came out were very hard working, and friendly. They made sure to have us come out and check the progress at a few different checkpoints to make sure we were happy. We are extremely pleased with the end results! 


– A Jay Fencing Customer – Read more testimonials here!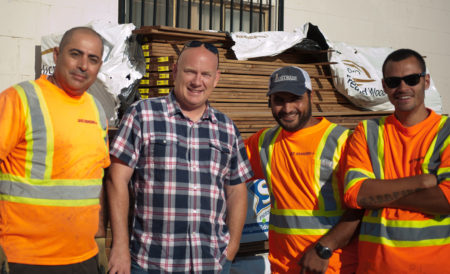 Call on Jay Fencing to install your new fence now! When you work with a professional fencing company, they can help you decide on the right fence style for you and all of your unique preferences and needs.
Jay Fencing has over 30 years of experience and has completed over 100,000 projects!
They also know and understand fair pricing, and will only do the highest quality work. Avoid confusion and skip right to the beautifully installed fence of your dreams with Jay Fencing!
At Jay Fencing Ltd, you can feel confident that we will only recommend products or services that are best for you and your needs. This means you won't be buying any unnecessary products or services that will increase the price.
We offer free onsite consultations for all the jobs we quote on!