Considering adding a gazebo or a pergola to your backyard? Both structures can add shelter, shade, and aesthetic appeal to your home – but they have some big differences. In this article, we'll look at the main differences between these structures including price, usability, and their unique pros and cons. Depending on your specific wants, needs, and the current layout of your backyard, one structure may be better suited for you than the other. To learn more about building a unique pergola or gazebo that will fit all your needs and preferences, contact the experts at Jay Fencing now!
Ready For Your Own Beautiful Gazebo Or Pergola?

Gazebo vs Pergola Comparison Chart
See the chart below to learn more about the differences between gazebos and pergolas. This brief chart will help you gain a better understanding of each structure before we move on to more detailed summaries.
What Is A Gazebo And A Pergola Anyway?
Both pergolas and gazebos are outdoor structures that provide a clear relaxation space and enhance the beauty of your property. There are many different uses for both gazebos and pergolas. Some gazebos and pergolas are built exclusively for aesthetic appeal (they are not usable but instead add to the scenery of your property). Others are temporary, built only for large parties and gatherings such as weddings. However, most gazebos and pergolas are permanent structures built as a designated space for you and your family to enjoy in your own backyard.
Summary
Pergolas are a structure with posts that support cross-beams and an open top. They are typically rectangular. Pergolas are often used as a walkway or designated seating area. Though they have an open top, some homeowners choose to cover the top in a variety of ways to add more shade and shelter to their structure. Some even use pergolas to grow climbing vines and plants – a gardener's dream!
Though you can add a fabric roof or plants to buffer the elements, a pergola is still a mostly open structure and provides little protection against insects, wind, and rain. Pergolas are not built with a floor, but can be built over grass, a deck, a patio, or wherever you may choose.
A pergola is sometimes used as a sheltered walkway that connects to two buildings. Pergolas take up less space in your yard and because they have no floor, still allowing you many landscaping options beneath it.
Gazebos are a structure that are traditionally built in an octogonal shape, though some modern gazebos are also round. Gazebos have a roof and built floor, and sometimes have half-walls, full walls (an enclosed gazebo), or are screened in. Because there is more material to work with, gazebos often come in a wider variety of shapes, styles, and designs to suit many different preferences.
Due to the layout of a gazebo and the fact that they have a floor and are more enclosed, gazebos take up more room in your yard. However, if you are worried about your gazebo taking up too much free space, you can choose to build a gazebo right on your deck! Because gazebos offer varying levels of protection from the elements (depending on the style), they are a great place to gather, eat, and spend time outdoors even during windy or sunny days.
A gazebo can even act as an additional room for your home, especially if you choose an enclosed gazebo.
When To Choose A Gazebo Or A Pergola
Whether you choose a gazebo or a pergola will depend on your personal preferences and budget. If you love the way both structures look and just can't make a decision, see below for more details about which structure fits which lifestyle, preferences, and budget best.
Who Should Buy A Pergola: If you are looking for the most cost-effective option, a pergola is your best choice. Because it requires fewer materials and the structure itself is less complex, there are simple pergolas that can fit within most price ranges. If you also enjoy the do-it-yourself building method, a pergola is much easier and cheaper to build yourself. If your backyard lacks space, a pergola is a better option than a gazebo, as pergolas take up less significantly space. Pergolas are a great choice if you simply want an aesthetically pleasing defined space in your backyard.
Who Should Buy A Gazebo: If you need a structure in your yard that will provide protection from bugs, wind, sun, and rain, a gazebo is the better choice. Gazebos come in a wide variety of styles, meaning you can choose the type and style that works best with your budget, your preferences, and looks great with your existing structures (such as your home). Gazebos are great as a stand-alone structure and can be used to host parties, eat meals, or for just relaxing in a shaded space for an extended period of time. If you have a bigger budget, don't mind a bit of extra maintenance, and want a sheltered structure that can last a long time, a gazebo is the way to go.
Great Gazebo Ideas
Check out the gallery below to get some great gazebo inspiration!
[new_royalslider id="19″]
Awesome Pergola Ideas
Check out the gallery below to get some awesome pergola inspiration!
[new_royalslider id="20″]
Install Your Perfect Pergola Or Gazebo With Jay Fencing!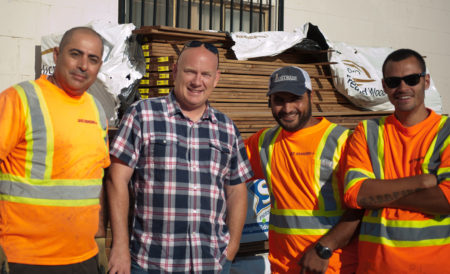 There are many online guides and YouTube videos on how to build a DIY gazebo and pergola. However, building either of these structures from scratch or even from a kit can be a challenge. Ergonomic issues such as strained muscles, heat exhaustion, or fatigue can halt the process and result in serious injury.
DIY can also end up costing more due to improper installation – repairs and even replacements down the road can result in many unexpected costs.
One of the best ways to avoid unexpected costs and DIY frustrations is by choosing a reputable installation company. An experienced installer will help you know what's best for you and your property, will know and understand fair pricing, and will only do the highest quality work. Avoid pitfalls and skip right to the beautifully installed gazebo of your dreams with Jay Fencing! 
"We are very pleased with our new deck with gazebo. I was very impressed by the
city inspector's comment that whoever built the deck takes great pride in their
work. Again many thanks."
– Bob – Read more testimonials here!
At Jay Fencing Ltd, you can feel confident that we will only recommend products or services that are best for you and your needs. This means you won't be buying any unnecessary products or services that will make the price go up. We offer free onsite consultations for all the jobs we quote on!
Sources: