A fence can be so much more than just a barrier between you and your neighbours. These fence design trends of 2019 can give you inspiration for turning your fence into a backyard statement piece. The top trends we are seeing into 2019 include integrating florals/plants right into the fence design, using wood alternatives such as metal or vinyl, creating elaborate privacy screens, and choosing different colours. To learn more about getting the fence of your dreams, contact the experts at Jay Fencing today!
Over 100,000 Projects Completed. Over 30 Years of Experience.
Fence Design Trends 2019
See below for awesome fence design trends of 2019. Some of these trends are continuing to gain popularity from last year, while others are just starting to pop up in the new year.
1. Integrating Florals and Plants
These two images above show the very different ways you can integrate florals and foliage right into your fence design. The traditional white picket fence is brought to life with greens, pinks, and purples as a garden flourishes around it. This design is easy to accomplish – simply create a garden around your fence and plant your favourite shrubs or flowers. If you plant perennials, you can sit back and enjoy your flowers coming to life every year with minimal work on your end!
The modern, horizontal solid board fence shows a minimalist version of integrating plants into the design. This fence comes with simple, built-in shelves – perfect for displaying hanging plants or potted flowers. This is a great design for those who love the look of a bit of green but don't want the work of a full garden.
2. Alternatives to Wood Fencing
We start off 2019 seeing a lot of variety in fencing materials. It used to be that almost everyone had a wooden fence – and if you didn't have wood, it was likely you had either iron or chain link. Now, we are seeing a wide variety of fences, styles, and designs made from almost anything you can imagine!
As DIY fencing and projects continue to remain popular into 2019, there are quite a few interesting do-it-yourself corrugated metal fences, or fences made from unique materials such as recycled doors. Aside from DIY projects, we are also seeing more vinyl fences, sound barrier fences made from stone, and composite fencing. With these different fencing materials come different colours – a trend we will touch on in our next section!
3. Adding Colour to Your Fence
There are many ways to add a splash of colour to your fence. In the first example above, we see a black vinyl fence that contrasts perfectly with the light grey bricks on the home. If you are looking for a bold choice, you may choose to go with darker fence colours such as navy blue, dark grey, black. or dark green. Or, if you are looking to add a whimsical touch, you can paint your fence fun, bright colours instead!
If you want to add a touch of colour without losing some more traditional elements, you can integrate colour in a different way. The example on the right shows a horizontal wood fence with metal integrated along the borders. Combining different materials is an excellent way to add different textures and colours to your fence without painting it!
4. Elaborate Privacy Screens
More and more homeowners are looking for ways to transform their backyards into an at-home oasis. We see this in a number of backyard trends, including adding in beautiful waterfall ponds, luxurious pools, converting sheds into "she-sheds" or "man-caves" – and we even see this with current fencing trends.
Elaborate privacy fences and screens are the perfect way to add an intricate or bold design without going 'overboard' – a privacy screen only takes up a small portion of your yard, so you can go as crazy as you want without it being overwhelming. Working with the professionals can help ensure your fence or privacy screen turns out exactly as you want it to.
Adding a privacy screen is also a cost-effective option for adding more privacy to your backyard, especially if you do not have a full fence or you have a fence that does not currently provide a lot of privacy such as iron or chain link. You can use a privacy screen to enclose part of your deck or patio, so weekend BBQs with your family and friends feel even more personal!
5. Extra Features
In a similar design trend to the elaborate privacy screens, we are also seeing fences that integrate lots of extra features, such as built-in lights or built-in pergolas and arbours. In the past, it wasn't uncommon to see simple lights on the top of your fence posts. Now, we are seeing more of a spotlight effect with lights built into the top of the fence boards facing down, so the light shines down across the fence. This is a great way to not only make your yard look beautiful at night, but to keep it safer for you and your family.
As we see on the left image, built-in arbours and even pergolas that connect from your fence or privacy screen are also trending into 2019. If you don't like the idea of hanging flowers or baskets right on your fence, an arbour or pergola is a great way to integrate that floral design in a different way!
Get Your Dream Fence Design With Jay Fencing!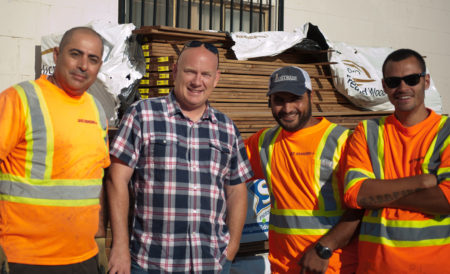 When you work with a professional fence installation company, they can help you decide on the right fence design for you and all of your unique preferences and needs. At Jay Fencing, we value:
Top notch customer service
Providing the highest quality products and services available
Being a name that you can trust
Having experienced and hardworking staff
At Jay Fencing, we know and understand fair pricing, and will only do the highest quality work. Avoid confusion and skip right to the beautifully installed fence of your dreams with Jay Fencing! 
At Jay Fencing Ltd, you can feel confident that we will only recommend products or services that are best for you and your needs. This means you won't be buying any unnecessary products or services that will increase the price.
We offer free onsite consultations for all the jobs we quote on!
"We absolutely love the fence. It looks fantastic and our neighbours were so impressed with the work that was completed. Our dog is loving the backyard. We think he believes that he is at a cottage and not his own backyard…Thank you again for squeezing us in last weekend and for the excellent work!
Have a wonderful weekend!"
-Rebecca & Keri, Jay Fencing Customers – Read More Testimonials Here!

Sources: