Are you looking for your perfect fence this year? If so, you will definitely want to see which fence designs are trending now! There are a lot of unique and beautiful designs, perfect for many different needs, preferences, and personal taste. Keep in mind that fencing trends often last a long time, so picking out a popular design now will likely remain trendy for years to come! Check out our list below to see the top 8 trends you should consider before buying your own fence. For more information about high-quality residential and commercial fences, contact the experts at Jay Fencing now!
Looking for your own beautiful fence?
Fence Designs – The Top 8 Fence Trends in 2018
Just like everything else, popular fence designs come and go. If you're interested in what's popular now in 2018, don't miss out on our list below! You'll learn about many different trends and find out information that will help you determine if they are right for you, your home, and your family.
#1 – Floral Trends
Practicality: ★★★ (Provides privacy but does require maintenance)
Versatility: ★★★ (Lots of control over the look, but plants may die in winter/fall, does not provide additional safety for children or pets)
Ideal Uses: Perfect for adding extra privacy and adding aesthetics to your property, ideal for quiet suburbs or country living
You may have noticed a general trend towards floral – both with patterns on clothes and with real succulents and other flowers around the home. It's no surprise then that this trend has made its way to fences too! Planting bright flowers or tall green bushes around your fence not only brings more beauty to your property, but also adds privacy – especially if you have a picket fence or iron fence, for example.
#2 – Ultra Modern
Practicality: ★★★★ (Depends on fence, but generally provides privacy & security for children and pets)
Versatility: ★★★ (Different styles to choose from, but all will follow more or less a traditional 'modern' look)
Ideal Uses: Great to use in neighbourhoods where others have similar fence styles or on larger properties
Another trend that has finally made its way to the fencing world – ultra modern fences look like they're here to stay, at least for now. These modern fences come in a wide variety of styles, but many wooden versions have vertical boards instead of the more traditional horizontal style. You will often see shelves, flower boxes, and lights built right into the fence for added functionality. Many modern designs also prioritize privacy.
#3 – Rustic Resurgence
Practicality: ★★ (Depends on fence, but generally these styles do not provide significant privacy or security)
Versatility: ★★★★★ (Many different styles and materials to choose from, generally easy to customize)
Ideal Uses: Perfect for county homes, for individuals who enjoy DIY projects, for those who like a nostalgic feel and don't mind extra maintenance
Along with the rise in modern-style fences, we are also seeing that the rustic revival continues strong into 2018. If you aren't ready to move to modern, don't worry, there are still many rustic options for both fences and gates. Many homeowners love the rustic look because it is not only gorgeous and brings a more traditional feel to your home, but it is often the easiest to do-it-yourself (DIY is another trend that many still love. We'll get to that below!)
#4 – Do-It-Yourself Fencing
Practicality: ★★ (Will take a lot of extra work to build, if built incorrectly fence may fail. However, easy to customize to make it ideal for privacy or pets/kids)
Versatility: ★★★★★ (Since you are doing it all yourself, DIY fences can become anything you choose!)
Ideal Uses: DIY privacy screens are perfect for smaller spaces, great for experienced DIY-ers
From entire wooden or metal fences to small privacy screens like the one above, people from all different backgrounds and with many different skill levels are trying out DIY fencing. With so many online guides and how-to videos available, it's no wonder that the DIY fencing trend remains popular! Doing-it-yourself can be a fun project to complete on your own or with friends or family. Many individuals love the hands-on approach and feel accomplished when their project is complete!
#5 – Dark Colours
Practicality: ★★★★★ (Dark colours can be used on any style of fence)
Versatility: ★★★★ (Dark colours can be used on any style of fence, but are not as noticeable on styles such as chain link)
Ideal Uses: Great for those looking to do something a little different with their fence, without any drastic changes
Fences are no longer limited to just white or "wood" – in 2018 and moving forward, you'll likely see a lot more dark-coloured fences painted black, navy blue, or dark grey. If you choose a vinyl or iron fence, you can pick a fence that already comes in your preferred colour. A dark coloured fence the perfect way to make your home pop, especially if you have light grey or white bricks or stone, or white siding. You may also want to integrate our #1 trend – adding bright and colourful flowers around your fence will create a beautiful contrast all your neighbours will envy!
#6 – Fence Gardens
Practicality: ★★★ (Great idea for those who want to garden, but fence provides limited space)
Versatility: ★★ (Can be used on most wooden fence, may not work with iron or chain link)
Ideal Uses: Great for those looking to do something a little different with their fence, without any drastic changes
Yes, you read that one right! Not garden fences, but fence gardens! Over the last few years including 2018, we've noticed a trend towards going greener where possible. One of the outcomes of this going green trend is many individuals have begun growing their own food! With limited space in smaller backyards, growing your food right on your fence is the perfect way to maximize space. It's easy and convenient to grow herbs on your fence – plus, the height will help keep animals out of your garden!
#7 – Mix and Match
Practicality: ★★★ (Depending on combination, can be great for privacy/security, may cost more up front due to variety of materials)
Versatility: ★★★★★ (Can mix many different types of fences to create a style that works best for you)
Ideal Uses: Perfect for homeowners looking for a unique look, generally ideal for those with a bigger budget
Can't decide between wrought iron and wood? Stone and metal? Well, with this fencing trend of 2018, you can have both – or more! We are seeing a lot of fencing combinations, but it looks like most of them combine wood with metal. However, as you see in the example above, you can beautifully combine two elements that may create unexpected beauty. This stone and iron fence works perfectly surrounding this bright garden. The stone creates a strong barrier, while the little intricacies of the iron fence provide beauty and character.
#8 – Embracing Metal
Practicality: ★★★★★ (Metal fences are often very affordable, easy to buy OR DIY, and provide security & privacy)
Versatility: ★★ (Not easy to customize, metal can be difficult to work with)
Ideal Uses: Great for those looking for a greener option, ideal for lower budgets
One previous fencing trend we saw a lot of in the previous years was passing off metal fences as wood. According to Landscaping expert Matt Leacy from this article on Homes To Love – that trend is definitely out. Instead, in 2018 we're seeing more and more people embrace their metal fences. Corrugated metal fences appear to still be increasing in popularity. That shouldn't come as a surprise. As we mentioned above, many individuals are becoming more environmentally conscious. Metal fences are often made from recycled materials and of course, do not require the cutting down of trees.
Find Your Perfect Fence With Jay Fencing!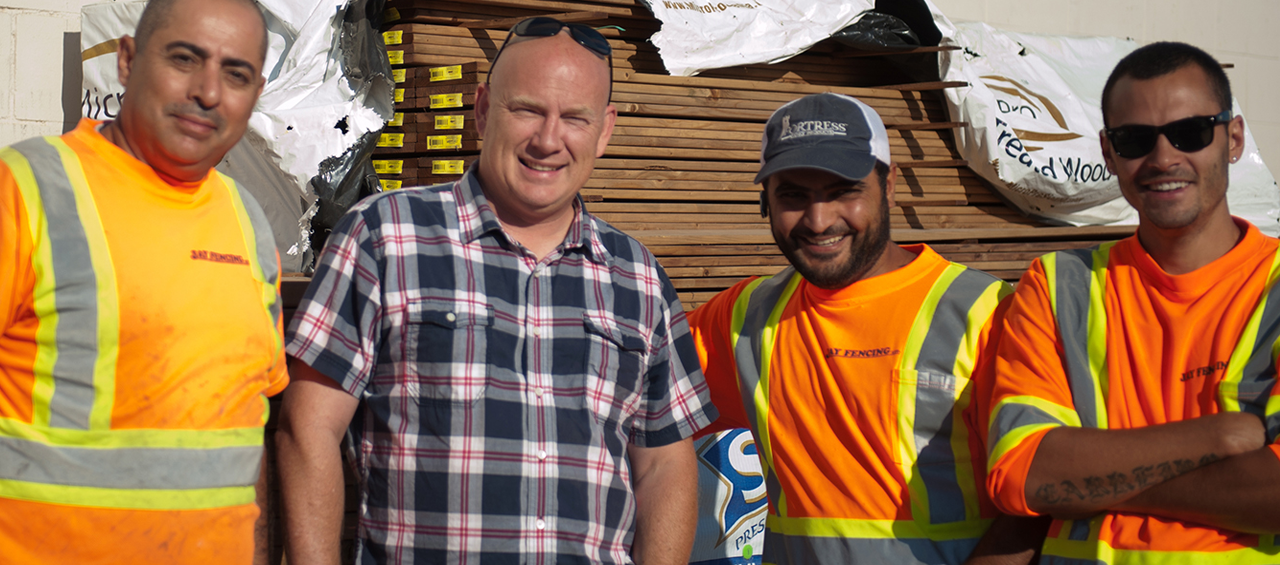 Call on Jay Fencing to install your new fence now! When you work with a professional fencing company, they can help you decide on the right fence style for you, your family, and all of your unique preferences and needs.
They will also know and understand fair pricing, and will only do the highest quality work. Avoid confusion and skip right to the beautifully installed fence of your dreams with Jay Fencing! 
At Jay Fencing Ltd, you can feel confident that we will only recommend products or services that are best for you and your needs. This means you won't be buying any unnecessary products or services that will increase the price.
We offer free onsite consultations for all the jobs we quote on!
"We LOVE the fence. It is fabulous, and the dog is in sheer heaven booting around the yard. You guys were so good – they obviously care about doing a great job, and they were polite and pleasant to have around. It is all great – just wanted to say thanks. Please tell the guys I said they did a wonderful job."
– Leslie Bamford, Read more testimonials here!

Sources: