When people say that wood fences are customizable, they really mean it! You might be surprised how many different and unique fence designs are out there! From a vintage birdhouse fence to an ultra-modern wooden fence, the following list features 10 creative fences that have been turned into true statement pieces. If you're interested and ready to build your own stunning fence, contact Jay Fencing today!
Top 10 Stunning Wood Fence Designs
Below are the spectacular fences that made our top 10 list. These beautiful fences were selected due to a variety of reasons including their aesthetic appeal, creativity, unique designs, and their ability to inspire others searching for their dream fence!
Number 1 – The Marble Fence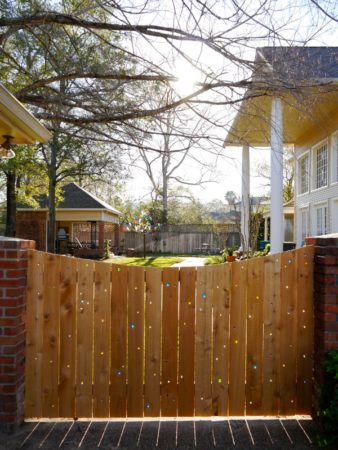 Are you looking for a truly unique, eye-catching fence? This whimsical design is a fun way to add colour to your wood fence without painting it. Adding marbles – yes, glass marbles – to each fence board creates an almost magical look. As the sun reflects off the marbles at different times of day, the marbles change colour and the fence looks unique all over again!
Source: Creatingreallyawesomefunthings.com
Number 2 – The Modern Fence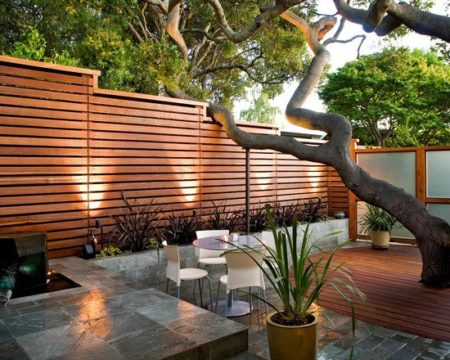 Though wood fences are often described as traditional and even old-fashioned, that doesn't have to be the case. If your home or taste happens to be a bit more modern, you don't have to give up on having your very own wood fence. This beautiful wooden privacy fence surrounds a backyard oasis and looks perfectly at home alongside other modern touches.
Source: Minimalisti.com
Number 3 – Thick Pickets
A new take on an old design, this adorable picket fence has thicker pickets and a light colour, adding a modern twist. Though this design doesn't work as a privacy fence, it would definitely add character to a little backyard garden or around the front of your house. The quaint little gate completes this design. This fence would look perfect on either a traditional country farmhouse or a new suburban home.
Source: Homestratosphere.com
Number 4 – Horizontal Fence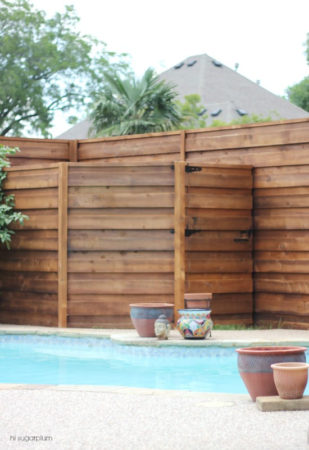 This stunning dark-stained horizontal wood fence provides both privacy and aesthetics. It combines the traditional and the modern. This board-on-board cedar fence is a truly beautiful statement piece. The homeowner wanted both a privacy fence and an exciting new additional to her home – she definitely ended up with both!
"I Honestly had no idea I could be this excited about a fence…but that's because I didn't realize how completely transforming the right fence design could be to a backyard!" – Cassie from hisugarplum.com
Source: hisugarplum.com
Number 5 – Birdhouse Fence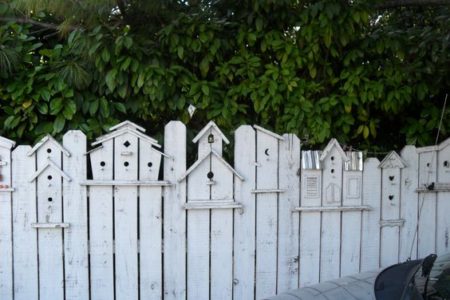 Also featured on our Top 12 Amazing Picket Fence Designs list, this vintage-style birdhouse fence can turn a simple picket fence into a unique fence with tons of character. For those nature lovers out there, imagine a fence that not only looks attractive but can actually double as a safe haven for local birds.  If you're looking for a rustic and truly unique fence, this design is the way to go.
Sources: Dumpaday.com and Pinterest.com
Number 6 – Lattice Top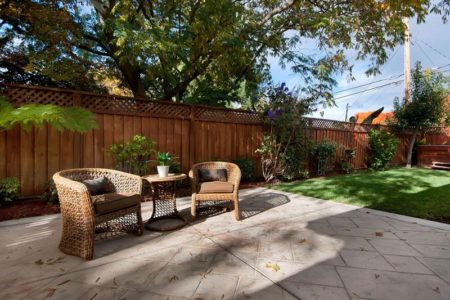 No one said that this classic and simple look couldn't also be stunning, did they? If you drive through any suburban neighbourhood, you're likely to see many backyards surrounded by this type of fence. Not everyone is looking to have the most unique fence on the block – and that's okay! This featured lattice top fence proves that you can have a beautiful, simple, traditional fence without going "all out." This dark stained, board-on-board design provides privacy and completes this backyard retreat.
Source: Homeepiphany.com
Number 7 – Square Lattice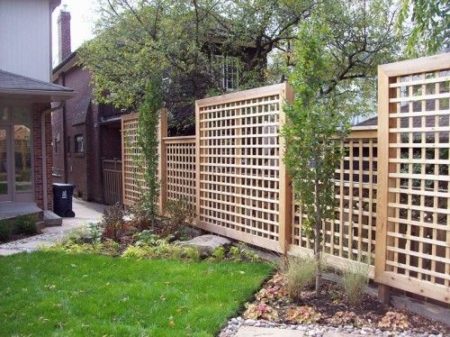 This sturdier version of a traditional lattice fence provides a clear boundary without completely blocking your view. The different sized boards create a fun and unique look, adding personality to a backyard of any size. This style of fence can be used throughout the backyard, or as a statement piece around your deck or garden!
Source: Renoguide.com.au
Number 8 – The Shrub Picket Combo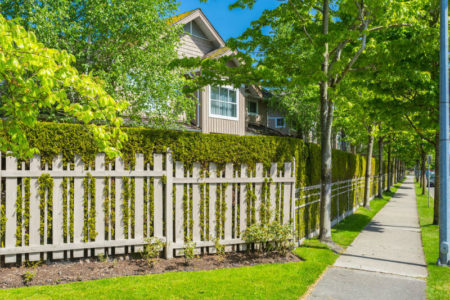 Picket fences do not typically provide much, if any, privacy. However, this stylish design combines shrubbery with traditional wood fence panels to create a completely different look! The shrubs close up all the gaps in this picket-style fence, allowing significantly more privacy than a normal picket fence would. The shrubs also add their own elements of design and colour. Though this fence may require a bit more maintenance, if you're looking for a striking fence for your suburban home, this is a great option.
Source: Homestylecentral.com
Number 9 – Rustic Flowerpot Fence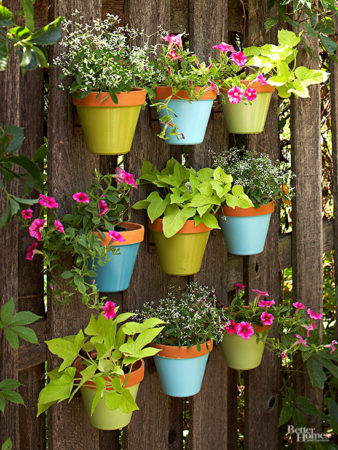 For those who aren't into the modern look at all, this rustic wooden fence complete with colourful flower pots may be the perfect fence for you. If gardening is your thing, why not make your small flower pots as easily accessible as possible by securing them to your fence? This quaint little fence has a true cottage look and feel.
Source: Bhg.com
Number 10 – Wood and Black Iron Combo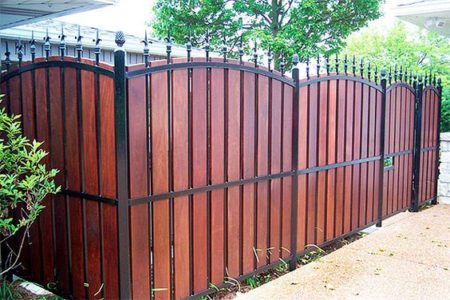 Our final fence on this list is another wood combination – this time, wood and black iron. The dark red wood and iron beams create an almost gothic look. This is definitely the perfect fence for someone who wants something completely different – as it transcends the rustic, traditional, or modern categories.
Source: Renoguide.com.au
Wood Fencing Facts Infographic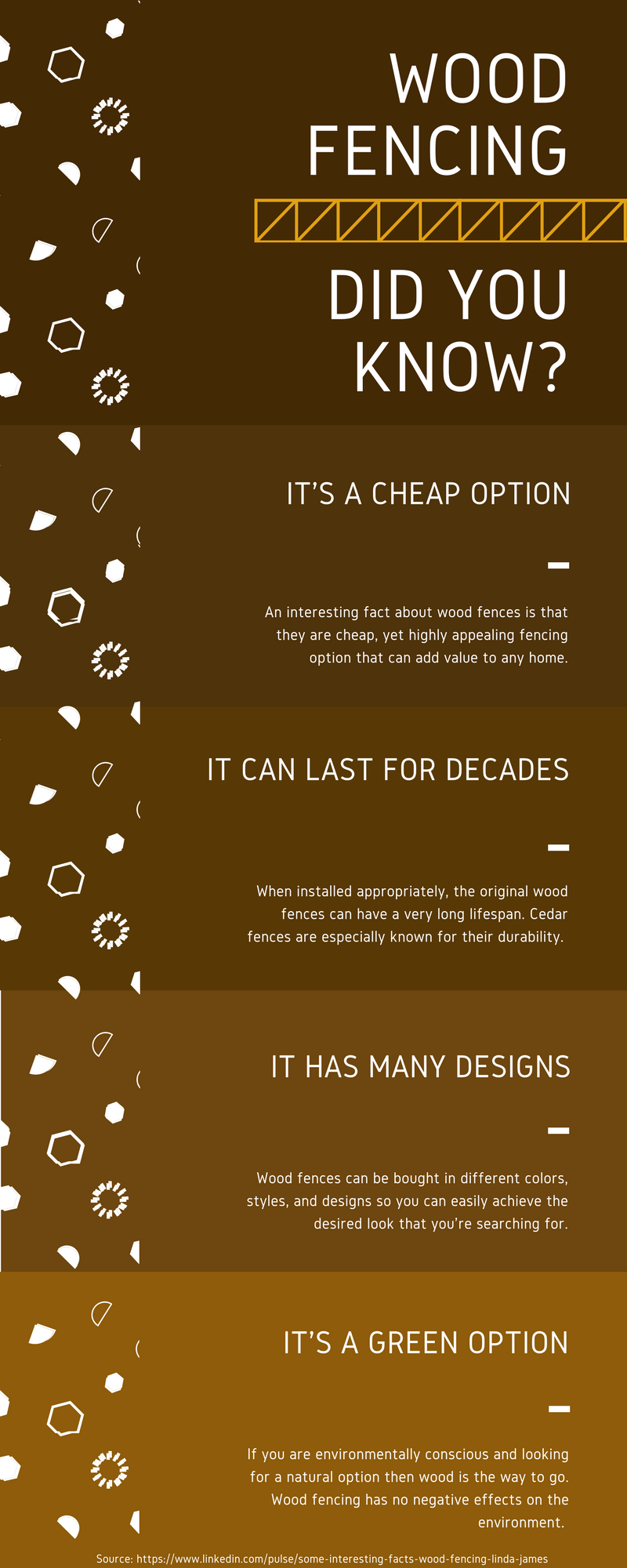 Jay Fencing – Helping You Create Your Own Stunning Fence

From iron to chain link to wood fences, Jay Fencing can help you build your ultimate dream fence! As the list above shows, fences are more than just a boundary marker. Fences are a way to express your individual taste and style, and a great way to add some extra flair to your home or property. You can count on Jay Fencing's experienced team to help you create a strong, well-built, and aesthetically pleasing fence!
"Hello Jay,

I just wanted to write you a quick thank you for everything.  I appreciate all of your help in this process and will definitely contact you again when I am ready to replace the other part of my fence.

The fence looks great and we have had so many good comments about it from the neighbours.  I want to also let you know that all of your guys that were on site were professional and the work they did was top-notch.

Thank you again."
If you'd like to view some of our very own wood fences, click here! If you've been inspired by this post and are ready to move forward with your own fence, contact Jay Fencing today or book a consultation now!
At Jay Fencing, we offer free onsite consultations for all the jobs we quote on!