Pool Fencing
A Safe, Private Fencing Solution For Your Yard
Jay Fencing | Serving Kitchener-Waterloo
Considering pool fencing for your yard? Adding a fence around your pool is a great way to provide an extra layer of safety in your backyard. Pool fences are not just for in-ground pools; they can also be used to ensure only those who are properly supervised can access your above-ground pool. Continue reading on to learn more about the importance of pool fencing, and how Jay Fencing can help you get the perfect fencing solution in the Kitchener-Waterloo area. Contact us today for a FREE quote! 
32 Years Of Experience. Over 100,000 Projects Completed.
Why Choose Pool Fencing For Your Yard
A fence around your pool can help keep kids (and even other adults) safer
Adding a pool fence is not only a good idea, it is sometimes required by the law. In Kitchener, if you have a pool designed to hold a minimum of 88.9 cm (36 inches) of water, then you are required by law to enclose your pool with a fence that is a minimum of 1.5 m (5 feet) high. According to Kitchener.ca, there are also other regulations you must follow if you have a pool, including:
All gates/doors that allow access to your pool and the pool area must have a locking device installed. Doors must be kept locked unless there is a responsible adult present and able to supervise (see image to the right for an example of a locking device) 
Backyard pools should be enclosed with an additional fence around all sides of the pool to ensure that there is no direct access to the pool from the house
 There is a permit required and a permit fee for all pools (in-ground, above-ground, and temporary, that can hold 36 inches or more of water) – click here to learn more about this permit
These bylaws are in place to help keep all people safe, especially children who are at a greater risk of drowning (which can occur in as little as 10 seconds) and pool accidents. Unfortunately, drowning is all too common. In 2010 it was reported that drowning was the #1 cause of death in children aged 1-4 – and swimming pools were often the main source of drowning risk. 
A pool fence is an important tool to keep your children, your guests, and your pets safe during the summer months when your pool is open, and even during the winter when your pool is empty – falling into an empty pool can cause injury too. See the diagram below for an example of what an additional fence around the pool looks like.
A fence around your backyard is not enough – there should also be a 4-way enclosed pool fence that does
not allow direct access from your house
With summer just around the corner, now is the time to invest in a pool fence – to comply with local bylaws and to ensure everyone in your family is as safe as possible. Continue reading below to learn how Jay Fencing can help you choose safe and private fencing for your backyard. 
Trust Jay Fencing For All Of Your Fencing Needs!
Looking for the perfect pool fence? How about a beautiful privacy fence? What about both? Jay Fencing services the Kitchener-Waterloo are and has completed over 100,000 projects! 
We can help you narrow down your choices, pick the perfect fence, and professionally install it for you. Our fences are built to last, and all of our work comes with a 2-year warranty to cover any defects or workmanship issues you encounter during that time period.
The Safest Pool Fencing For Your Yard
At Jay Fencing, we have over 30 years of experience working in the Kitchener-Waterloo area. Because of that, we understand all of the local bylaws regarding fencing – including pool fencing! We can help you choose the safest fencing for your pool as well as the proper gates you will need to comply with local bylaws.
When you work with us, you don't have to worry about deciphering the bylaws for your area – we do all the work for you. We will ensure that your fence is in compliance (e.g. at least 5 feet tall, is capable of locking, etc.) We also understand the best types of fencing for your pool.
Chain link fences as well as iron fences are the most common pool fencing options as they are the least obstructive fencing option. That means you will always be able to keep an eye on your pool and ensure that no one has broken through your barriers.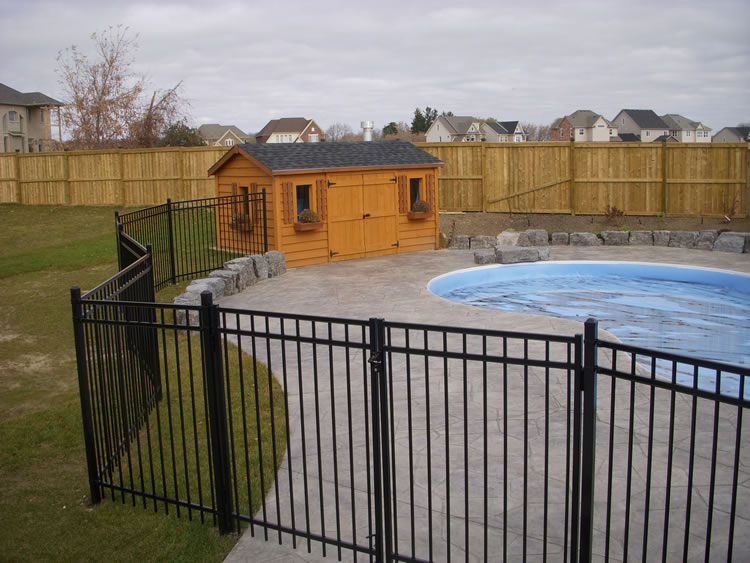 An ornamental iron pool fence (left) and a white chain link pool fence with gate (right) by Jay Fencing
At Jay Fencing, we offer free onsite consultations on all of the jobs we quote on! This will allow you to work directly with us and ask us any questions you may have about your pool fencing options, which types of fences are the safest for families, what types of gates are best to prevent children attempting to break through, and what styles may suit your backyard the best. 
We Offer Privacy Fencing Too!
Summertime in Ontario means many backyard hangouts, BBQs, pool parties, and more. Although the fence directly containing your pool should be chain link, iron, or made from other materials that allow you to see through, you likely will want privacy fencing around the perimeter of your yard to ensure privacy during your events or relaxed Saturday afternoons with the family. 
The last thing you want during a big family get together or pool party are your neighbours looking in or that passerby walking their dog staring at your happy guests. A privacy fence can not only add privacy but also improve the look of your yard. An attractive wooden or vinyl fence will help make your patio area or your garden look even better!
A vinyl privacy fence (left) and a wooden privacy fence (right) by Jay Fencing
Jay Fencing has years of experience building beautiful privacy fences all over the Kitchener-Waterloo area. We offer vinyl fences, which are perfect for homeowners looking for low-maintenance fences, as well as a wide variety of wooden fences, which are ideal for homeowners who want to customize their fence.
We have the experience and know-how to install fences in even the most difficult terrain, such as sloped or rocky yards – just see the right picture above for what we can do! For those with a tighter budget, we also offer other privacy fence options such as privacy screens and chain link fences with privacy slats.
See What Our
Customers Have To Say

"The installers were very dedicated to come to install our new chain link fence on a Sunday, in the rain, no less. We appreciate the excellent work and the safety we now have again since the fence enclosed one end of our pool. Thanks for a great job!"


Marjolein HicksFrom Kitchener, ON
"We had a lovely vacation and were happy to see Jay fence busy at work when we woke up Wednesday morning. Your crew did a great job. I'm glad you stopped by to see it."
We are so happy to have our yard back. As you know it's been in the works all summer.
Thank you for all your help Horatiu. It was a pleasure to work with you as well.
We will be in touch when we are ready to put a pool in and need to finish the fencing around the yard.


ChantalA Satisfied Customer!
"The fence is wonderful and looks great. I am so happy to have our privacy back.
Thank you again for all your hard work and making this happen."


JoanA Satisfied Customer!
Previous
Next
Get The Perfect Privacy and Pool Fencing For Your Yard With Jay Fencing!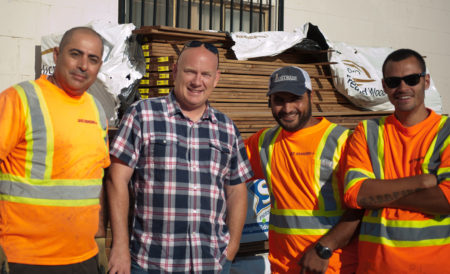 At Jay Fencing, we understand the importance of getting the right fence for you and your entire family. Pool fencing is not just for looks – it can help keep everyone in your family safe. 
When you work with a professional fence installation company, they can help you decide on the right fence design for you and all of your unique preferences and needs. At Jay Fencing, we value:
Top notch customer service
Providing the highest quality products and services available
Being a name that you can trust
Having experienced and hardworking staff
At Jay Fencing, we know and understand fair pricing, and will only do the highest quality work. Avoid confusion and skip right to the beautifully installed fence of your dreams with Jay Fencing! 
At Jay Fencing Ltd, you can feel confident that we will only recommend products or services that are best for you and your needs. This means you won't be buying any unnecessary products or services that will increase the price.
We offer free onsite consultations for all the jobs we quote on!
"Just got back from a few business trips. The pool fence looks great! Good job by your team. Thanks again for the good quality job. Much appreciated and especially, the timing. PS: Gates look great!"
– Dave, a Jay Fencing Customer – Read More Testimonials Here!