Jay Fencing – Fence Company in Kitchener
Looking for a fence company in the Kitchener, Waterloo, and surrounding areas? Jay Fencing has over 30 years of experience and has completed over 100,000 projects!
We offer free onsite consultations for all the jobs we quote on, and provide a number of outdoor services including fencing, gazebos and pergolas, decks, and so much more! Contact us today to learn more. 
Jay Fencing – A Fence Company You Can Trust!
At Jay Fencing, we are and have always been dedicated to helping our customers get the highest quality products and services they need. We understand that your backyard should be a place of comfort, security, and retreat. Choosing the right fence plays a big role in ensuring your backyard feels that way! That's why we are dedicated to helping homeowners – and business owners – get the perfect fence for their property.
Jay Fencing has 30+ years of experience servicing the Kitchener, Waterloo, Cambridge, Guelph, and GTA areas – so you can rely on our knowledge and expertise to get a superior product that will give you peace of mind! As a local company, we understand all the fencing bylaws in the area, so you don't have to worry about figuring that out for yourself. We also have the expertise to work around local soil conditions (such as a rocky or clay soil) and climate conditions (such as frozen ground in the winter or humidity).
And if you are looking for more than just a fence, we offer many other services such as building decks, gazebos, and pergolas, providing security fencing and security gates, commercial, industrial, and agricultural fencing and gates, and more. We have completed over 100,000 projects, so you can rest assured that our team of professionals has both the experience and the know-how to complete your project with the highest quality products and service. 
Whether you are a homeowner, business owner, or work in the industrial sector, at Jay Fencing we care about all of our customers. That's why we value:
Top notch customer service
Providing the highest quality products and services available
Being a name that you can trust
Having experienced and hard working staff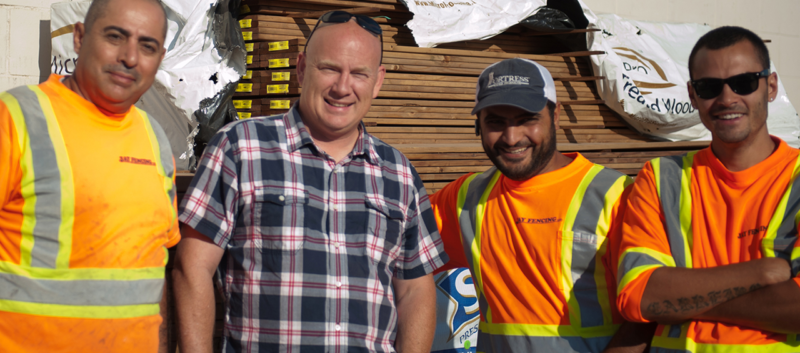 We know that building a fence or any backyard project may feel overwhelming or stressful. However, you can rest assured knowing that our two-year warranty is in place and will cover any defects in quality or workmanship that you encounter during this time period. We put it in writing because your peace of mind is important to us! If you have any questions about our products, services, warranty, or simply want to discuss your options, don't hesitate to contact us and we'll be happy to help you!
Residential Fences by Jay Fencing
Wooden Fences
Looking for a natural, attractive, and classic fence option? Wooden fences are one of the most popular fencing choices, and it's easy to see why. When it comes to wooden fences, there are so many choices, styles, and options – there is something for everyone! Jay Fencing can help you design and build a custom wooden fence to suit your unique wants and needs.
Vinyl Fences
Vinyl fences are gaining in popularity as a low maintenance alternative to their wooden counterparts. If you are looking for an attractive and lower-maintenance option, a vinyl fence may be perfect for you. Vinyl fences come in a variety of styles, many similar if not nearly identical to wooden fences. 
Chain Link Fences
Chain link fences are known as one of the most cost-effective fencing options. Chain link fences are often used as backyard fencing, but chain link has other uses as well! It's common to see chain link fences used for building dog kennels and fencing as well as pool fences. Chain link fences also come in a variety of sizes, colours, and heights.
Iron Fences
Iron fences come in nearly endless different styles. They can add a modern, traditional, or even rustic look and feel to your home, depending on the style you choose. Iron fences are both durable and attractive, making them a popular landscaping option. Our high-quality iron fences are built to last, and some of our iron fence products even come with a 20-year warranty!
Soundwalls
Tired of traffic noises, or the rumble of the daily train behind your home? A soundwall is a great fencing solution for any property where excessive noise is a problem. Soundwalls not only help reduce the noise you hear in your home and yard, they are also a strong, secure, and low-maintenance fencing option.
Commercial Fences by Jay Fencing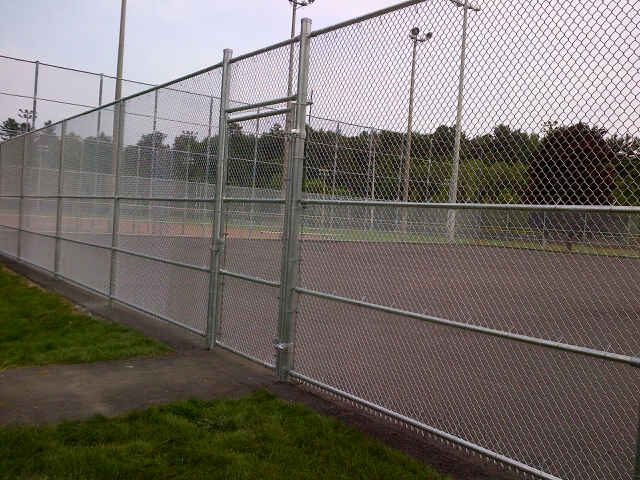 Commercial Chain Link Fences
Chain link fencing isn't just popular for backyards – it is also  used for a variety of commercial purposes, in parks, in retail areas, and as security fencing. Since chain link fences are easy to install and set up, they can also be used for temporary fencing on industrial and constructions projects and sites.
Commercial Iron Fences
Commercial iron fences are attractive, strong, and functional. It is common for commercial iron fences to be used for outdoor restaurant patios and along retail stores and plazas. Iron fences can also be used as security fencing and to keep pedestrians away from restricted areas.
Other Commercial Projects
At Jay Fencing, we offer a. variety of commercial fencing and related services, including: barrier gates, security fencing and security gates, barrier gates, backstops, cages, and more! Jay Fencing has the experience and expertise to help you install not only your commercial fence, but all the other commercial projects that go along with it! 
Other Projects By Jay Fencing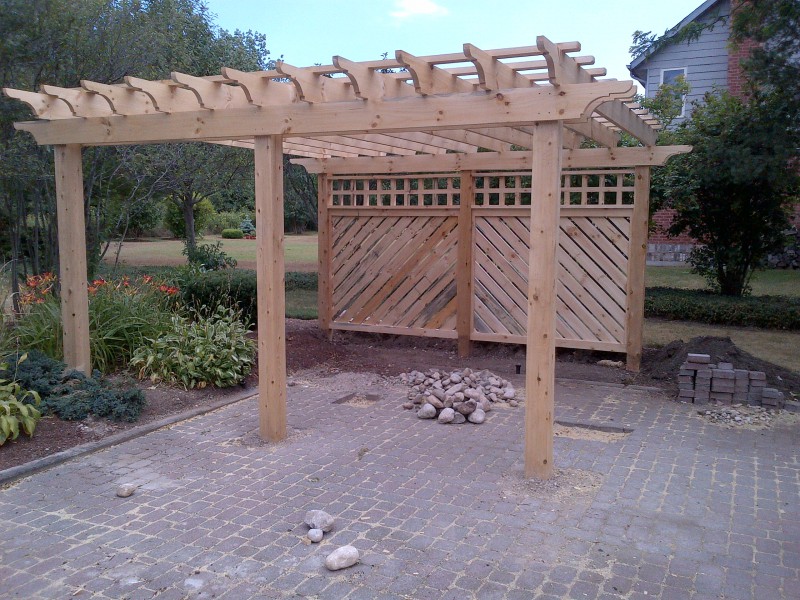 Custom Decks
At Jay Fencing, we also do decks! You can rely on our experienced team to build you the perfect custom deck of your dreams.
Railings
If you need railings to go along with your newly built deck, or need a railing for your business property, we've got you covered!
Arbours & Pergolas
A pergola is a great way to add some extra flair to your deck or yard. It's also a great way to grow climbing plants!
See What Our
Customers Have To Say About Us!

"Both crews that came out were very hard working, and friendly. They made sure to have us come out and check the progress at a few different checkpoints to make sure we were happy. We are extremely pleased with the end results!"


A Satisfied Customer!"So Happy With My New Fence!"
"Thanks so much for the great work! After our fence was blown over in winds on Sunday, I called Jay Fencing on Monday. I was impressed that Kelly was able to see us that day. We had great advice, posts in by Thursday and a completed fence by Saturday. It looks fantastic and in timely fashion as well. I'm sure the neighbours appreciate it too. The workmanship is great and the service was top notch. I don't say that often these days. Jay Fencing earned it! Thank you."


Rocky NashA Satisfied Customer
"Jay Fencing did a fantastic job on our new fence, it was built with quality products, completed on time and on budget. They are extremely professional and courteous while on site and this was our third project with them. Thank you again!"


A Satisfied Customer!"Terrific Fence!"
Previous
Next
Ready For Your Perfect Fence? Rely On Jay Fencing!​

At Jay Fencing, we understand the importance of getting the right fence for you and your entire family – four-legged members included!
When you work with a professional fence installation company, they can help you decide on the right fence design for you and all of your unique preferences and needs. At Jay Fencing, we value:
Top notch customer service
Providing the highest quality products and services available
Being a name that you can trust
Having experienced and hardworking staff
At Jay Fencing, we know and understand fair pricing, and will only do the highest quality work. Avoid confusion and skip right to the beautifully installed fence of your dreams with Jay Fencing! 
At Jay Fencing Ltd, you can feel confident that we will only recommend products or services that are best for you and your needs. This means you won't be buying any unnecessary products or services that will increase the price.
We offer free onsite consultations for all the jobs we quote on!