30+ Years Of Experience. Over 100,000 Projects Completed!
Looking for the best fence companies in the Kitchener-Waterloo area? Jay Fencing has over 30 years of experience building not only a wide range of fences, but also decks, gazebos, pergolas, and more! We work alongside you to help you get the backyard of your dreams.
We also offer both residential and commercial fencing services, so no matter what your unique needs are, we've got you covered! When you choose to work with Jay Fencing, you know you are working with experts due to our long history of successful projects and our happy customers.
Rely On The Experts At Jay Fencing
Schedule a FREE on-site consultation now!

Click Here
Residential Fencing
Wooden Fences
Wooden fences are one of the most popular fencing choices, and with good reason! They are highly customizable, attractive, and add a natural look to your home and yard. Many styles of wooden fences are also perfect for creating a private backyard oasis. Jay Fencing can help you design and build a custom wooden fence for your unique wants and needs.
Chain Link Fences
Looking for a secure, simple, and cost-effective fencing option? Chain link fences are a popular choice not just for perimeter fences, but also for building dog kennels and fencing as well as pool fences. Though you may not think of chain link as 'customizable' there are actually many options available, including different styles, colours, and sizes.
Vinyl Fences
Vinyl fences are great alternative to their wooden counterparts if you are looking for a lower-maintenance option. Many vinyl fences come in privacy-style boards, but you can also get picket fences, post and rail, and other styles in a vinyl option! Vinyl is still relatively new on the fencing scene compared to other choices, but it is quickly gaining popularity.
Ornamental Iron Fences
With many different styles to choose from, iron fences can add a modern, traditional, or even rustic look and feel to your home. Iron fences are extremely durable and easily act as a landscaping accessory due to their attractive styles. Our high-quality iron fences are built to last, and some of our iron fence products even come with a 20-year warranty!
Soundwalls
Whether you live on a busy street, a bustling city suburb, or simply want more quiet on any property, a soundwall is a great fencing solution. Soundwalls not only help reduce the noise you hear in your home and yard, they are also a strong, secure, and low-maintenance fencing option.
Commercial Fencing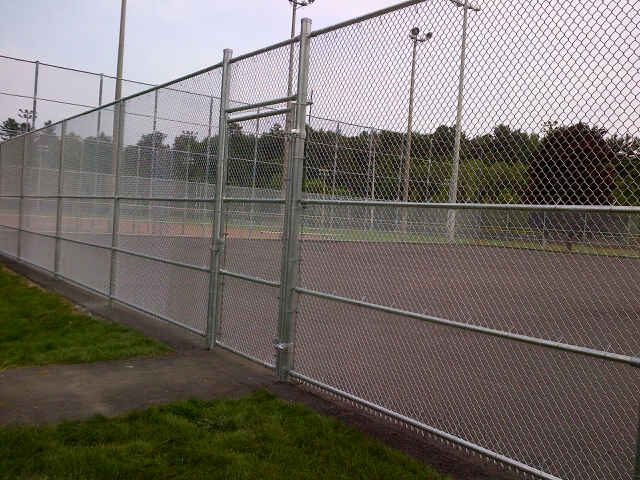 Commercial Chain Link Fences
Look around your neighbourhood, and you will likely see chain link fences nearly everywhere! From parks, tennis courts, and baseball diamonds to industrial lots and retail locations – chain link is used for a variety of commercial purposes, as well as for security. Chain link can also be used as temporary fencing when needed on industrial and construction sites.
Commercial Iron Fences
Commercial iron fences are an attractive way to create boundaries on your commercial lot. You will see many iron fences used for outdoor restaurant patios and along retail stores and plazas. Iron fences can also be used as security fencing and to keep pedestrians away from restricted areas.
Other Commercial Projects (Gates, Cages, Temporary, etc.)
Commercial fencing often requires more than just a fence. Other fencing-related projects such as barrier gates, automatic gates, cages, backstops, temporary fencing, and even guardrails are often needed on commercial and industrial properties. Jay Fencing has the experience and expertise to help you install not only your commercial fence, but all the other commercial projects that go along with it!
More About Jay Fencing
With So Many Fence Companies Available, Here's Why You Should Choose Jay Fencing!
There are many fence companies available, so who should you choose? At Jay Fencing, we are dedicated to helping our customers get the highest quality products and services they need. The last thing anyone wants is a fence, deck, or gate that sags, warps, or breaks. Jay Fencing has 30+ years of experience servicing the Kitchener, Waterloo, Cambridge, Guelph, and GTA areas – so you can rely on our knowledge and expertise to get a superior product that will give you peace of mind!
At Jay Fencing, we care about all of our customers. That's why we value:
Top notch customer service
Providing the highest quality products and services available
Being a name that you can trust
Having experienced and hard working staff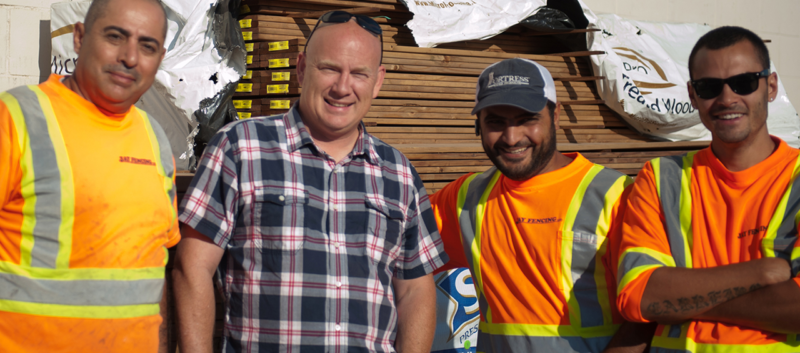 "So Happy with our new fence Both crews that came out were very hard working, and friendly. They made sure to have us come out and check the progress at a few different checkpoints to make sure we were happy. We are extremely pleased with the end results!"
– A Happy Jay Fencing Customer; Read More Reviews Here!
We understand that beginning any backyard project, including a fencing project, can feel stressful and overwhelming. With so many different options, styles, and price points available, how can you know what is right for you, your home, and your budget? When you rely on Jay Fencing, our experienced staff is happy to help guide you through the entire process. Fencing is an important part of your home or even your commercial property, and will help ensure you get a final product that you are beyond satisfied with!
Book Your Free On-Site Consultation!
We offer free onsite consultations for all the jobs we quote on!
Other Projects By Jay Fencing
Custom-Built Decks
At Jay Fencing, we also do decks! We can create custom-built decks from a wide variety of materials.
Gazebos
Looking to add a cozy, shaded area to your backyard? We build gazebos – and even sheds too!
Pergolas
A pergola is a great way to add some extra flair to your deck or yard. It's also a great way to grow climbing plants!
Looking For More Services?