Looking for chain link fence installation in the Kitchener-Waterloo area? A chain link fence is a cost-effective, low-maintenance fence that can help add safety and security to your home or commercial property. If you are interested in your own chain link fence, you can rely on Jay Fencing's 30+ years of experience building and installing fences in Kitchener, Waterloo, and the surrounding areas. We offer the highest quality materials, reliable service, an extended warranty, and more! Continue reading on to learn why you should trust Jay Fencing for your upcoming fence project, or contact us today to learn more or to book your free on-site consultation!
32 Years Of Experience. Over 100,000 Projects Completed.
Is a Chain Link Fence Right For Me: The Many Benefits Of Chain Link
Chain link fence is a versatile and cost-effective fencing solution
Chain link fences are often overlooked. Many homeowners are automatically drawn to the natural beauty of wooden fences or the traditional look of a well designed wrought iron fence. However, chain link is an excellent fencing option – and is one of the most popular choices for good reason. Although you may not choose your chain link fence for the same reason you would choose a custom-designed wooden fence, a chain link fence has many benefits that other fences do not offer.
Chain link is cost-effective: It's true, if you are looking for the most cost-effective fencing option, a chain link fence should be your go-to! Drive through any subdivision, and it's likely you will notice dozens of chain link fences in both the front and back yards. One of the reasons why chain link is so popular is because it is cost effective. The money you save on your fence can be used for a new deck, gazebo, beautiful garden, or other landscaping addition.
Chain link is strong and durable: Chain link has a bad reputation of being weaker than wood, vinyl, or iron. It makes sense – go up to a chain link fence and shake it. You'll notice the mesh slightly move. However, this is actually a good thing. If you were to slam into a wooden fence, you will likely cause great damage. However, because chain link fences are flexible, they can take a greater hit with minimal or no damage. A strong windstorm also won't cause any damage, though it may knock over a wood or vinyl fence!
Chain link doesn't detract from your landscape: Although a chain link fence isn't exactly a statement piece in itself, it also doesn't take away from your landscape. For example, if you back onto open space or have a beautiful pond behind your home, a solid fence can take away from that great view. A chain link fence blends into the background and doesn't take away from your landscape.
Chain link is a safe option for children and pets: A chain link fence is a great way to keep your children and pets safe in your yard. It not only helps contain your loved ones, but also helps to create a barrier between you and unwanted guests and pests. Because chain link is see-through, you can easily keep an eye on your family members without your fence blocking your view.
Chain link fence is a versatile option: Chain link fences have many uses, from a simple backyard fence to a high-level security commercial fence. Whether you are looking for a fence for your home or your commercial lot, a chain link fence is a great choice!
Want to learn more about chain link fences? Click here to view our chain link fence guide!
Chain Link Fence Installation – Why Work With Fence Installers?
If you are planning to add a chain link fence to your home or other property, one of the first things you will want to consider is how  you are going to install your fence! As do-it-yourself projects become more and more popular, many homeowners are drawn to the idea of building and installing their own chain link fence. The biggest reason you may feel DIY is best option is because you can cut labour costs by doing it yourself.
 However, DIY fencing can be a bigger challenge (and cost much more) than many homeowners anticipate, especially if you are not experienced with the tools and materials required to build your fence. Chain link fences are easier to install than some other options, such as vinyl – but that doesn't mean it is an easy task! Take a look at the gallery below to see the three main parts of a chain link fence that need to be properly installed in order to ensure your fence stands stronger for longer!
In order to properly install your fence, you will need to dig the post holes, install your posts and rails, and ensure your mesh (the actual 'chain link' portion of your fence) has been properly stretched through. If you do not have the right tools or the know-how, you will end up with a sagging chain link fence, or a fence that can't handle even a soft blow. Professionally installed, a chain link fence should be able to withstand hard impacts. 
Another potential problem you will run into while DIY installing any type of fence is post hole digging. Before you can start your project, you will need to dig all of your post holes. DIY post hole digging will require you to either manually dig your holes by hand, or you will need to use special machinery designed to help you dig the holes. Even with a post hole digger, this is by far the most strenuous part of fence installation.
An inexperienced DIYer can sustain serious injury if they do not know how to dig ergonomically. There is the potential for back, neck, arm, or even leg strain, heat exhaustion, and physical injury due to the post hole digging machinery. Even if you do know your way around a digger, you may also run into other unforeseen issues. Rocky soil, clay, or uneven ground can cause issues that only an experienced worker will know how to deal with. 
DIY installation can be much more complicated (and costly) than you may anticipate
If you find out these problems in the middle of the process once you've already dug some holes, you may have to go back, fill in the holes, and start all over. If you don't want your backyard full of holes, you may need to pay a landscaper to come and fix the problem. Or, after you've done all this work and spent the money to rent a digger, you may end up calling a fence installer anyway if you feel you can't complete the job. 
Although it may seem like DIY fence installation will save you money, unless you are very experienced with the tools, machinery, and process you'll need to follow, it often makes more financial sense to work with a professional installation company. A professional fence installation company will also provide you with a warranty on both products and services, so you won't have to worry about your new fence! Even if a store-bought fence comes with a warranty, it may end up void if the product was damaged due to improper installation.
When working with installers, you may have to pay more up front, but you won't have to worry about ruining your backyard, and you won't have to worry about replacing a poorly installed fence any time in the near future! A high-quality, properly installed chain link fence can last decades with minimal maintenance.
Why Choose Jay Fencing For Your Chain Link Fence Installation
Jay Fencing can help you choose from a wide variety of chain link fence styles and options!
Jay Fencing has over 30 years of experience serving the Kitchener, Waterloo, and surrounding areas! We have experience installing not only residential chain link fences, but also commercial chain link fences and fences of all types including vinyl, wood, iron, and even automated driveway gates. If you are thinking about installing a chain link fence, or any type of fence, in the Kitchener-Waterloo area, here are a few reasons why you should choose Jay Fencing for your upcoming project. 
We have the experience & expertise: At Jay Fencing, we have over 30 years of experience and have completed over 100,000 projects. We know fences! We know which materials to use, we have all the materials and tools needed to get the job done – even in more difficult situations such as sloped or uneven backyards!
We know Kitchener-Waterloo: We know fences, and we also know Kitchener-Waterloo. With decades of experience building backyard projects across the Kitchener-Waterloo area, we have come to know what to expect, from the typical soil in the area to the fencing bylaws you need to follow when adding a new fence to your property.
 We offer superior workmanship: At Jay Fencing, we don't claim to offer the lowest prices – but we do offer the highest quality workmanship available, and we stand behind our work. We don't want your fence to fall over in five years or sag after ten. We pride ourselves on the durability of our work no matter how big or small the project.
We offer a two-year warranty: We want you to have peace of mind once your project is completed. You can rest assured that our two year warranty is in place, and will cover any defects in quality or workmanship that you encounter during this time period. We put it in writing because your peace of mind is important to us.
You can learn more about about Jay Fencing and our values here!
Get Ideas For Your Next Project!
Check out the gallery below to see some chain link fences by Jay Fencing and help you get some inspiration for your own fencing project! Chain link fences actually come in a variety of heights and even styles. You can even choose from different colours such as black, black with silver mesh, green, white, and more!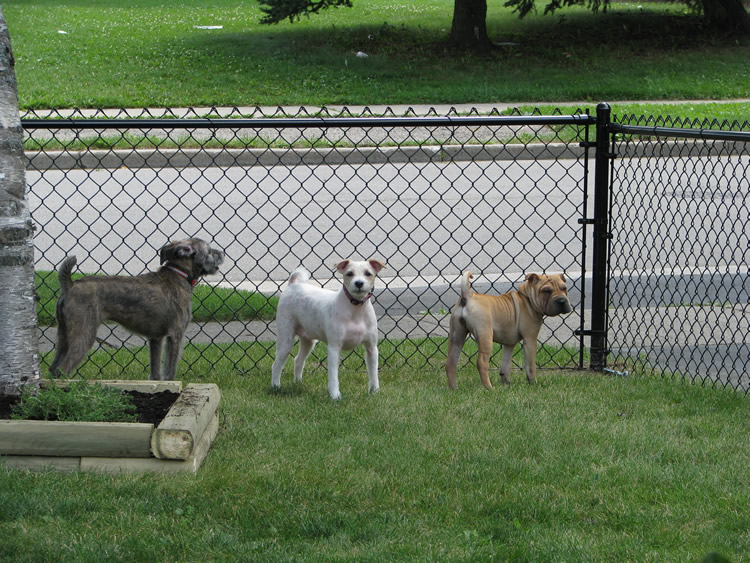 Work With Jay Fencing Today!
If you are looking for any type of fence in Kitchener, Waterloo, Cambridge, Guelph, Elmira, Elora, Fergus, Stratford, Milton, Brantford, or the surrounding areas, you can trust Jay Fencing to install your perfect fence. We have 32 years of experience and have completed over 100,000 projects!
When you work with a professional installation company, they can help you decide on the right fence style for you and all of your unique preferences and needs. At Jay Fencing, we value:
Top notch customer service
Providing the highest quality products and services available
Being a name that you can trust
Having experienced and hardworking staff
At Jay Fencing, we know and understand fair pricing, and will only do the highest quality work. Avoid confusion and skip right to the beautifully installed fence of your dreams with Jay Fencing! 
"We can't say enough about Jay Fencing. Everyone, and I mean everyone that we have been in touch with, has been absolutely wonderful.  We are so excited to have our deck completed this fall and will look forward to next spring and summer to enjoy it! Thank you to everyone at Jay Fencing.  You are an amazing company and we will highly recommend you to anyone."
-Janis, A Jay Fencing Customer – Read More Testimonials Here!
At Jay Fencing Ltd, you can feel confident that we will only recommend products or services that are best for you and your needs. This means you won't be buying any unnecessary products or services that will increase the price.
We offer free onsite consultations for all the jobs we quote on!