You may know about our fences – but did you know that Jay Fencing also builds custom built decks? Decks are a great way to add a comfortable and functional area for your family to spend time outdoors. A custom built deck is the best way to make the most out of your yard's space! Jay Fencing has completed over 100,000 outdoor projects, and in this article, you'll learn why Jay Fencing should be your number one choice for your own custom built deck! To talk directly with the experts, contact Jay Fencing now!
What are the Benefits of Custom Built Decks?

Custom built decks by Jay Fencing
When you work with the professionals to build and install your custom built deck, you will get to sit back and relax as your dreams come to life right before your eyes! Some people choose to build a deck the do-it-yourself way. Of course, that method is often less expensive up front. However, when you get a custom built deck made by an experienced company, you won't have to worry about fixes and repairs if something goes wrong. Check out our video below to see some photos of our past projects!
At Jay Fencing, we have the experience and expertise to ensure that you get the deck you have always wanted. We can help you add custom features to your deck, like deck lights, built-in seating areas such as benches, many styles of railings, various heights and platforms, and more!
Some other benefits of custom built decks include:
Added aesthetic appeal for your home and yard
A great outdoor space to relax or entertain guests
Helps to reduce your yard work
Can add value to your home
Creates a safe place for children and pets
Do you need some deck inspiration? Check out the 7 best tools to design your deck here! Or, check out 7 amazing decks to inspire your own upcoming project!
Different Deck Styles
When it comes to custom built deck styles, the possibilities are nearly endless! That's because each house and yard are unique, and there are many features you may choose to add or leave out for your own deck. The gallery below outlines some of the different custom styles we have built for our valued customers at Jay Fencing!
Simple Wooden Deck
This simple tiered wooden deck sports multiple platforms wrapping around the whole deck instead of adding a small section of stairs. This is the perfect deck for those looking for a simple-style surface for all of your outdoor furniture, bbq, and more!
Deck With Built-in Gazebo
If you love gazebos but just don't have the space in your yard for both a deck and a gazebo, or are looking for a way to combine the two – this deck style may be the perfect fit for you! With built-in shade and an ideal spot for seating, this deck combines privacy, comfort, and aesthetics!
Deck With Built-In Privacy Screen
There is a lot going on with this small deck – showing just what you can do even with limited space! This deck has a beautiful basketweave privacy screen along the sides, as well as a rail with iron bars – perfect for keeping children or pets safe and contained while on the deck.
Raised Deck With Wooden Benches
This raised wooden deck is sleek and simple, with mid-sized rails and iron bars. However, this deck has a unique finishing touch – built-in wooden benches. This is a great idea if you want a simple seating solution that you can leave outdoors all year round.
Wraparound Deck
Depending on the shape of your house, a wraparound deck may be the best way to make the most of out your yard space. Instead of protruding deep into the yard, this deck achieves impressive square footage by wrapping around your home!
Deck With Built-In Storage
This unique deck is ideal for homes that have limited yard space or are looking for a way to maximize lawn and garden space. Often, the space underneath a raised deck goes to waste. This deck makes use of that under-space by converting it into a fully-functional shed!
Looking for more deck styles?
Click here to check out our full gallery!
Different Deck Materials & Pricing
A wooden deck by Jay Fencing
When you decide on a custom built deck, one of the first things you will have to decide on is what deck material will you choose. Although wood is the most common choice, composite decking is now becoming an increasingly popular option due to its low maintenance requirements and attractive appearance.
Composite decks are often built with a combination of wood fibres and plastics. These decks require very little maintenance and are rot, rust, and insect resistant. One example of composite decking that we install is VEKAdeck. If you want a more traditional option, you may choose a wooden deck instead. With wooden decks, there are many materials to choose from, all at different price points.
The most common woods to choose from are pressure treated lumber and redwood or cedar. Pressure treated lumber is the most cost-effective option, which is why it's so popular! However, it is made with lower-quality wood and may bend and warp over time. With redwood or cedar, you will sometimes pay 2-3 times more. However, they are stronger as well as naturally resistant to rot, insects, and will not bend or warp easily.
Another less common option is a deck built from metal, such as aluminum. Aluminum is lightweight yet extremely durable and strong. However, it is not popular right now and it may be more difficult to find an installer that can build an aluminum deck. It also has a higher price point. We'll take a more in-depth comparative look at some of the most common types of deck materials in the chart below.
Keep in mind, it's important to talk to your installers before selecting a material. They can give you the most accurate pricing for your area (material, as well as installation prices, can greatly vary depending on your location). They can also help you select the materials that will work best with your lifestyle and your budget.
Deck Materials Comparison Chart; Information retrieved from: popularmechanics.com 
Why Jay Fencing Should Be Your Choice For Custom Built Decks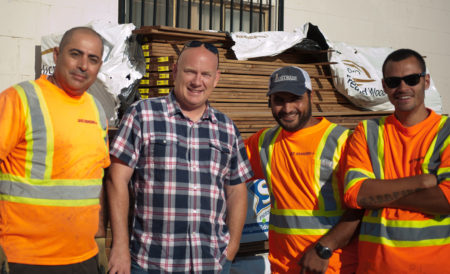 When you work with a professional installation company, they can help you decide on the right deck style for you and all of your unique preferences and needs. At Jay Fencing, we value:
Top notch customer service
Providing the highest quality products and services available
Being a name that you can trust
Having experienced and hardworking staff
At Jay Fencing, we know and understand fair pricing, and will only do the highest quality work. Avoid confusion and skip right to the beautifully installed fence of your dreams with Jay Fencing! 
At Jay Fencing Ltd, you can feel confident that we will only recommend products or services that are best for you and your needs. This means you won't be buying any unnecessary products or services that will increase the price.
We offer free onsite consultations for all the jobs we quote on!
"We can't say enough about Jay Fencing. Everyone, and I mean everyone that we have been in touch with, has been absolutely wonderful.  We are so excited to have our deck completed this fall and will look forward to next spring and summer to enjoy it! Thank you to everyone at Jay Fencing.  You are an amazing company and we will highly recommend you to anyone."
-Janis, A Jay Fencing Customer – Read More Testimonials Here!