Looking for more information about Jay Fencing, our products, and our services? This frequently asked questions (FAQ) page is designed to help answer some of the most common questions we get from our customers. Keep in mind that if you have a specific question or would like to request a quote, the best way to get accurate information for your unique wants and needs is to contact Jay Fencing directly or book a consultation now.
Did you know, Jay Fencing offers free on-site consultations for all the jobs we quote on!

Jay Fencing – FAQ
Jay Fencing has been in business for over 30 years and has completed over 100,000 projects! We value top notch customer service, having experienced and hard-working staff, being a name you can trust, and more. Now that you know a bit more about us, see our FAQ below to learn more about working with us! The questions and answers are organized by topics such as services, products, and legal information.
Services & Products
FAQ regarding Jay Fencing's services & products.
Question: What services and products do you offer?
Answer: We offer a wide variety of products and services, including chain link, iron (such as the VERSAI fencing product by Fortress Fence), wood, and vinyl fences and installation, barrier gates, commercial gates, arbours and pergolas, custom-built decks, pillars, ramps, railings, and more! Click here to view a full list of all of our services and products.
Question: How long does fencing installation take?
Answer: Installation times will vary depending on a variety of factors, such as the materials used and extent of the fencing project. Some small projects may take only a few hours, while other larger projects can require more time. The best way to find out how long your fencing project will take is to get a quote and talk to our experienced professionals.
Question: What are Jay Fencing's service areas?
Answer: Jay Fencing proudly services the Kitchener-Waterloo area, as well as other surrounding areas such as Guelph, Hamilton, Halton Region (Burlington, Oakville, Milton), Oxford County, Perth County, and more. Please click here to see our full list of service areas.
Question: Does Jay Fencing install automatic gates?
Answer: Yes, we do! Automatic gates are a great way to keep your home or commercial property safe. Click here to learn more about our driveway gates.
Question: Does Jay Fencing carry access control products?
Answer: Jay Fencing offers a wide variety of access control products through Jay360. If you are looking for access control products, visit Jay360's website now. You can also learn more about our access control products here.
Question: Does Jay Fencing install decks?
Answer: Yes, we do! Jay Fencing installs high-quality decks in a wide variety of styles and materials (such as pressure-treated wood, composite decks such as VEKAdeck®, and vinyl). We build custom decks so you can enjoy your backyard the way you want to. Click here to view a gallery of our decks and learn more about our services.
Question: Can I mix different types of fencing?
Answer: At Jay Fencing, we offer a wide range of custom fencing solutions. If you scroll through our galleries, you will see many fence combinations such as wrought iron and wood, or wrought iron and stone, or chain link and wood, and so forth. If you are interested in fencing made from different types of materials, contact Jay Fencing now to discuss project possibilities!
Question: Do you sell materials and equipment without installation services?
Answer: We do sell materials without installation services, but we do not sell or rent equipment. To learn more about all of our products and services, you can click here!
Warranty & Payment Information
FAQ regarding Jay Fencing's warranty and payment information.
Question: Does Jay Fencing offer any warranties?
Answer: Yes. You can rest assured that our tw0-year warranty is in place and will cover any defects in quality or workmanship that you encounter during this time period. Click here to learn more about Jay Fencing, our values, and warranty.
Question: Do you offer financing options?
Answer: No, we do not offer financing options. For more information about payment, you can contact Jay Fencing.
Question: When is payment due?
Answer: When you work with Jay Fencing on your next project, we require a deposit. Your final payment will be due at the completion of your project. If you have any questions about payment or your deposit, call on Jay Fencing now and we will be happy to answer your questions!
Question: What forms of payment do you accept?
Answer: At Jay Fencing, we work hard to accommodate our customers! We accept Visa, Mastercard, Cheque, Debit, e-transfer, and cash. For more information about payment, you can contact Jay Fencing.
Bylaws & Legal Information
FAQ regarding fencing bylaws and building permits.
Question: Does Jay Fencing take care of locating utilities/lines or is that up to the homeowner?
Answer: At Jay Fencing, we want to make things as easy as possible for homeowners. When it comes to locating utilities, you can sit back and relax. We take care of this.
Question: Are permits required for building a deck?
Answer: Permits are required under certain circumstances. Bylaws regarding decks and outdoor building projects vary depending on your municipality. The rule of thumb is anything over 24″ high or with a roof will require a permit. Some municipalities require permits regardless of height. Click here to view our bylaws information page.
Question: What are the fencing bylaws in my area?
Answer: Every municipality has different bylaws regarding fencing. It is important that you look up the bylaws in your specific area in order to know what you can and cannot do with your new fence. For more information, click here to view our bylaws information page.
Question: Are locates required when building a fence?
Answer: Yes. Whenever you dig on a property, locates are always required. Feel free to contact Jay Fencing for more information about fencing and locates.
Ready To Work With Jay Fencing?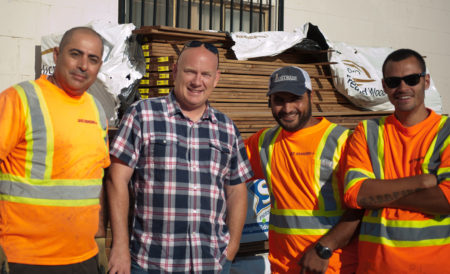 Call on Jay Fencing to install your new fence now! When you work with a professional fencing company, they can help you decide on the right fence style for you and all of your unique preferences and needs.
They will also know and understand fair pricing, and will only do the highest quality work. Avoid confusion and skip right to the beautifully installed fence of your dreams with Jay Fencing!
At Jay Fencing Ltd, you can feel confident that we will only recommend products or services that are best for you and your needs. This means you won't be buying any unnecessary products or services that will increase the price.
We offer free onsite consultations for all the jobs we quote on!
"Jay Fencing did a fantastic job on our new fence, it was built with quality products, completed on time and on budget. They are extremely professional and courteous while on site and this was our third project with them.
Thank you again!"
– A Jay Fencing Customer, Read more testimonials here!