Fence Installation Milton – Looking to add a new beautiful fence to your backyard? Need a security fence for your small business? Jay Fencing helps both residents and business owners in the Milton area find the right fencing solution for their specific property, wants, needs, and budget. No matter what your project is,  you can rely on the fencing experts at Jay Fencing to help you install or design your perfect fence in one of Ontario's fastest growing cities!
Fence Installation Milton – Why Work With Fence Installers?

Milton is one of Ontario's fastest growing cities. That means more houses…and more fences! Some homeowners may think that a DIY fence is a more cost-effective option. However, building your own fence be quite a challenge and may end up costing you significantly more in the long run – especially if you don't have a good understanding of Southern Ontario's unique weather and soil quality. If you are thinking about installing your own fence, you may want to take these potential challenges into consideration before doing so:
Lacking Know-How: Following a guide can help you with the basics, but if you don't have a good understanding of the tools, materials, and building process, you may end up with a fence that sags, bends, or has a much shorter lifespan.
Lacking The Right Materials – The average DIYer may not have the proper materials or know how to use the right tools to get the job done. The DIYer may also lack the know-how when storing expensive tools and materials, and may inadvertently damage them by storing materials incorrectly (for example, storing wood in a moist environment for long periods of time can cause mold, warping, and mildew).
Lack of Local Bylaws Knowledge: Milton has a number of fencing bylaws that regulate things such as fencing for pools and additions to your fence, like barbed wire. If you build a fence without knowing your bylaws, you may end up breaking one – and that could result in legal action.
Time-Consuming: Without consulting with a professional fence installer, your fencing project may take a lot longer than you planned. In Milton and other parts of Ontario, time is key! Cold or wet weather can delay your project or cause unexpected issues.
Problems With Fence Optimization: If you aren't certain of how to optimize your fence installation for weather, unexpected projectiles, and wildlife incidents, you may end up with a fence that just doesn't suit your needs. Make sure to contact our team today if you are looking to get the strongest and most secure fence.
Post Hole Digging Woes: Post hole digging is often considered one of the most difficult parts of fence installation. Doing it wrong can leave you with uneven holes for your posts, or cause exhaustion or injuries to the inexperienced installer.
The best way to go to avoid these fencing challenges is to let Jay Fencing provide you with our unparalleled focus on your needs and quality workmanship that stands the test of time!
Milton Fencing Bylaws Quick Facts
Not complying with fencing bylaws in Milton may result in legal action and fines.
Note: This is NOT legal advice. This is NOT the full extent of the bylaws. See here for the official Milton Fencing bylaws page.
Property Lines: Anyone who puts up a fence must be aware of property lines, and any costs associated with surveying property lines fall on the homeowner
Fencing Height: All fences must comply with the provisions of the zoning bylaw
Barbed Wire: Residential properties cannot erect a fence that contains barbed wire, razor ribbon, glass shards, or any other hazardous materials
Industrial Barbed Wire: Industrial and commercially zoned properties are permitted to have barbed wire as long as the bared wire slants inwards
Click here to learn more about fencing bylaws in Milton. This highlight will help you get started, but be sure to talk to our qualified team and review the full bylaw.
Fencing Services Offered By Jay Fencing
Our customers know to look for the Jay Fencing experience – featuring quality workmanship, timely installation, undisruptive service, and friendly staff if there are questions or additional requirements. Services and products are selected for your specific needs and tailored to ensure complete satisfaction. We have completed over 100,000 projects and have over 32 years of experience – we understand the unique challenges of Milton and the surrounding areas. You can rely on us to install your dream fence, whether on your residential or commercial lot!
Looking for something else?
Jay Fencing Offers Convenience and Privacy With Our Design Expertise and Installation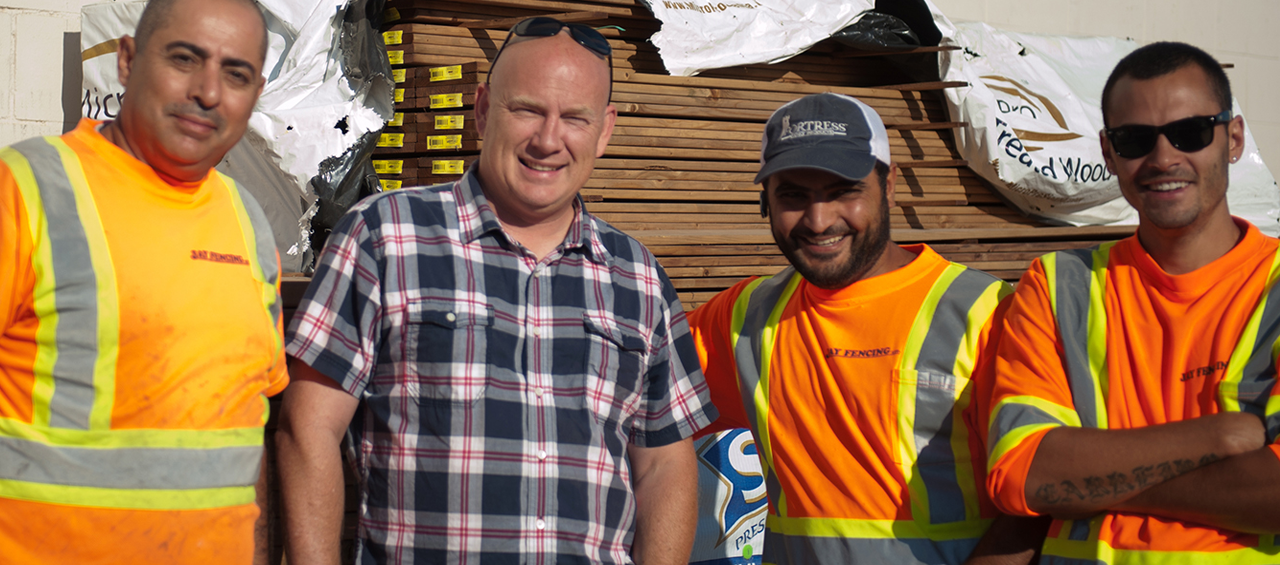 Having worked with clients on properties of all shapes and sizes around Milton, we have the understanding and practical know-how to ensure great looking fences that are beautiful, secure, and comply with local bylaws. See what others have said about Jay Fencing:
"I bought a new house which meant work – the fence was a disaster! When I came home from work the day it was finished I stood there with tears in my eyes. The transformation was incredible and I couldn't get a word out. The fence was perfect, but the gate was the miracle. The team doing my fence had created a masterpiece in wood. I never expected it to be THAT good! Thank you so much to everyone who worked on the fence. I am one VERY happy customer!"
– Cathy Goudie
Read More Testimonials Here!
Jay Fencing is the best service provider to determine which fencing option is right for you in Milton. Reach out to the Jay Fencing team today. Let Jay Fencing deal with the fine print and bylaws and the hassles while you sit back and relax! With Jay Fencing you can expect these services every time we work on a project:
Careful consideration of community requirements
Personal and property security
Privacy
Protected play for children and pets
Over 32 years of experience delivering quality service to our clients
We service customers everywhere from Hamilton to Brantford,  Mississauga to Fergus, and everywhere in between. Book a consultation today and Jay Fencing can help you pick the right perimeter for your property.