Looking to buy wood fence panels but don't know where to start? This handy wood fence panel buying guide will help you decide what fence panels are best for you, considering factors from material, to style, to the best places to buy fence panels, and more! This article will guide you through the whole process from beginning your fence panel search to finally installing a fence. Ready to learn more about wood fence panels and fence installation? Contact the experts at Jay Fencing now!
Wood Fence Panels Buying Guide – Types of Wood
There are many different types of wood that fence panels can be built out of. The most common types of wood panels you'll find in your local hardware store may depend on your location.  Some trees are native to certain areas, and therefore may be more or less common, and more or less expensive, depending on where you live. We have provided an estimate for each wood material cost, but it may vary depending on your location. The following outlines some of the types of wood you may come across when choosing your wood fence panels.
Southern Yellow Pine ($): A generally cheaper wood material that is not naturally resistant to rot or insects. In order to keep this wood from becoming a new home to pests, you will need to treat it to help resist rot, insects, and sap. However, if you are looking for a cost-effective find, this might be a good choice for you.
Douglas Fir ($$): Fence boards made from Douglas Fir are strong and stable. With this type of wood, you won't have to worry about sap. However, it is not naturally insect or rot resistant and will need to be treated to resist these potential problems.
White Woods ($): White woods are not a specific type of wood. It is used as a term to describe inferior types of spruce, pine, and fir. White woods are usually much cheaper and are not resistant to insects or rot. If left untreated, they have a very short lifespan compared to other woods.
Redwood ($$$) – Naturally resistant to rot, insects, and moisture. Comes in a beautiful red colour, prized for both its aesthetics and strength.
(Source)
Wood Fence Panels – Style
After you have selected the type of wood that suits you and your budget, it's time to select your fence panel style! When selecting the style of fence panels, your preference is what matters most. Do you need a privacy fence? Do you prefer aesthetics over practicality? Do you want both? Asking these questions ahead of time will help you pick the fence style that's right for you!
Check out the images below for a list of pros and cons for these common fence panel styles.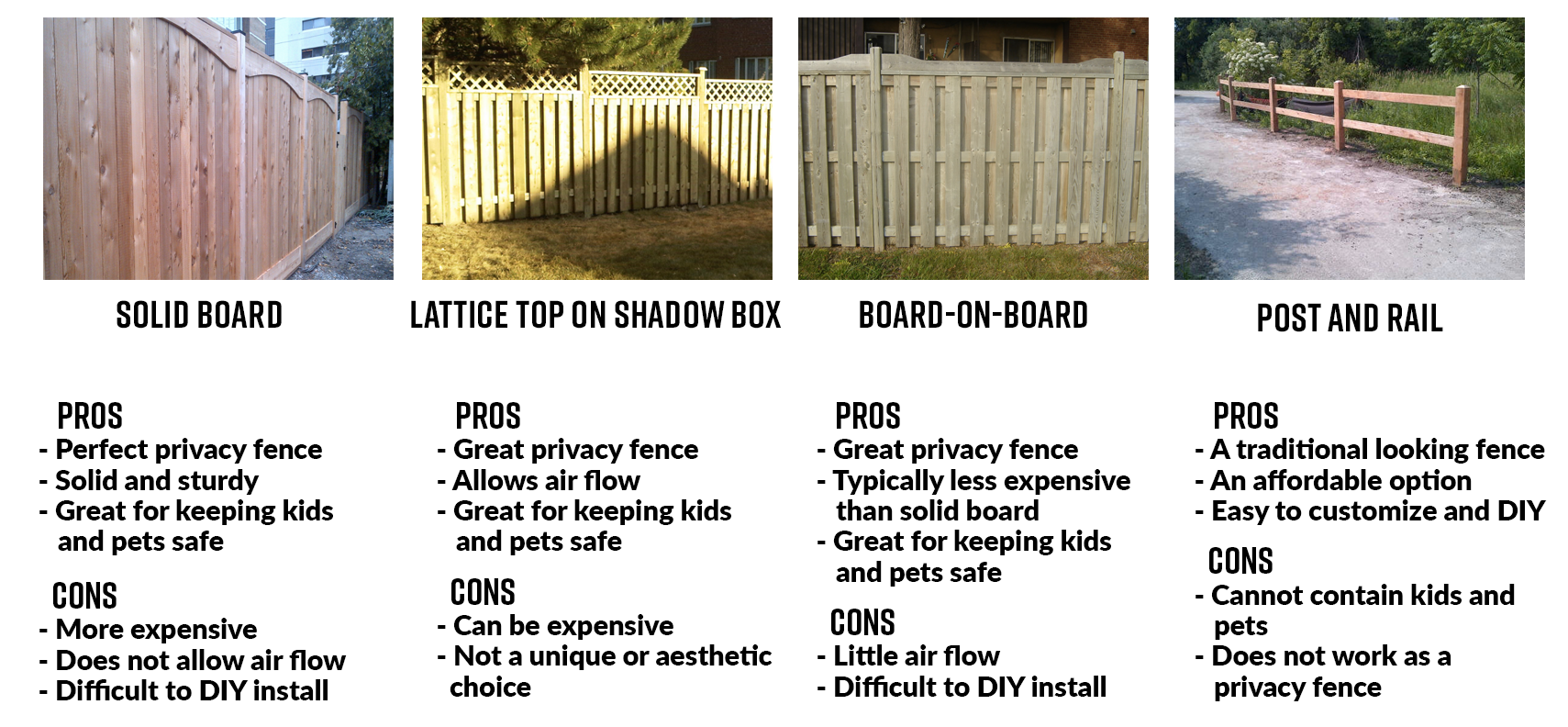 The list above is not exclusive, however. There are other types of wooden fence panels that you can install, and may even prefer! Here are some panel styles not listed above.
Picket Fence: Picket fences are a classic and traditional look. If you want aesthetics, you will definitely get it with a beautiful new picket fence! Picket fences are often painted white but can be painted whatever colour you choose, or left natural. Like post and rail fences, picket fences do not provide a lot of privacy and are not the best fence to contain children or pets.
Louver: Louver wooden fences are tall, staggered boards that provide some, but not total, privacy. They allow airflow in through the wide spaces between the boards. They are often used in addition to privacy fences and may be used to surround a deck or pool.
Lattice: A full lattice fence can be a beautiful addition to any home and yard. They do not provide full privacy on their own. However, they will obscure the view through the fence and they are often paired with shrubbery to fill in the spaces. Therefore, they can be a good privacy fence if set up this way. Lattice is not the strongest fence type and may not withstand a strong force.
(source)
Where To Purchase Fence Panels
There are many places to purchase fence panels. You may even be lucky enough to know someone personally who can provide you with the perfect fence panels you need! If not, here are some common places where you can find and purchase the fence panels that you've been waiting for.
Hardware stores: Rona, Home Depot, and Lowe's are all common places to purchase fence panels. Purchasing fence panels from a large hardware store will offer many options, including styles and wood types. It's easy to compare prices and determine a close approximation of how much your fence will cost in total.
Online: Others try to snag the best deal from purchasing online or via such as Kijiji. There are many ads and private sellers currently selling fence panels. Though this may seem like an appealing option, it's important to be aware of possible scams. If you choose to go this route, understanding what quality wood looks like and knowing how to avoid online scams is vital.
From Your Fence Installer: If you choose to hire an installer, there is a good chance they will supply you with everything you need – and that it will all be included in the price. Hiring an experienced and trustworthy installer is one way to ensure your fence panels are exactly what you want and need.
Fence Installers vs Do-It-Yourself: Post Hole Digging
Post hole digging can be a major challenge for anyone, especially inexperienced DIYers. The entire process of fence installation can be strenuous and challenging, but post hole digging is probably the biggest challenge you will run into if you decided to go the DIY fence installation route.
In the video below, we watch as a product reviewer uses a rented post hole digger for the first time. From the challenges of using a rental digger, to the actual digging process, you can see what one DIYer's experience with a post hole digger was like!
Of course, there are some benefits to doing it yourself. The two DIYers in the video above had a relatively good experience with the digger. When asked if he would rent a digger again, the man replies that he most likely would. When choosing to install a fence yourself, you are on your own timeline. Your fence can be installed as quickly or slowly as you choose. Some people love at-home projects and look forward to their next DIY renovation or project. For many people, doing-it-yourself is a hobby and a rewarding experience.
However, even if you love DIY projects, doing it yourself can be a big challenge. Post hole digging and fence installation can cause a host of ergonomic issues for the installer. Instead of renting a post hole digger, some opt to make their own digging device. Digging with a home-made digger can cause serious injuries if the device is made incorrectly or used by an inexperienced handyperson.
Even digging without the use of heavy machinery can lead to injury. When proper techniques are not used, potential injuries include:
muscle strain or soreness
twisting your legs or back
overexertion
fatigue
The Canadian Centre for Occupational Health and Safety (CCOHS) explains the physical difficulties that come with digging and provides ergonomic digging techniques.
Though many people enjoy the time spent DIYing, others just do not have the extra time, effort, or energy to put in the work required to install their fence properly. A rushed fence installation can cause serious problems down the road, and you may need to end up hiring a professional anyway to fix major problems.
On top of potential ergonomic issues the DIYers may face, there may also be a host of technical issues the DIYer can run into while working on their fence. Fence installation requires a lot of precision. If you dig your hole in the wrong spot, it will need to be filled and re-dug. This can leave a nasty, lasting mark on your yard! A shallow hole will not be sturdy, leading to potential structural issues down the road. Proper planning and precise marking will ensure little or no mistakes.
Another issue many do-it-yourselfers encounter is one they have no control over – the soil itself. On the forum Homeshopmachinest.com, a member called Black Forest responded to a question about digging in rocky soil. User Black Forest replied, "If you bore down in anywhere close to a tree or football size rocks or bigger you will stick the auger. Then you will have to dig it out by hand. No fun at all."
The two DIYers in the video above had the exact problem that Black Forest mentioned. They dug too close to a tree, and ran into some very thick roots. These roots could not be broken up by the digger, and they were left to do the rest of the digging by hand!
Why Choose Fence Installers?
Potential post hole digging problems is not the only reason to call on fence installation experts. Are you on the fence about DIY vs fence installers? Here are some of the differences when working with fence installers instead of doing-it-yourself.
They know the laws: Are you aware of all the fencing bylaws in your city, town, or district? Ignoring fencing bylaws can cause major problems down the road – including potentially needing to tear down your fence and install a new compliant one. An experienced installer will know the bylaws so you don't have to worry about your fence following the law.
They'll help you choose: Stuck trying to decide between two types of wood? Can't pick between a picket fence or shadowbox? A fence installer will help you pick the right materials and styles for you, your home, and your family.
They see potential problems: Didn't notice how much your backyard tree has grown in the last five years? A fence installer will be able to see all of the potential problems and obstructions, such as thick roots, rocky soil, and even slopes that may be difficult to work with. Not only will an experienced installer be able to recognize these issues, they also know the solution to them.
Worry free – When you go with an experienced and professional fence installation company, you won't have to worry about all that could go wrong. When doing-it-yourself, you are in charge of everything – including mistakes and potential problems, but when you hire a reputable company, you can sit back, relax, and watch as the professionals help create the property of your dreams.
Contact The Professionals at Jay Fencing Today!
If you are worried about the cost of your new fence, remember that one of the best ways to get the best price is by choosing a reputable installation company. An experienced installer will help you know what's best for you and your property, will know and understand fair pricing, and will only do the highest quality work. With an experienced installer, you can avoid all the potential DIY pitfalls and skip right to the beautifully installed wooden privacy fence of your dreams.
At Jay Fencing Ltd, you can feel confident that we will only recommend products or services that are best for you and your needs. This means you won't be buying any unnecessary products or services that will make the price go up. We offer free onsite consultations for all the jobs we quote on!
"We are very impressed with the quality and service that we have received from Jay Fencing with the installation of a 6 foot fence across the back of our yard. The structured schedule that was outlined for us for the installation was spot on, even with the different weather conditions. The installers that came to the house were very nice people, they were hard workers and did an excellent job. I highly recommend this company; and when the time comes to replace the fences at the sides of our property – guess who we will be calling!
– A Jay Fencing customer – Read more testimonials here!
Ready for your own beautiful new fence?