Looking for a fence installation service? A brand new fence can completely transform any yard, but a poorly installed fence can create a lot of headaches! Unfortunately, poor fence installation does happen, whether by an inexperienced or unprofessional company or due to unforeseen circumstances. If you have found yourself dealing with a poorly installed fence, one of the best things you can do is write a complaint letter. In this article, we'll provide tips and a sample complaint letter to help sort out your fence installation problems. For more information about quality fence installation, contact the experts at Jay Fencing now!
Did you know Jay Fencing has completed over 100,000 projects?

Fence Installation Service: Common Customer Challenges
When working with any contractor or service, there are common challenges that many customers face when working with inexperienced or unprofessional companies. Fence installation services are no different! Here are some common complaints and challenges that homeowners have faced when working with local fencing companies.
Inferior Materials –  Some homeowners found that their fence installation service used poor quality materials, such as nails, screws, and the fencing material itself, such as the wood. Unfortunately, poor quality materials usually mean your fence will not last as long as it should, or become damaged more easily.
Poor Communication – One of the biggest issues that individuals face when working with installation companies is poor or delayed communication. Customers found themselves waiting around for weeks just to hear their initial quote. This can delay fence construction and cause issues for homeowners with a limited timeline, especially if they are completing other renovations at the same time.
Impolite or Unprofessional Staff – Dealing with unprofessional staff can make anyone feel uncomfortable! Unfortunately, some homeowners found that their fence installers were rude, dismissive of questions or concerns, and had an overall unprofessional attitude.
Ignoring Your Contract – Breaching a contract is a serious problem – but unfortunately does happen. A contract is a legal document. Breaching a contract can be a messy situation, and can even result in legal action.
Poor Installation – A poorly installed fence may be the biggest problem a homeowner runs into with a fence installation service. Even if your contractor does everything else right, a poorly installed fence can create serious problems for homeowners over time. Wobbly fences, lopsided panels, and large gaps are just some of the problems that can come from poor installation.
Tips For Writing A Complaint Letter
If you have dealt with any of the problems above, especially poor fence installation issues, it is a good idea to write a polite and professional complaint letter to the fence installation service you worked with. Proper communication with your installers can help clear up any potential miscommunications and hopefully resolve the problem. Check out the following tips for writing a complaint letter from Consumer Information.
Be Clear – In your letter, ensure that you are clear and concise. You want to ensure the reader fully understands your concern. Include relevant information such as the names of your fence installers, the date work was completed, the type of fence you have, etc.
State What You Want Done – It is not enough to simply complain about your problem! You should politely let your installation company know what you would like done to fix the problem.
Be Professional – Do not write in an angry, condescending, or threatening tone. This type of language will not help get anything done, and will likely just make those on the receiving end frustrated, angry, or scared!
Include Your Information – Be sure to include all of your contact information right in the complaint letter so staff can easily get in touch with you.
Include Relevant Documents – Include relevant documents such as receipts or your contract. If you feel there has been a breach of contract, for example, showing exactly where the problem occurred can help move things along quickly.
Source – Consumer Information – How To Write An Effective Complaint Letter
Poor Fence Installation Service Complaint Letter
If you have found yourself with a poorly installed fence and don't know where to start, you can download our sample complaint letter to help get you started! Remember the tips above when completing your letter, and be sure to proofread your letter before sending it!
Fill out the form below to access the sample complaint letter!
[gravityform id="7″ title="true" description="true"]
Expertly Install Your New Fence With Jay Fencing!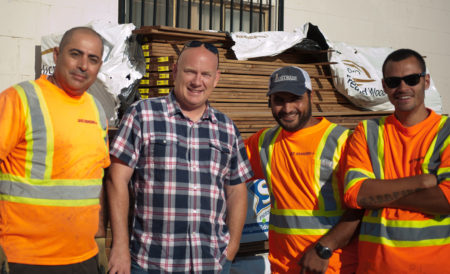 Call on Jay Fencing to install your new fence now! When you work with a professional fencing company, they can help you decide on the right fence style for you and all of your unique preferences and needs.
They will also know and understand fair pricing, and will only do the highest quality work. Avoid confusion and skip right to the beautifully installed fence of your dreams with Jay Fencing!
At Jay Fencing Ltd, you can feel confident that we will only recommend products or services that are best for you and your needs. This means you won't be buying any unnecessary products or services that will increase the price.
We offer free onsite consultations for all the jobs we quote on!
"Jay Fencing did a fantastic job on our new fence, it was built with quality products, completed on time and on budget. They are extremely professional and courteous while on site and this was our third project with them.
Thank you again!"
– A Jay Fencing Customer, Read more testimonials here!