Looking for inspiration for your own estate fencing? Estate fencing is usually used for large pieces of land, parks, and other types of estates. Estate fencing is known for its strength and beauty. Though it was initially found in select styles, there are now many types of fencing considered "estate fencing." Now you may even find estate fencing in some backyards! Estate fencing is a great way to help create boundaries, keep livestock and animals safe, and keep people safe. Not only is estate fencing practical, it can also be beautiful! Estate fencing is often decorative and can add aesthetics to commercial properties. Check out our galleries below to see awesome pictures of estate fencing to get ideas. For more information about all kinds of fencing, contact the experts at Jay Fencing now!
Awesome Estate Fencing
See below for 5 awesome estate fencing ideas! As you will see, estate fencing can come in a wide variety of shapes and styles to suit many different needs and preferences. After this list, check out each gallery for wood, iron, and vinyl estate fencing ideas.
#1 – Horizontal Wooden Fence
This gorgeous horizontal wooden fence takes a slightly different approach to the classic wooden fence look. Though it is not wildly different from the average fence, its beautiful colour and slats of different sizes is sure to turn heads! This type of fence would look great on a smaller estate or surrounding a park.
#2 – Vinyl Fence
Vinyl fences look strikingly similar to their wooden counterparts – but require significantly less maintenance! If you love the look of wood but don't want to maintain significant amounts of fencing for your large property or estate, vinyl fencing may be the perfect solution. Vinyl fencing looks beautiful in residential areas and can work on some commercial properties too. See more vinyl fencing options here!
#3 – Rustic Wood
For very large areas of farmland or green space, a traditional post and rail wooden fence will add charm and help keep boundaries clear. As seen in the picture above, it can also be practically used to keep livestock contained. Planting colourful flowers along the base adds even more aesthetic appeal to this already beautiful rustic fence.
#4 – Wood & Iron Combination
This gorgeous wood and iron fence is set perfectly against the forest backdrop. The small ledges built right into the top of the fence makes a perfect lookout point. This style of fence is ideal along large decks or within a forest trail boardwalk. The strong iron posts help keep visitors safe, while adding aesthetics to the overall design.
#5 – Iron Fence
The versatile iron fence can be used almost anywhere – gates, backyards, commercial properties, gardens and parks, and more! Iron fences are one of the strongest fencing options around. They also allow significant visibility. That's why you often see them surrounding pools or along the outskirts of parks. This iron fence by Jay Fencing helps keep this pool safe and secure while ensuring onlookers can still participate in conversations or watch their children.
Estate Fencing – Galleries By Fence Type
If you know the exact type of fence you want, but aren't quite sure about the design, check out the galleries below to get some great inspiration!
Wood Estate Fencing Gallery
[new_royalslider id="21″]
Iron Estate Fencing Gallery
[new_royalslider id="22″]
Vinyl Estate Fencing Gallery
[new_royalslider id="23″]
Estate Gates Gallery
[new_royalslider id="24″]
Expertly Install Your Estate Fence With Jay Fencing!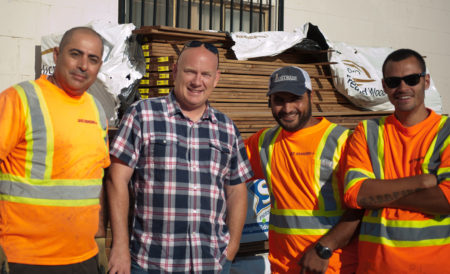 When you work with a professional fencing company, they can help you decide on the right estate fence style for you and all of your unique preferences and needs.
They will also know and understand fair pricing, and will only do the highest quality work. Avoid confusion and skip right to the beautifully installed fence of your dreams with Jay Fencing! 
At Jay Fencing Ltd, you can feel confident that we will only recommend products or services that are best for you and your needs. This means you won't be buying any unnecessary products or services that will increase the price.
We offer free onsite consultations for all the jobs we quote on!
"The installation of the fence was done in a timely and professional manner. Both my wife and I would like to say that if Jay Fencing would like to use us as a reference, by all means, please use our names. This fence has added both financial and aesthetic value to our home but has also enhanced the appeal of the adjoining property as well."
– Douglas Walker, Read more testimonials here!