Looking for employee parking lot policy templates so that you can create your own policy document? A parking lot policy can help create rules and guidelines surrounding parking lot safety, parking spaces, procedures required when allocating parking spaces, and more. In this article, you will see a sample parking lot policy and get tips for creating your own policy. Many parking lots also have access control systems or security gates. It's important to outline the proper use of this equipment as well. To learn more about keeping your parking lot safe and secure, contact the experts at Jay Fencing now!
Looking for security fencing or gates?
Employee Parking Lot Policy Template
The following is a sample parking lot policy template to be used as a reference only. Please keep in mind this is just a template and will need to be modified to suit your workplace's specific needs. It is not a legal document, and this is not legal advice. There may be local or federal legal guidelines and rules regarding parking lots that you will need to take into account when creating your own policy.
This template was created by combining research and information found on various other parking lot policy templates. You can find these resources here:
---
Employee Parking Lot Policy – Sample Template
Employees of [company name] must follow the parking lot policy at all times. This includes employees who use their own vehicle, a company vehicle, a bicycle, or [list any other relevant vehicle types that fall under your policy]. This policy must be followed by permanent, temporary, and contract employees.
Purpose Of The Policy
[Company name] has created the Parking Lot Policy to ensure workers, visitors, and clients are safe on our property. It is also to ensure that all workers understand where and why they should or should not park in specified spaces.
Include any specific challenges regarding your parking lot and why this policy will help resolve them
Permits
You must display your parking permit in a visible location in your vehicle. Parking permits are administered to every employee of [company name]. If you lose your permit, you may have to pay for a new one. Your permit must be registered with your license plate number. Each employee can register up to [2] vehicles.
If your company does not provide permits or free parking, include information about pay parking here
Include specifically who is eligible for permits
Allocating Parking Spaces
Across our company parking lot, there are various spaces designated for specific uses. Only those who fall under certain criteria may use these spaces. These spaces include: pregnant women's parking spots, disabled parking spots, spaces for nightshift workers, spaces for company vehicles, and [include any other specified parking spots here].
These spaces shall be reserved for their designated use. Employees should never park in these spaces unless otherwise specified or if they fall into the specific category. During special events, we may also designate special visitor parking. Employees should not use the visitor parking spaces.
You may want to go into more detail about where each of these designated parking spaces is located and why (e.g. legal guidelines) employees must follow these rules
Bicycles & Bicycle Racks
Employees are welcome to ride bicycles to work and store them using our bicycle racks. The two bicycle racks are located at the front of Parking Lot B and Parking Lot E. Please ensure you bring your own bicycle lock. Please keep in mind that [Company] will not be responsible for any damaged, lost, or stolen bicycles while on our company property.
Parking Lot Rules
It is important that employees follow our parking lot rules in order to keep our parking lot safe and clean. We expect that our employees will respect our parking lot and treat it with the same care that they would any other space in our building. Employees shall not: litter, shall not speed and follow the parking lot limit of [20 km/h], shall respect others' property and vehicles, shall not park overnight unless working a night shift.
If there are any specific challenges in your workplace, such as employees walking their dog through the parking lot and leaving a mess, you may want to address those issues in the parking lot rules section as well
You may also want to outline rules against certain types of parking, such as 'diagonal parking,' when someone parks diagonally in order to take up two spaces and reduce the chance of another vehicle parking beside their car
If you have access control systems such as keypads or barrier gates, you may want to include any rules about their use in this section (e.g. 'Employees are not permitted to share access control codes with anyone outside the workplace')
Discipline
Failure to follow the rules and regulations outlined in our Parking Lot Policy may result in disciplinary action taken by [company name]. A first offence will result in a warning from management. Continuous disregard for the Parking Lot Policy may result in removal of the employee's permit.
You may choose to include the specific action that will be taken if employees do not follow the policy
Legal Information
In this section, you should include any relevant local and/or federal legal information that employees should know, such as information about disabled spaces, etc.
You may also want to include legal disclaimers, such as information about what happens if an employee's vehicle is damaged on company policy
You can also include legal information about what happens in a company vehicle is damaged by an employee
---

Should You Have A Parking Lot Policy?
Is an employee parking lot policy really necessary? Even if you have a small workplace with only five parking spaces, a workplace parking lot policy can help get everyone on the same page, remove any confusion employees may have, and ensure your parking lot – whether big or small – remains a clean and safe place for workers and customers alike.
If you are part of a large workplace or organization with a large parking lot, a policy can provide clarity to questions that many employees may have. If your parking lot has so many spaces and many are designated for various purposes, it can be easy for employees to get confused about where they can or can't park. A policy will ensure everyone knows the same rules and guidelines, which will make parking in the workplace a less stressful experience!
Creating a Parking Lot Policy – Tips
If you are ready to create your own parking lot policy, here are some simple tips you can follow!
Other Ways To Keep Your Parking Lot Safe
Ensuring employees follow safety rules such as no littering, no speeding, and no dangerous driving can help keep your parking lot a safer place for everyone who enters your property. Adding additional security features such as automatic gates, access control systems, and security cameras can help create a safer workplace. See the gallery below for some examples! Click each picture to view it full-size.
Keep in mind that if you do add additional safety features to your parking lot, there may be more legal guidelines to follow (such as security camera placement and use). You may have to modify your parking lot policy and put up additional signs, such as security camera notices, around your property.
Call on Jay Fencing For Workplace Solutions!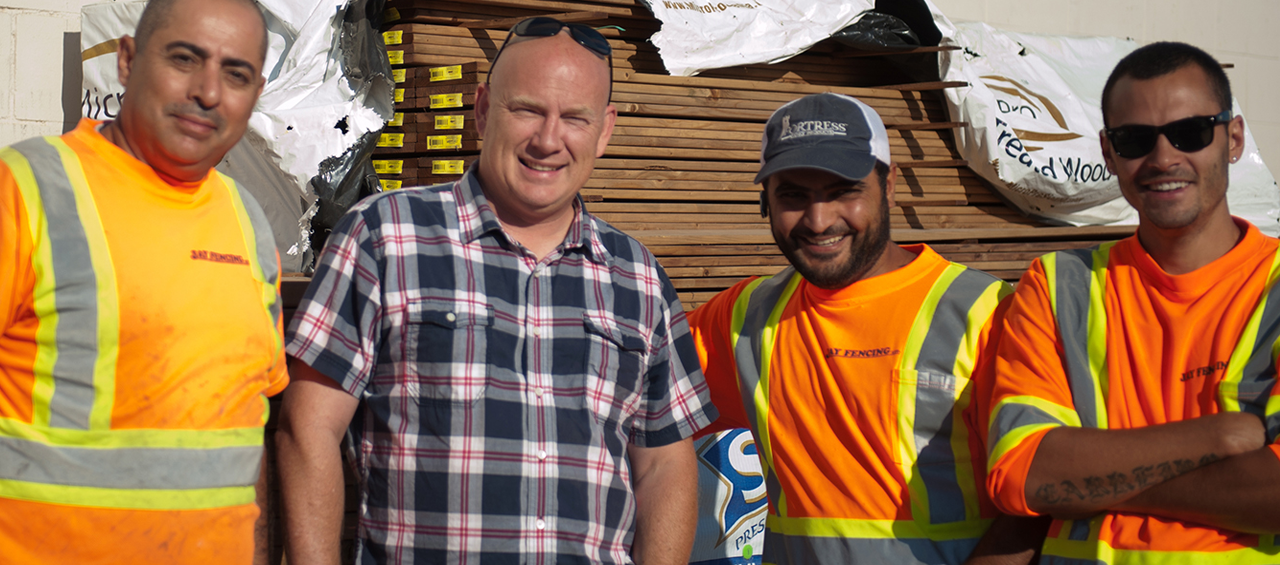 Call on Jay Fencing to install your new commercial fence, access control system, or barrier gate now! When you work with a professional fencing company, they can help you decide on the right fence style for you, your business, and all of your unique preferences and needs.
They will also know and understand fair pricing, and will only do the highest quality work. Avoid confusion and skip right to the beautifully installed fence of your dreams with Jay Fencing! 
At Jay Fencing Ltd, you can feel confident that we will only recommend products or services that are best for you and your needs. This means you won't be buying any unnecessary products or services that will increase the price.
We offer free onsite consultations for all the jobs we quote on!
"I just wanted to tell you what a great job was done today by the two gentlemen who finished the installation of my fence. The fence looks great and the cleanup job was superb. They worked very hard and were most professional. Thank you."
– Jessica W, Read more testimonials here!

Sources