At Jay Fencing, we build more than just fences – we also focus on other outdoor structures, such as high-quality decks and custom deck designs! Decks are a great way to add value to your home, enhance your backyard experience, and help create a safe place for children and pets. If you are looking for your own quality deck for your home, you can rely on the experts at Jay Fencing to get the job done right! Contact us now for more information!
Over 30 years experience. 100,000+ projects completed
Why Jay Fencing Should Be Your Choice For Deck Designs

Decks by Jay Fencing
At Jay Fencing, we understand that every homeowner has unique needs and preferences. We work closely with you to find the best deck designs to suit these needs, preferences – and your budget! If you are thinking about building a deck in your backyard, here is why Jay Fencing should be your #1 choice!
We have over 30 years of experience and have completed over 100,000 projects – we have the experience and know-how to get the job done right!
You can rest assured with our 2-year warranty in place – it will cover any defects in quality or workmanship that you encounter during this time period. We put it in writing because your peace of mind is important to us!
We can build a wide variety of deck styles – Choose from different custom features (such as built-in gazebos or deck lights) and deck designs to ensure you get the deck of your dreams
We put safety first –  our decks are made safely, with handrails for those who want them, as well as safe and level placement.
You can also choose from a wide variety of materials (such as composite, different wood types, vinyl, etc). No matter what type of deck you choose, our trained professionals are equipped to provide you with a high-quality, professionally installed deck!
We offer free on-site consultations for all the jobs we quote on so you can find out more information without worrying about any extra fees before the project even begins. Request a quote here!
We have an A+ BBB rating and 4.6 stars on Google Reviews with 100+ reviews. You can see more about what our happy customers are saying here!
"We can't say enough about Jay Fencing. Everyone, and I mean everyone that we have been in touch with, has been absolutely wonderful. We are so excited to have our deck completed this fall and will look forward to next spring and summer to enjoy it! Thank you to everyone at Jay Fencing. You are an amazing company and we will highly recommend you to anyone."
– Janis, Read More Testimonials Here!
Deck Installation – The Benefits
A deck is a perfect place to set up your patio furniture and entertain guests
Not sure if adding a deck to your yard is worth it? If you are not convinced a deck is right for you, check out the list below of all the benefits you will find when installing a high-quality deck!
Added aesthetic appeal – A deck can transform a boring backyard into an at-home oasis! It not only adds function to your yard, but can also add beautiful aesthetic appeal
A great outdoor space to relax – You can easily set up your favourite lounger or patio furniture on a solid, sturdy surface, and make the most of your yard during great weather
Perfect for entertaining guests – If you enjoy outdoor summer BBQs or late night gatherings, a deck makes the perfect outdoor space for entertaining your guests
Helps to reduce your yard work – Your deck will take up space in your yard, meaning less grass to worry about! Decks are generally easy to maintain
Can add value to your home – A high-quality deck can act as a selling feature if you ever choose to put your house up for sale
Creates a safe place for children and pets – With handrails wrapping around your deck, it's easy to keep children and pets contained in a safe spot in your yard
To learn more about all the benefits of our custom-built decks, click here!
Jay Fencing – Deck Installation FAQ
Want to learn more about building a deck with Jay Fencing? Check out our listing of FAQs below.
How do I get a quote?
You can request a quote online using our consultation request form. If you have questions and would prefer to talk to someone, you can contact us by phone instead. Click here to view a listing of our hours of operation.
Do you have a minimum charge for your projects?
Yes. We have a minimum charge of $1,800.00 for all projects.
What is your area of service?
We service locations in Kitchener, Waterloo, and the surrounding areas, as well as other locations in Southern Ontario. To find out if you are within our area of service, you can contact us now.
How many different deck designs do your offer?
At Jay Fencing, we offer a wide variety of deck designs and different styles. We build custom-made decks, which means the opportunities are nearly endless. We have a wide variety of decks to choose from, including different materials such as vinyl, wood, and composite. If you would like to see some of our decks, click here to check out our gallery.
Are there deck bylaws in Ontario?
Yes, there are bylaws that govern deck building in Ontario. For example, in Hamilton, a permit is sometimes required for deck building depending on a number of factors, such as deck location. However, when you work with us, you won't have to worry about knowing all of the bylaws and requirements – we do the work for you!
Deck Designs – Our Gallery
Check out some of our unique deck designs below to get inspiration for your own project!
Simple Deck with Built-in Lights
Second Story Deck
Deck With Custom-Built Benches
Multi-Level Deck
Deck with Basketweave Privacy Screen & Railings
Simple Deck With Wraparound Stairs
Close-Up of Two-Tone Deck
Raised Deck With Railing
Deck Stairs with Built-in Lights
Small Deck on Side of House
Deck with Built-in Storage Below
Small Raised Deck
Find The Best Deck Designs With Jay Fencing!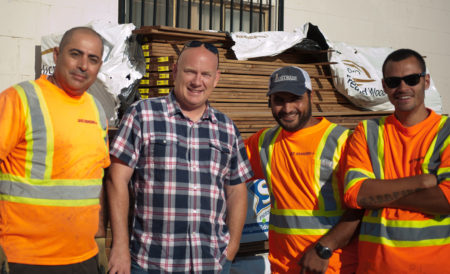 When you work with a professional deck installation company, they can help you decide on the right deck design for you and all of your unique preferences and needs. At Jay Fencing, we value:
Top notch customer service
Providing the highest quality products and services available
Being a name that you can trust
Having experienced and hardworking staff
At Jay Fencing, we know and understand fair pricing, and will only do the highest quality work. Avoid confusion and skip right to the beautifully installed fence of your dreams with Jay Fencing! 
At Jay Fencing Ltd, you can feel confident that we will only recommend products or services that are best for you and your needs. This means you won't be buying any unnecessary products or services that will increase the price.
We offer free onsite consultations for all the jobs we quote on!
"Thank you very much to you and your amazing staff for helping turn my backyard into the oasis I've been hoping for! I LOVE the new fence!!! Your staff are friendly, courteous and do amazing work with such attention and detail. I'll be calling when it's time for a new deck!"
-Ardis, A Jay Fencing Customer – Read More Testimonials Here!