Considering a chain link fence for your home or commercial property? Although chain link fences are sometimes overlooked, they are an excellent fencing option for many different types of properties and uses! Chain link fences are highly durable, provide increased security, are cost-effective, are easy to install, and don't obstruct the view of your existing buildings and landscaping). Continue reading below to learn more about each of these five reasons why chain link fences are a wise choice. Or, you can contact the fencing experts at Jay Fencing to find out more about getting your own perfect chain link fence.
Over 32 Years of Experience. Over 100,00 Projects Completed.
Top 5 Reasons a Chain Link Fence Is a Wise Choice
When looking for a new fence, you will often be faced with these popular choices: chain link, wood, vinyl, or iron. Each option has both pros and cons (see chart below).
Although there are some potential drawbacks to any option, including chain link, it is the #1 choice for many people. For the most cost-effective option, many homeowners and business owners alike choose chain link fencing. Continue reading on to learn about the benefits of chain link fences – and why it might be the right choice for you!
1. Chain Link Fences Are Cost-Effective Permanent and Temporary Fencing Solutions
Chain link fences are a cost-effective fencing solution for many types of properties
Imagine you have just moved into a new home with a beautiful, big backyard. Unfortunately, the backyard currently has no fence – and you have young children and a dog! A fence is an important tool to not only keep kids and pets safe but to help mark your property line and keep unwanted visitors out of your yard. When moving into a new home or landscaping your current home's backyard, a new fence is one of the first things you will want to consider.
However, when you are making changes to your new or current home, you will often have a strict budget to follow. Because of that, chain link fences are often the go-to choice for homeowners! To get the numbers in perspective, Home Advisor lists out the starting costs for a variety of fencing options. Chain link starts at just $5 per linear foot, while wood starts at $10, and vinyl starts at $20!
Chain link fences are used in backyards from the suburbs to rural properties. However, they are not just used on residential lots. Chain link fences are also a popular choice for both permanent commercial fencing as well as temporary commercial/industrial fencing. Many businesses have chain link fences surrounding their property to contain outdoor eating areas, mark property lines, and to keep guests out of private/potentially dangerous areas.
Temporary fencing is often used on construction or industrial sites, to ensure the safety of pedestrians and those around the site. For example, under the Toronto Municipal Code, ARTICLE III Fencing of Construction and Demolition Sites [Adopted 2000-10-05 by Bylaw No. 721-200010], construction sites are required to have a fence around the site:
"363-14. Fence required; conditions for exemption.
A. Unless granted an exemption under Subsection B, a person issued a construction or demolition permit under the Building Code Act, 1992, for any work in the City of Toronto shall erect and maintain a fence to enclose the construction or demolition site, including any areas where equipment is operated or equipment or material is stored."
– Source
Because of bylaws such as the one listed above, many who manage construction sites choose chain link fencing because it is a cost-effective solution, which is easily adaptable for temporary solutions.
2. Chain Link Fences Are Durable And Strong
The chain link fence's mesh allows for increased durability during storms and high winds
When you think about a chain link fence, 'strong' may not be the first thing that comes to mind. However, just because chain link is not a solid material, that doesn't mean it lacks durability and strength! In fact, in some instances, chain link holds up much better than solid board fences.
Chain link fences often work well in areas with high winds. Unlike wooden or vinyl fences, which can crack or even completely fall over during a windstorm, chain link is not affected at all by high winds due to its design. Wind is able to go right through the mesh without creating a strain on the fence.
When properly installed, chain link fences can last decades – and they require very little maintenance. The only thing you may want to do every few years is apply a new coat of paint if you notice your chain link fence is beginning to rust. Even if it does begin to rust, however, the process is often slow and your fence can easily be made 'new' with the right kind of paint.
3. Chain Link Fences Provide Increased Security On Your Property
Your fence can help keep your pets secure inside, help keep unwanted guests off your property, and mark property lines
Chain link fences are often the #1 choice when it comes to commercial security fences. They can be built high enough to be nearly impossible to climb. On certain designated commercial properties, other security measures (such as wire) may be added to the top for increased security.*
Chain link fences also provide security on residential properties. A 6-foot high chain link fence is hard to scale, and having any high fence alone is often enough to deter unwanted guests. If you are worried about potential burglaries, remember that most burglars are criminals of opportunity. If your house looks well protected and you have a fence surrounding much of your property, your home will not be very appealing to a burglar who is trying to enter and leave as quickly as possible.
*Note that many local fencing bylaws regulate the use of barbed wire or other fencing modifications; they are only allowed to be used on certain types of properties. View our fencing bylaws page to find your local bylaws if you are curious about these stipulations.
4. Chain Link Fences Are Easy To Install
Chain link fences are relatively easy to DIY install – but it's always best to hire a professional to avoid potential complications!
When planning for your new fence, the last thing you want to worry about is the installation process. Chain link fences are among the easiest types of fences to do-it-yourself install. That's because they are a bit more 'forgiving' than other options, such as wood fences. Their mesh is fairly easy to work with, and they require basic tools.
However, keep in mind that DIY installing any type of fence can be a challenge for the inexperienced DIYer. Although chain link fences are fairly easy to install, you will still need to dig your post holes just like any other fence. Post hole digging can be quite a challenge.
Post hole digging presents two main challenges: ergonomic issues and technical issues. Post hole digging is a strenuous activity, especially if you do it by hand. Even if you have a post hole digger, you can still run into ergonomic issues such as back strain, muscle soreness, or even heat exhaustion.
Technical issues can also occur. You may not know what to do if you run into an issue with your post hole digger – if it stops working suddenly, for example. In Ontario, it's also common to run into some different types of soil, such as rocky soil or clay. If that happens, you may not be able to dig through it without damaging your digger.
You can check out DIY guides to help you, or you can work with the professionals! Working with a professional installation company can help eliminate all of these potential issues and more. Since chain link fences are especially easy for the professionals to install, you will likely have your project done quickly. Chain link is also one of the most cost-effective fencing options, and working with the professionals can help ensure you won't have to worry about paying for repair or maintenance for decades!
5. Chain Link Fences Don't Take Away From Your Surrounding Landscape
Chain link fences allow you to view beautiful landscapes or provide a clear view of your enclosed pool
There is no doubt that wooden, vinyl, and iron fences are a statement piece in themselves. They are highly attractive options that provide aesthetic appeal to your home. Although chain link fences typically don't provide that same level of aesthetic appeal, they are a minimalistic fencing choice that won't take away from your surrounding landscape.
If you have a unique home or beautiful landscape that you want to show off, a chain link fence won't hinder your view at all. This also makes chain link the ideal choice for pool fences (which are required in many municipalities). You will be able to view anyone in the pool even from outside of the enclosed area, which provides increased safety and supervision for those swimming.
If you back on to open space, a pond, or any type of conservation area, a chain link fence won't block your beautiful view. You won't have to sacrifice security for your children and pets – and you also won't have to sacrifice the amazing view that you get with your home!
Get Your Perfect Chain Link Fence With Jay Fencing!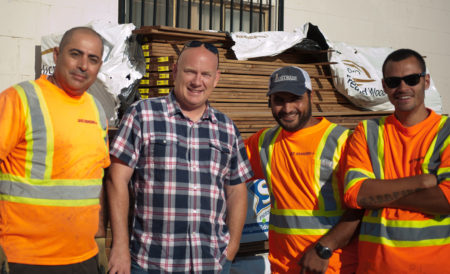 When you work with a professional fence installation company, they can help you decide on the right fence design for you and all of your unique preferences and needs. At Jay Fencing, we value:
Top notch customer service
Providing the highest quality products and services available
Being a name that you can trust
Having experienced and hardworking staff
At Jay Fencing, we know and understand fair pricing, and will only do the highest quality work. Avoid confusion and skip right to the beautifully installed fence of your dreams with Jay Fencing! 
At Jay Fencing Ltd, you can feel confident that we will only recommend products or services that are best for you and your needs. This means you won't be buying any unnecessary products or services that will increase the price.
We offer free onsite consultations for all the jobs we quote on!
"We absolutely love the fence. It looks fantastic and our neighbours were so impressed with the work that was completed. Our dog is loving the backyard. We think he believes that he is at a cottage and not his own backyard…Thank you again for squeezing us in last weekend and for the excellent work! Have a wonderful weekend!"
-Rebecca & Keri, Jay Fencing Customers – Read More Testimonials Here!