Adding a gazebo to your deck or yard can increase your backyard's functionality and aesthetic appeal. A temporary gazebo may be ideal for an isolated event, but an all year gazebo can provide shelter, shade, and act as a beautiful permanent addition to any yard all year round. In Canada, many wooden gazebos are built with stronger, weather-resistant wood so you won't have to worry about your gazebo in the cold winters. If you're interested in an all year, wooden gazebo but don't know which style is best for you, see our guide below. Still have questions? Contact the experts at Jay Fencing today – we also do gazebos!
Looking For The Perfect Gazebo Now?

About Wooden Gazebos
Wooden gazebos come in many styles and can be made from many types of wood. When looking for an all year wooden gazebo, many choose to construct their gazebo with redwood or cedar. This is due to their strength and natural resistance to moisture compared to other woods. Both redwood and cedar have naturally beautiful finishes and are easily customizable to suit all of your personal preferences. Redwood and cedar gazebos are an excellent choice for residential needs.
Each wooden gazebo style comes with its own pros and cons and unique look and functionality. For each gazebo style, we will outline the best use, functionality, and best location to place it. Remember that all gazebo styles listed below can be made from any type of wood (or other material) that best suits your needs and budget. Read on to see our top 5 picks for best all year gazebos!
Top 5 All Year Gazebos
There are gazebo styles for every want, need, and budget! Some gazebos offer little shelter but provide a property with beautiful aesthetic appeal, increasing property value. Other gazebos are simple and easy to maintain, while offering high functionality. The definition of a gazebo is fairly board – any outdoor roofed structure that offers a view of the surroundings qualifies as a gazebo. That's why there are so many different options! The list below outlines some of the top all year gazebo styles to help you decide what structure is best for you, your family, and your property!
Folly Gazebos
Description: The folly gazebo can be made from any material, but is commonly made from stone or even brick. Folly gazebos can come in any size, though many look similar to the one shown on the left – more slender and taller than the average gazebo.
Use: Folly gazebos are exclusively used to add aesthetic appeal to wherever they are constructed. They typically do not provide any shelter, shade, or any other use aside from aesthetics.
Functionality: Not functional as a traditional gazebo, the folly gazebo is purely designed as a work of art. Depending on the materials, they may be difficult to transport due to intricate designs.
Location: Folly gazebos are often placed on very large properties, they are often surrounded by gardens, or added to forest clearings.
Rotunda Style Gazebos
Description: Rotundas are a style of gazebo that is based on European design. They are usually larger, though can come in smaller sizes. Rotunda gazebos are circular in design and usually have a domed roof.
Use: Rotundas are very popular as backyard gazebos. They often have a handrail built around most of the gazebo. They are great choices for entertaining guests or spending an afternoon reading outdoors.
Functionality: Since rotundas are one of the most common types of gazebos, they are very functional for many needs. They provide shade, shelter, and can even contain toddlers and small pets.
Location: Rotunda style gazebos are found everywhere! Many choose to add them on to their existing deck or patio, or clear a space in the yard to place by a pool or hot tub.
Pavilions
Description: Pavilion style gazebos are large, open gazebos with easy access from all sides. Pavilions are usually quite simple in design, though you can sometimes find more intricate styles to suit different preferences.
Functionality: Pavilions are easy to care for as they are simply built, with minimal maintenance depending on the type of wood used. They provide shade, but do not provide as much shelter as other styles such as rotunda gazebos.
Use: Pavilions are used for many different occasions, on many different terrains, and for many different uses. They are a universal gazebo that works for many situations.
Location: Pavilions are usually located close to or right up against the main building.
Enclosed Gazebos
Description: Enclosed gazebos can come in a variety of sub-styles, but many look similar to the one shown on the left. Enclosed gazebos are usually fully closed and often come with a door.
Functionality: Enclosed gazebos require much more maintenance than other styles. However, they also provide much more shelter and shade than other gazebos. You can worry less about bugs, wind, and rain, and enjoy a mini backyard retreat.
Use: Enclosed gazebos are often used as separate rooms away from the house. Many add couches, tables, and even TVs to the inside of an enclosed gazebo. They can also help contain children and pets.
Location: Typically, you will find enclosed gazebos in a larger backyard separate from the deck or patio.
Pergolas
Description: Pergolas are long gazebo styles (though some consider pergolas and gazebos as separate designs). They often have open tops, though some are built with an enclosed roof.
Functionality: Like a pavilion, pergolas have no floor and are an open concept. They provide little-to-average shade but offer limited protection from the elements. However, they are very easy to build and add aesthetic appeal.
Use: Many choose to add vines or climbing plants to their pergola, which adds aesthetic appeal as well as shade. They are a good way to section off a part of your yard.
Location: Pergolas are often found in both large and small yards, as smaller pergolas can easily be built and are still functional. You may also see pergolas on restaurant patios or other commercial properties.
Gazebo Care – Ensure Your Gazebo Lasts All Year!
Some wooden gazebos, like those made from redwood and cedar, can typically make it through many winters without any problems. However, many still suggest you take the time to "winterize" your gazebo no matter what material it is made from to ensure it lasts as long as possible.
To begin winterizing your gazebo, rake and remove all fallen leaves and debris around your gazebo before the snow falls. Doing this will help maintain the integrity of your gazebo for years to come. Some other tips include:
Remove cobwebs and other debris from the inside of your gazebo
Clean out all cracks, holes, and crevices – you don't want any unwanted pests such as mice to see your gazebo as a cozy home!
Clean with your hose to ensure all cobwebs and other debris have been removed hard-to-reach places
Double check that all screws on your gazebo are tight – the snow can put a lot of weight on your gazebo and cause problems if there's a loose screw (or two)!
Find and Install Your Perfect Gazebo With Jay Fencing!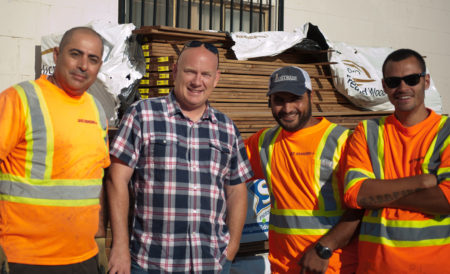 There are many online guides and YouTube videos on how to build a DIY gazebo. However, building a gazebo from scratch or even from a kit can be a challenge. Ergonomic issues such as strained muscles, heat exhaustion, or fatigue can halt the process and result in serious injury.
DIY can also end up costing more due to improper installation – repairs and even replacements down the road can result in many unexpected costs.
One of the best ways to avoid unexpected costs and DIY frustrations is by choosing a reputable installation company. An experienced installer will help you know what's best for you and your property, will know and understand fair pricing, and will only do the highest quality work. Avoid pitfalls and skip right to the beautifully installed gazebo of your dreams with Jay Fencing! 
"We are very pleased with our new deck with gazebo. I was very impressed by the
city inspector's comment that whoever built the deck takes great pride in their
work. Again many thanks."
– Bob – Read more testimonials here!
At Jay Fencing Ltd, you can feel confident that we will only recommend products or services that are best for you and your needs. This means you won't be buying any unnecessary products or services that will make the price go up. We offer free onsite consultations for all the jobs we quote on!
Sources:
thebackyardgnome.com / www.ebay.com / www.fixr.com / Google Dictionary