Top Invisible Fence Reviews: Extreme Dog Fence, PetSafe, SportDOG, Dogtra, and More
Interested in purchasing an invisible fence for your canine companion? An invisible fence is an in-ground or wireless electrical fence system. Your dog wears a collar that sends a light shock when they cross the boundary. The shock does not hurt or harm the dog. With proper training, many dogs quickly learn to stay within the boundaries of the invisible fence. These top invisible fence reviews will help you determine if an invisible fence is right for your dog.
Invisible Fence Reviews – 8 Product Details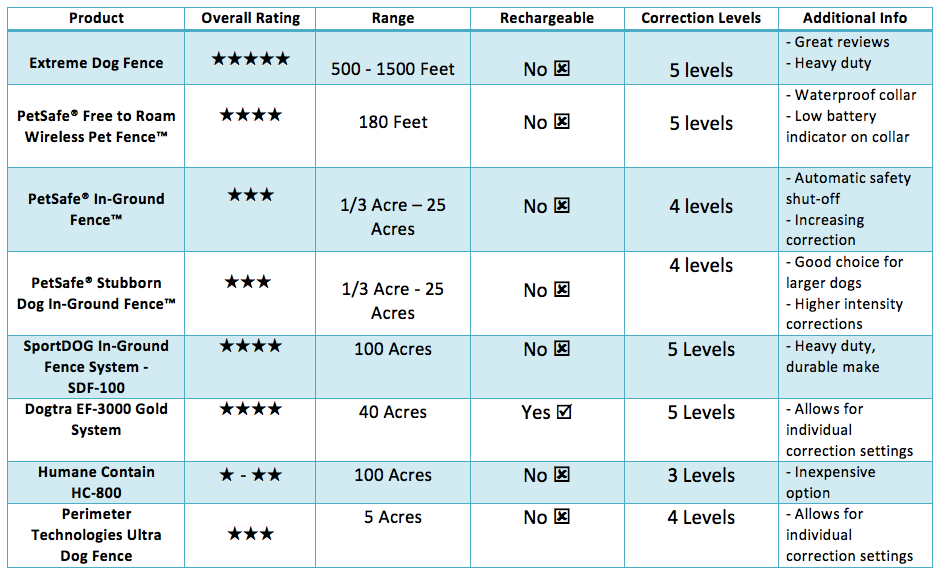 Sources: www.flexpetz.com, www.dogfencediy.com, and www.topdogtips.com
A Closer Look At These Featured Invisible Fence Systems
The following section provides a closer look at the invisible fence systems listed above, including both the pros and cons of each option.
A Quick Look At Extreme Dog Fence System
The Extreme Dog Fence System has a high number of positive reviews from many different dog owners. Known for its durability, the Extreme Dog Fence System can extend from 500 – 1500 feet! This means most owners will not have to worry about running out of wire. The kit comes with a surge protector and waterproof wiring, granting dog owners even more peace of mind. Though this system has generally positive reviews, people have commented on some difficulty installing the product due to its weight.
Sources:
www.flexpetz.com, www.topdogtips.com, and www.extremedogfence.com
A Quick Look At PetSafe® Free to Roam Wireless Pet Fence™
The Free to Roam Wireless Pet Fence™ requires no installation of underground wires – instead, it uses a wireless transmitter that can be plugged in anywhere, including your home, an RV, etc. The collar is waterproof and allows a "tone only" mode that sends out a beep instead of a static correction when your dog nears the boundaries. The system can cover up to half an acre of land. This product has received generally positive reviews. A few problems owners have run into include difficulty with terrain – living on a hill or slope may affect the wireless fence. Another issue some have faced is lack of battery life for the collar.
Sources:
www.store.petsafe.net, www.amazon.com, and www.petsmart.com
A Quick Look At PetSafe® In-Ground Fence™
The PetSafe In-Ground Fence covers 1/3 acre with underground wiring but can extend up to 25 acres with additional wiring. The e-collar comes with automatic safety shut-off and will stop the correction after 30 seconds. Owners have the option of 4 adjustable levels of static correction or a tone-only mode. You also have the option of purchasing additional collars for an unlimited number of pets! Some cons of this product include the limited space it covers without additional wiring and customer complaints of faulty systems or false alarms.
Sources: www.petsmart.com and www.store.petsafe.net
A Quick Look At PetSafe® Stubborn Dog In-Ground Fence™
The PetSafe® Stubborn Dog In-Ground Fence™ is ideal for larger dogs who do not take well to other variants of invisible fencing. It covers 1/3 acre but can cover up to 25 acres with additional wiring. This system is usable with an unlimited number of dogs. Unlike many of the other collars listed, this e-collar emits increasing correction as the dog gets closer or steps over the boundaries. The Stubborn Dog system includes both a beeping and vibration setting. Some common complaints about this system include the fact that the battery is non-rechargeable and that it does not include battery backup for the control box.
Sources:
www.dogfencediy.com and www.store.petsafe.net
A Quick Look At 
SportDOG In-Ground Fence System – SDF-100
The SportDOG In-Ground Fence System SDF-100 covers up to 100 acres and includes a vibration setting. The collar is known for its durability and is fully waterproof with the ability to handle full emersion. SportDOG is known for its heavy-duty training equipment, making it a trusted brand for many owners. However, this heavy-duty option is not for everyone – some owners are not fond of the bulky collar, especially on smaller dogs. The collar battery is also not rechargeable, making it a bit more of a hassle than other options.
Sources:
www.dogfencediy.com and www.amazon.ca
A Quick Look At Dogtra EF-3000 Gold System
The Dogtra EF-3000 Gold System has a feature many other invisible fences lack – it allows for individual correction settings on each dog's collar, making it ideal for owners with multiple dogs. The collar includes 5 different static correction settings and a vibrate-only setting. The collar has an updated, rechargeable battery lasting longer than older models. However, this system is fairly old and is known for its clunky appearance.
Sources:
www.dogfencediy.com and www.flexpetz.com
 A Quick Look At Humane Contain HC-800
One of the most cost-effective options, Humane Contain is sold with two collars and covers 100 acres for about $100.00. It includes a battery backup and 3 different correction levels. It also works with automatic dog doors. However, this product has relatively negative reviews and many complain about its unreliability. Others complain about the unattractive and extremely clunky e-collar. Weighing the pros and cons of reliability versus price is always important before purchasing.
Sources: www.dogfencediy.com and www.consumeraffairs.com
A Quick Look At Perimeter Technologies Ultra Dog Fence
The Perimeter Technologies Ultra Dog Fence includes independent correction levels for each collar and a sleek, compact design. This technology allows you to change frequencies to avoid interfering with your neighbours' technology and creates an extra measure to keep your pet safe. The e-collar is softer than most others and known for its comfortable design. However, the battery is not rechargeable and the perimeter battery replacement can be costly.
Invisible Fences VS Traditional Fences
Choosing the right fencing option for your dog can be stressful and confusing. It's important to pick the right option for both you and your pet. Invisible fences are a cheaper option than traditional fencing. Most can be installed in a matter of hours and require less maintenance than a traditional fence. Most invisible fences will not have a problem spanning different types of terrain, whereas building a fence on a rocky slope may be difficult for the do-it-yourselfer. Some dog breeds and individual dogs have the tendency to jump over or dig under fences. With an invisible fence, you reduce the likelihood of escape in this manner. There is also no chance that you will forget to close a gate or properly secure your fence when your pet is outside.
However, invisible fences have their fair share of cons as well. Many people assume that once you buy and install an invisible fence, the work is over. Unfortunately, that is not the case. Invisible fences only work with time and effort dedicated to training. Since the static correction is never enough to actually hurt or harm a dog, dogs will not immediately understand what the shock means and cross the boundary lines. You must take the time to teach your dog what the fence is and where it is. With traditional fencing, you do not have to worry about additional training. Traditional fences also work both ways – they prevent your dog from leaving the yard and prevent hazards from entering. Invisible fences only prevent your dog from leaving.
Invisible fences can be reliable, but there is always a chance of a dead battery or broken wire. Dogs may also exhibit increased barrier frustration when they are able to see another dog, human, or stimulant beyond the invisible fence that they cannot access.
Sources: www.caninejournal.com, and www.vcahospitals.com
Jay Fencing – Helping You Pick The Perfect Fence
 The best way to determine which fencing option is right for you is to
reach out to Jay Fencing Ltd
. We understand your desire to keep your loved ones, including pets, safe. With Jay Fencing you can expect these services every time we serve you:
Master level craftsmanship and attention to lifespan augmentation
Careful consideration of community requirements
Personal and property security
Protected play for children and pets
Over 28 years of experience delivering quality service to our clients


---
"Everything looks great. Thank you again. The dogs love going into the yard. They've missed running outside like freaks barking their faces off. Thank you for being the professionals you are and working with us. We are very pleased with the work and the follow ups you have provided."
– Lynn, Guelph – More testimonials here
---
We service customers everywhere from Stratford to Brantford,  Mississauga to Fergus, and everywhere in between. Book a consultation today and Jay Fencing can help you pick the right perimeter for your property.