Looking for the best fence design ideas? Our definitive guide to fence designs provides the latest information about all of the most popular fencing solutions for you, your home, and your business. We'll take a look at the pros and cons of different fencing materials, how to maintain your fence, how to find the best installers, and more! For more information about fencing solutions in Southern Ontario, click here to contact the experts at Jay Fencing!
Interested In Your Own Beautiful New Fence?

Fence Design Guide Chapters
Chapter 1: Fencing Materials – Types & Pros and Cons
Chapter 2: Fence Maintenence
Chapter 3: DIY or Professional Install?
Chapter 4: Finding a Reputable Installer
Chapter 5: Fence Customization
Fence Designs: Chapter 1 – Materials
Your new fence can be made from a variety of materials and can come in many different styles. Most fences fall into one of the following categories: wrought iron, chain link, wood, or vinyl. In this section, we'll look at the pros and cons of each of these fencing styles to help you determine which is best for you and your needs.
Wood Fences
Pros: Beautiful and natural look, great as a privacy fence and for keeping pets and children safe, can be strong and durable, when properly installed can last a long time
Cons: Requires regular maintenance, can be difficult to DIY install, cheaper woods may not last long, can be more expensive for high-quality, durable woods
Wood fences are extremely common. It is likely you have come across wooden fences used for both residential and commercial lots. Wood fences can be crafted in many different ways and styles to create custom, unique fences. When made by a reputable company, they are sturdy and resistant to the elements. Some wood types are also naturally resistant to rot and insects.  There are many different types of wood to choose from, all with their own pros and cons. Some popular choices include:
Pressure Treated Pine (Average Cost: $) – A practical, well-priced option. Chemically treated to resist rot, insects, and moisture.
Cedar (Average Cost: $$–$$$) –  Beautiful and naturally resistant to rot, insects, and moisture. Always a great choice for fence boards.
Redwood (Average Cost: $$$) – Naturally resistant to rot, insects, and moisture. Comes in a beautiful red colour, prized for both its aesthetics and strength.
Wooden fences can also be crafted into many different styles. Wooden fences are highly customizable. If you choose a wooden fence, your options are nearly endless when it comes to style. Here are some of the most popular style choices: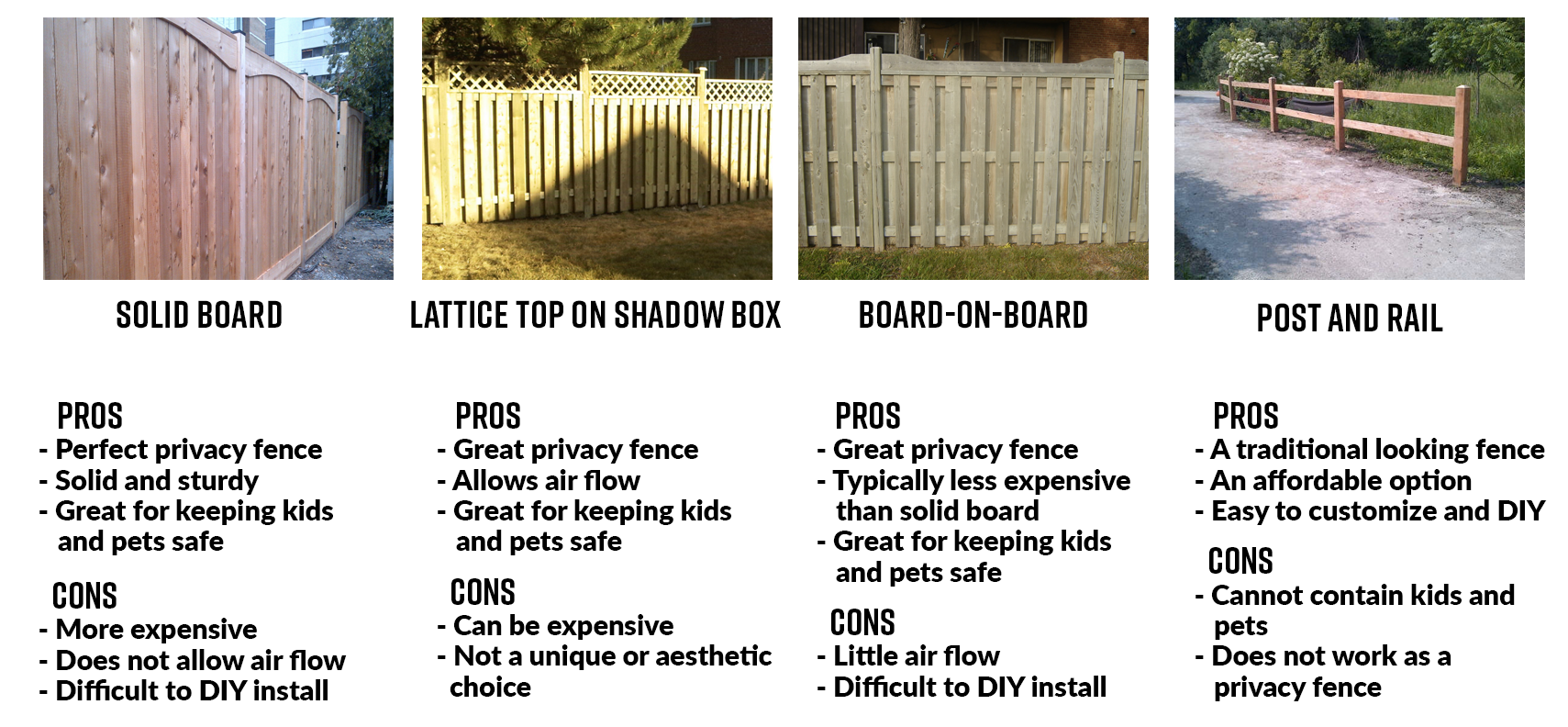 Solid Board – A decorative and beautiful option. The top can be crafted in a variety of different ways to suit whatever your preference may be. The solid board style also allows privacy.
Lattice Top – Lattice top is a very popular choice. It allows some air flow by breaking down strong winds into a gentler breeze. It also provides privacy while still allowing some visibility through the boards.
Board-on-Board – One of the top choices for privacy fences. It looks attractive from both sides of the fence and allows a breeze to come through between the boards.
Post and Rail – With a classic, welcoming look, the post and rail style is definitely not a privacy fence. Often used as a decorative fence, though it can actually be customized with mesh to protect children or pets from getting out.
Vinyl Fencing
Pros: Aesthetically pleasing (often mimics wood designs), requires virtually no maintenance, comes in many colours and relatively easy to customize, durable
Cons: Can warp or bend in extreme temperatures, difficult to install, replacement or repair can be costly, costs more upfront
Vinyl fences are a relatively new fencing option. Vinyl fence boards are usually made to look almost identical to wooden fence boards. They also come in a variety of styles; many of these styles are identical to their wooden counterparts as listed above. However, unlike wooden fences, vinyl fences require almost zero maintenance. You also won't have to worry about rot, rust, and insect infestations.
Though vinyl fences are easy to maintain and come in many attractive styles, they also have some downsides. The biggest difference between wood and vinyl is the price tag. Vinyl fences are often more expensive, and repair can be much more complicated. Vinyl is durable but not as durable as most types of wood. Bending, warping, and even expanding can occur due to harsh weather or violent winds – which may be a problem in many Ontario climates.
Chain Link Fencing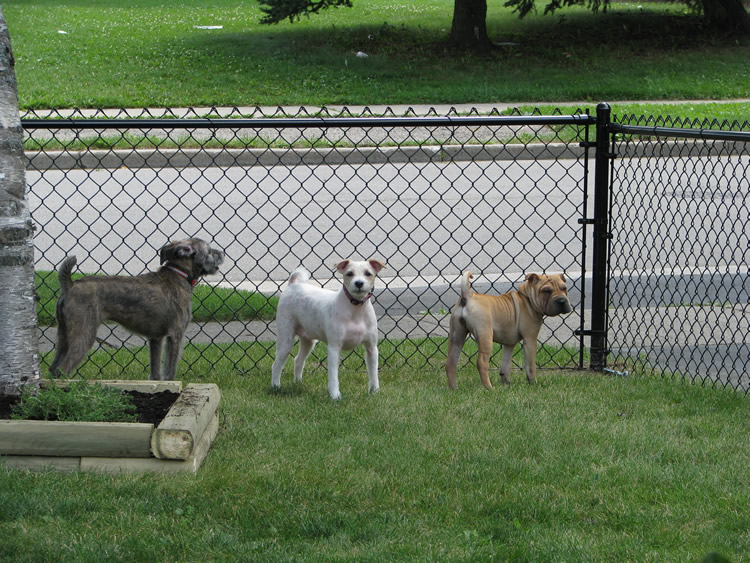 Pros: Easy to maintain, cost-effective fencing solution, provides a secure property for increased safety, good at containing children and pets
Cons: Not easily customizable, doesn't provide privacy, not aesthetically pleasing, can rust if not properly maintained
Chain link fences are the most cost-effective fencing solution on this list. They are relatively quick and easy to install and require minimal maintenance. Many people choose chain link fences due to the following:
Practical: Chain link fencing is versatile and practical for both commercial and residential fencing. Chain link is often the most cost-effective solution as it is reasonably priced and has a very long life expectancy when properly installed.
Cost-Effective: Because of their low prices and high life-expectancy, chain link fences are an overall cost-effective solution to your fencing needs. Feel free to contact us for an estimate or if you would like to learn more about commercial fencing in Toronto.
Secure: Chain link fences and commercial gates are strong and secure. For your commercial needs, our gates are made from quality materials and are installed with your unique property in mind. Chain link is extremely durable and, when properly installed, you won't have to worry about pets breaking through or wind knocking it down.
Iron Fencing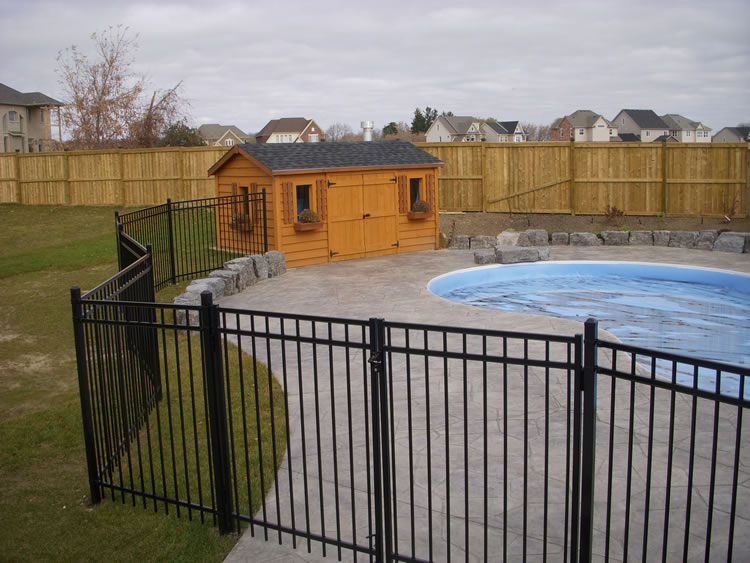 Pros: Beautiful option, comes in many styles and decorative designs, strong and durable, good for security fencing
Cons: Expensive fencing option, can show damage over time, doesn't provide privacy
Wrought iron fencing is one of the most attractive fencing options. Wrought iron fences come in a wide variety of styles, and are commonly used as ornamental or decorative fencing around gardens and homes. Wrought iron fences can be quite expensive, but are extremely durable and can hold up in the most extreme weather and climate conditions.
Often, iron fencing is mixed in with other fencing materials and used as an accent piece. For example, there are many wooden fences that have an iron gate, or iron pillars along with the wooden components. Like chain link fences, iron fencing does not provide much privacy. It can be a good fencing solution to keep children and pets safe, but it is important to ensure the posts are close enough together so that small children or pets cannot slip through.
Looking for iron fence inspiration? Check out our 25 amazing iron fence designs gallery!
Chapter 2: Fence Maintenance
Even vinyl fences that are typically "maintenance-free" do require some maintenance. It is nearly impossible to find a product that doesn't require even minimal maintenance. The amount of maintenance your fence requires may help you determine which fence is right for you.
Chapter 3: DIY or Professional Install?
Do-it-yourself installation is often appealing, as you don't have to pay for labour fees. You can also get the job done in your own time on your own schedule. However, there are many downsides to a DIY installation, especially for the inexperienced handyman. Most areas have strict fencing bylaws. If you do not know the bylaws or do not fully understand them, you could have an expensive fix on your hands – or worst case scenario, an expensive legal situation.
Aside from potential legal problems, you may also run into ergonomic issues. One of the hardest parts of fence installation is post hole digging. Post hole digging is strenuous, and can even be dangerous if you use improper digging materials. Some homeowners try to post hole dig by hand. Digging by hand is an inefficient way to get such a big job done. Others opt to make their own post hole diggers. Homemade diggers can be a feasible option for those that have the know-how and access to the proper materials. However, an improperly made post hole digger can fail and even lead to serious injuries.
Even digging without the use of heavy machinery can lead to injury. When proper techniques are not used, potential injuries include muscle strain or soreness, overexertion or fatigue, and even twisting your back or leg.
Post hole digging also requires precision. A hole dug in the wrong spot will need to be filled and re-dug. This can leave a lasting mark on your yard. A shallow hole will not be sturdy. Proper planning and precise marking will prevent mistakes.
Another issue many do-it-yourselfers encounter is one they have no control over – the soil and landscape itself. You can run into extra rocky soil that may stop your post hole digger from working. Or you could find clay, or other difficult-t0-dig-through materials. Experienced installation professionals know how to work through these problems, while the average homeowner may have no idea how to solve these issues.
Chapter 4: Finding a Reputable Installer
If you've already decided on the type of fence material and design, you may be wondering how to find a professional and reputable installation company. Finding a reputable company is the first step to actually getting the job done correctly. An unprofessional installer may overcharge, provide poor service, and may not even finish your installation. Here are some ways you can avoid poor installers and find a great, reputable installer in your area:
Read Online Reviews – Online reviews are becoming more popular and accessible. Google Reviews, HomeStars, and Facebook reviews are great online review platforms. Reading what others in your community or city have to say about a company is one step to help you determine how reputable a company is. Remember though, there will always be negative reviews, no matter how great or reputable a company is.
Talk To Your Neighbours – Talking to those around you and asking what companies they have used is a great way to find a reputable, local installer. If you see a great fence on your street, talk to your neighbours and ask who the installer was. Ask for a brief review and then look the company up online to see if your neighbours' experience was the norm.
Ask For A Portfolio – A professional installer will be willing and excited to show you past work they've done. If they are hesitant, reluctant, or show you only one or two pictures, you may want to work with someone else. If you are looking at a company's website, you should be able to find lots of pictures or galleries of previous work. The pictures should be obviously taken by the company and not stock photos.
Finding a reputable installer will help ensure that your new fence is properly installed and built to last. When you work with a professional installer, they have the experience to help guide you when it comes to which style of fence best suits your needs and your property.
Chapter 5: Fence Customization
Though wooden fences are the easiest to customize, with enough creativity, you can customize any type of fence. Even chain link fences can come in a variety of colours! There are many simple ways you can customize your fence at home. See the list below for some great ideas!
Add lights to your fence – you can add lights to any kind of fence, though the type of lights you add will differ depending on your specific fence style
Add plants or hanging baskets to or around your fence – Adding some beautiful foliage is a great way to liven up your fence. It can also help add privacy to picket fences, chain link fences, iron fences, and other styles that don't naturally provide privacy
Choose a stylish fence top – Most fences provide many different fence top options. For example, picket fences can come in a gothic style, diamond style, dog-eared style, and more! Talk to your fence provider about the options available for your new fence.
Paint your fence – Most fences can either be painted or the panels can be purchased in different colours. If you are looking for a way to make your fence stand out from the rest, consider a unique or bright colour.
Expertly Install Your New Fence With Jay Fencing!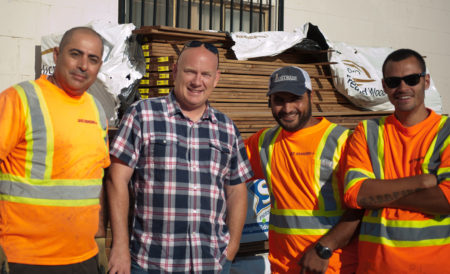 When you work with a professional fencing company, they can help you decide on the right fence style for you and all of your unique preferences and needs.
They will also know and understand fair pricing, and will only do the highest quality work. Avoid confusion and skip right to the beautifully installed fence of your dreams with Jay Fencing! 
At Jay Fencing Ltd, you can feel confident that we will only recommend products or services that are best for you and your needs. This means you won't be buying any unnecessary products or services that will increase the price.
We offer free onsite consultations for all the jobs we quote on!
"The installers were very dedicated to come to install our new chain link fence on a Sunday, in the rain, no less.
We appreciate the excellent work and the safety we now have again since the fence enclosed
one end of our pool. Thanks for a great job!"
-Marjolein Hicks, A Jay Fencing Customer – Read More Testimonials Here!