How to calculate linear feet for your fence – Although you may have not heard the term 'linear feet' often, it is actually not a complicated unit of measurement! A linear foot is the measurement of a straight line in feet. So, if you had a fence board that was 6 feet high and 8 feet wide, then the linear footage of that fence board would be 8 feet. Understanding how to measure linear feet is helpful when trying to calculate the approximate cost of your fence and the materials you'll need. To get the most accurate estimates and to learn more about building your perfect fence, contact the experts at Jay Fencing now!
Calculate Linear Feet For Your Fence
Linear feet is actually very easy to calculate because it requires almost no math at all – aside from simple addition! Unlike other types of fencing measurements, when calculating linear feet you will only need to take one measurement from the fence. To find the linear footage of an existing fence, you will need just a few simple materials.
Materials Needed: 
Measuring tape 
Calculator (for quick addition)
A note pad to keep track of measurements
Pen or pencil
Measure one side of the fence at a time, because linear footage is only measured in straight lines. Tape your take measure from one end of the fence to other on a single side. Write down the measurement. Then, repeat for each side of the fence. 
Most backyard fences will only have three or four sides, but depending on your layout, you may have more. Once you have all the straight measurements, add them together. The final number is your total linear footage.
A linear foot is simply a straight line measurement in feet
If you do not already have a fence up and are trying to figure out the linear feet for a new fence, see the video below for step-by-step information on measuring for a new fence. Measuring for a fence can be a bit tricky, especially if you have a sloped backyard or irregularly shaped lot. The measurements you get may not be exact, but they should be close enough to give you a fairly accurate number and will help you estimate the cost of your materials. 
How To Measure For a New Fence
Of course, it is much easier to measure the linear footage of an existing fence, since the boards are already up and you have a better visual guide of the fence! However, unless you are replacing a fence, you will most likely be measuring to put in a brand new fence – which means there is no existing fence to help guide you. The video below shows a simple way to measure out your fence and ensure you get perfect 90 degree angles at the corners where your fence boards meet.
Measuring for a new fence can be a challenge if you have never done it before, or if you don't have the right tools and materials. It is more complex than simply measuring linear feet. If you are not sure how to measure your fence or don't want to go down the do-it-yourself route, contact a professional fence installation company and they will gladly do it for you!
Converting Inches & Metres Into Linear Feet
When trying to figure out the linear footage of your fence, you may only be able to measure in inches or only have the measurements in inches available to you. Fortunately, it is easy to convert inches into linear feet. Although feet and inches are popular in Canada, the standard unit of measurement is metres – not feet. Therefore, you may only have access to measurements in metres. See below for popular units of measurements converted into linear feet.
6 Inches
12 Inches
18 Inches
24 Inches
30 Inches
36 Inches
42 Inches
0.1524 Metres
0.3048 Metres
0.4572 Metres
0.6096 Metres
0.762 Metres
0.9144 Metres
1.0668 Metres
0.5 Linear Feet
1 Linear Foot
1.5 Linear Feet
2 Linear Feet
2.5 Linear Feet
3 Linear Feet
3.5 Linear Feet
To see more inches into linear feet conversions, click here. 
To see more metres into linear feet conversions, click here. 
Fence Costs Per Linear Foot
The main reason why homeowners want to know the linear footage of their fence is to find an accurate estimate of the fence costs. Fence boards and even the labour to install the fence are often priced by linear feet, so knowing the linear footage of your fence is one of the best ways to estimate your labour and materials cost. See below for estimates from Home Advisor. Please note that the estimates have been converted from USD to CAD, and are subject to change based on conversion rates.
Materials: $6.75 – $20.20
Labour: $6.75 – $20.20
Materials: $21.55 – $40.40
Labour: $5.40 – $13.45
Materials: $40.40 – $54.00
Labour: $6.75 – $20.20
Need The Most Accurate Measurements? Rely On The Professionals!
When measuring for your new fence, having the most accurate numbers is important – without the right information, you may not able to budget accordingly. Or, if you are working towards a DIY fence project, you may not get the right amount of materials or plan for the right layout. Working with the professionals will ensure you have the most accurate measurements and therefore the most accurate cost estimates. 
If your backyard is sloped or irregularly shaped, measuring can be even harder, especially for those inexperienced in fence measurements and installation. Remember, measuring linear feet is always done by measuring a perfect straight line. Getting a straight line is made much more difficult on a slope or through uneven ground. 
Measuring the linear feet of an irregular fence can be a challenge
When you work with the professionals, you don't have to worry about measuring yourself or planning out the layout. You don't have to worry about finding the right tools, high-quality materials, or making dozens of calculations to ensure everything fits within your budget. A professional fence installation company will provide you accurate estimates you need to properly plan and budget. 
If you are looking for a professional fence installation company in the Kitchener-Waterloo area, Jay Fencing has over 30 years and experience and has completed over 100,000 outdoor projects! We offer free on-site consultations, will efficiently measure your yard, and will guide you along the entire process.  
Get Your Dream Fence With Jay Fencing!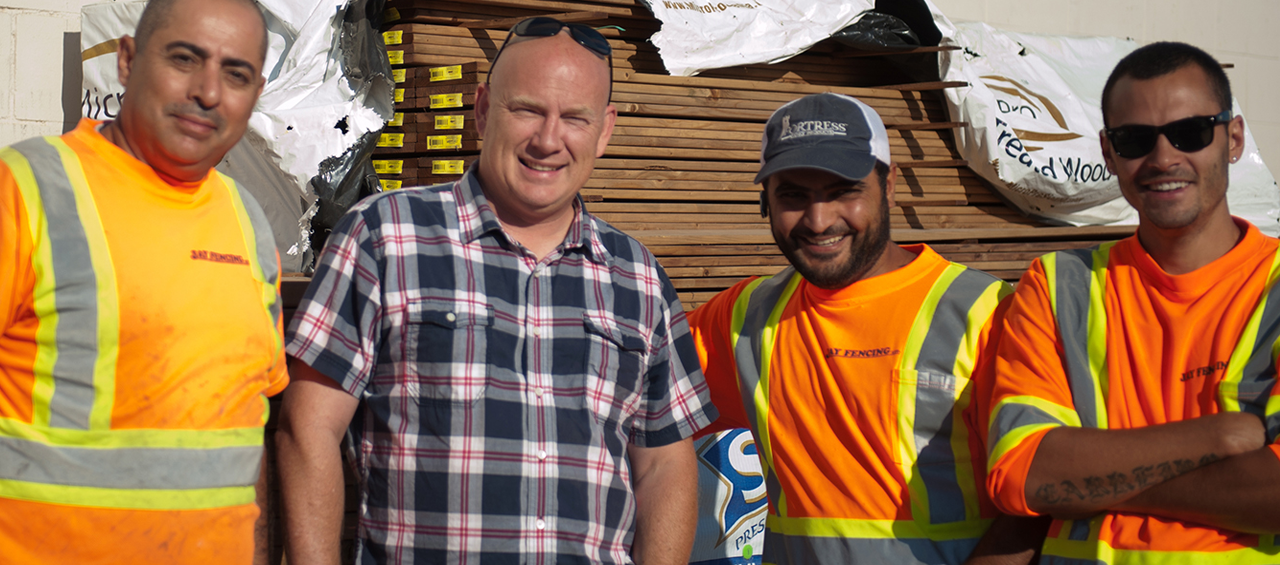 At Jay Fencing, we understand the importance of getting the right fence for you and your entire family. Whether you choose a wood or vinyl privacy fence, or choose to go with chain link or ornamental iron – we understand that getting the perfect fence is an important decision.
When you work with a professional fence installation company, they can help you decide on the right fence design for you and all of your unique preferences and needs. At Jay Fencing, we value:
Top notch customer service
Providing the highest quality products and services available
Being a name that you can trust
Having experienced and hardworking staff
At Jay Fencing, we know and understand fair pricing, and will only do the highest quality work. Avoid confusion and skip right to the beautifully installed fence of your dreams with Jay Fencing! 
At Jay Fencing Ltd, you can feel confident that we will only recommend products or services that are best for you and your needs. This means you won't be buying any unnecessary products or services that will increase the price.
We offer free onsite consultations for all the jobs we quote on!
"The fence is wonderful and looks great. I am so happy to have our privacy back.
Thank you again for all your hard work and making this happen."
– Joan, a Jay Fencing Customer – Read More Testimonials Here!