Dog kennels and/or fencing for your yard is one of the best ways to keep your furry friends safe and contained on your property. Even the most well-trained dogs may be tempted away from your yard chasing birds or other small animals. Not only that, but a partially or fully enclosed kennel or simply a fence around your perimeter can help keep unwanted guests out of your yard. To learn more about the best ways you can enjoy you backyard while keeping your four-legged friend safe, contact the fencing experts at Jay Fencing. We have served the Kitchener, Waterloo, and surrounding areas for over 30 years!
32 Years Of Experience. Over 100,00 Projects Completed.
Why Choose a Dog Kennel Or Fence For Your Property?
A fence, a kennel, or both can help keep your dog(s) safer and happier!
If you are about to bring home a new puppy and aren't sure if you want or need a fence, or if you already have a dog but are considering a fence, you may wonder if one is really necessary. Of course, everyone has personal preferences when it comes to how you choose to train and raise your dog. However, a kennel and/or a fence on your property is one of the most sure-fire ways to keep your dog safe while in the yard. 
One of the top questions asked is "why choose a real fence when I can just use an 'invisible' fence?" Some dog owners consider an "invisible fence" as an alternative to a physical fencing barrier. An "invisible fence" works with two pieces – an electronic collar and underground electronic signals that create a boundary for your dog. When your dog cross the boundary, a shock is sent through the collar – the shock doesn't hurt your dog, but does let your dog know that they have crossed the barrier. 
So, What About Invisible Fences?
Invisible fences are a good training tool, and may be ideal for acres of property that simply cannot be fenced in. However, for the average homeowner, invisible fences do have their downsides. Like anything else with a dog, an invisible fence will require significant time and effort put in so that your dog understands it. A simple shock will not deter some dogs – they must be taught that the shock means "do not cross!"  
Some dogs, especially breeds with a high prey drive (e.g. many dogs originally bred for hunting & retrieving such as Labradors, scent hounds such as Beagles, sight hounds such as Greyhounds, etc.) may ignore even the highest level of shock if they are chasing down a small animal or a bird. 
For dogs with high prey drives, an invisible fence may never work no matter how much training you put into it. An invisible fence also will not stop other animals or people from entering your yard. If your dog is wary of strangers or overexcited by new people, this could be dangerous for visitors or young children who accidentally enter your property.
Even if you aren't worried about your dog running off, a physical barrier is the best way to not only keep your pet safe, but to keep other people and animals out of your yard unless invited. 
Do I Have Other Options?
Chaining, or tethering, your dog may not be the safest way to leave them outside
In order to avoid purchasing a fence, other dog owners sometimes consider using a tie-out or a chain to keep their dog in their yard while unable to watch them. However, this is generally not a safe solution – dogs can easily get stolen with only a chain or a leash as a barrier. You also risk the potential of your dog getting caught up in the leash, creating many health hazards, or developing aggression or frustration issues due to being tied up.
On top of that, in many places in the world is it even illegal to leave your dog tethered alone outside. Although it is legal in Canada as of 2019, many are pushing for new laws in Canada to ban or create restrictions on tethering.
There are other options as well – such as keeping your dog on a long leash while attended, or simply trusting that your dog will not run off. Every pet owner knows their pet best – and some solutions, such as an invisible fence or tether, may work well in some situations with the right training and resources.
However, if you are looking for the best way for you and your dog to enjoy your yard, and the absolute safest way to keep your pet outside while both attended and unattended, a fence and/or a kennel is the best way to do so!
Dog Kennels And Fencing Options
Dog kennels as well as fencing for your yard can be made out of a wide variety of materials. However, one of the most popular kennel styles is made primarily from chain link fence, as it allows for proper air flow during the hot months. Remember, if you are keeping your dog outside for any extended period of time (whether in a kennel or loose in your yard), you should ensure adequate shelter from the elements as well as access to cool, fresh water at all times.
Cost: $
A kennel can easily be made from a chain link cage, with a few simple modifications (such as a covered top to ensure proper shelter from the sun, rain or snow). Chain link cages are ideal if you plan to keep your dog outside unattended for longer periods of time, as they can act similarly to a dog crate.
Cost: $$
A chain link fence is a cost-effective, simple fencing solution that is perfect for keeping dogs of all sizes safe. Be aware if you have a climber – some escape-artist dogs may learn how to climb a chain link fence. If this is the case, you can always purchase a Coyote Roller or another additional piece to help secure the top of your fence.
Cost: $$ – $$$+
If you are concerned about your dog escaping your yard, or you have a dog with barrier reactivity (i.e. your dog barks, growls, or lunges when he sees people or other dogs passing by), a wooden fence is the perfect solution. A wooden fence is an attractive fencing option and will help you enjoy your yard as much as your dog will!
Cost: $$$ – $$$$+
Wrought iron fencing is one of the most sought-after types of fences. It is attractive and can give your home a lovely traditional feel. An iron fence is nearly impossible to climb and one of your most durable options. However, it may not be ideal for very small dogs as they could potentially slip through the larger gaps.
Keep Your Best Buddy
In Your Yard
Tips For Keeping Your Dog Safer In Your Yard
Ensuring your dog has a comfy outdoor kennel or a nice, fenced yard is a great way to keep your four-legged friend safe while he spends time outdoors. However, leaving your dog unattended for long periods of time comes with risks, even if you do have a fenced in yard. Most dogs actually don't do a very good job entertaining themselves – at least not in the ways we want them to! 
A dog left outdoors for hours a day may become bored and destructive. They may tear up your yard, dig where you don't want them to, or eat things they shouldn't. If you plan on leaving your dog outdoors even for just a few hours a day, see the tips below to help ensure your dog stays safe and happy when you're away! 
Ensure Adequate Exercise: A tired dog is a good dog! Leaving your dog outside alone does not ensure that he will get much, if any exercise at all. Most dogs lounge around while left alone, so daily structured exercise (such as fetch or a walk) is necessary for your dog's health. How much exercise your dog needs will depend on his individual personality, breed requirements, and age. For example, a German Shepherd will likely need at least an hour a day of intensive exercise, while a Shih Tzu may be happy with a leisurely 20 minute walk.
Ensure Proper Shelter and Access To Water: Ensure your dog has access to a shaded area as well as somewhere they can go to get relief from the elements. Although some dogs, such as Huskies or Malamutes, may do well in the cold winter months, other dogs with short coats may not last very long in the winter without any shelter. It is also important to ensure your dog always has access to clean water. You can even purchase special dog bowls that heat up the outside to ensure water doesn't freeze in the winter.
 Consider Your Plants: Many plants in and around our homes can be highly toxic to dogs if ingested. If you know that your dog enjoys chewing on sticks here and there, or has the tendency to dig up your garden, you should ensure that all plants in your backyard are safe for dogs in case he decides that one day he is in the mood for a salad! 
Provide Enriching Toys: A tennis ball will likely not keep your dog entertained for long, unless you are there to throw it. However, there are lots of 'puzzle toys' you can buy your dog, such as the Kong

™

 Wobbler, which are designed to be filled with treats and not only physically tire your dog out as they try to get the treats out, but also mentally tire your dog out with a great workout for their brain. 
Train Your Dog: As mentioned above, dogs need a mental workout too. It's a good idea to work into your daily routine some time to train your dog, even if it's just for a few minutes per day. This will not only reinforce positive behaviours, but will also help to tire out your dog before you leave, leaving less opportunity for unwanted behaviours. 
You can learn more about keeping your dogs safe and healthy at humansociety.org
We absolutely love the fence. It looks fantastic and our neighbours were so impressed with the work that was completed. Our dog is loving the backyard. We think he believes that he is at a cottage and not his own backyard. Lol. Thank you again for squeezing us in last weekend and for the excellent work!
"Everything looks great. Thank you again. The dogs love going into the yard. They've missed running outside like freaks barking their faces off.Thank you for being the professional you are and working with us. We are very pleased with the work and the follow ups you have provided."
"We LOVE the fence. It is fabulous, and the dog is in sheer heaven booting around the yard. Your guys were so good – they obviously care about doing a great job, and they were polite and pleasant to have around. It is all great – just wanted to say thanks. Please tell the guys I said they did a wonderful job."
Make Your Yard a Haven For You – And Your Pets – With Jay Fencing!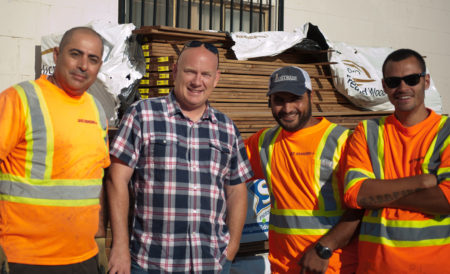 At Jay Fencing, we understand the importance of getting the right fence for you and your entire family – four-legged members included!
When you work with a professional fence installation company, they can help you decide on the right fence design for you and all of your unique preferences and needs. At Jay Fencing, we value:
Top notch customer service
Providing the highest quality products and services available
Being a name that you can trust
Having experienced and hardworking staff
At Jay Fencing, we know and understand fair pricing, and will only do the highest quality work. Avoid confusion and skip right to the beautifully installed fence of your dreams with Jay Fencing! 
At Jay Fencing Ltd, you can feel confident that we will only recommend products or services that are best for you and your needs. This means you won't be buying any unnecessary products or services that will increase the price.
We offer free onsite consultations for all the jobs we quote on!
"We absolutely love the fence. It looks fantastic and our neighbours were so impressed with the work that was completed. Our dog is loving the backyard. We think he believes that he is at a cottage and not his own backyard…Thank you again for squeezing us in last weekend and for the excellent work!"
-Rebecca & Keri, Jay Fencing Customers – Read More Testimonials Here!